Administrators at CUNY and Duke Aren't Going to Do Anything About Students Who Disrupted Events
Speakers' free speech rights threatened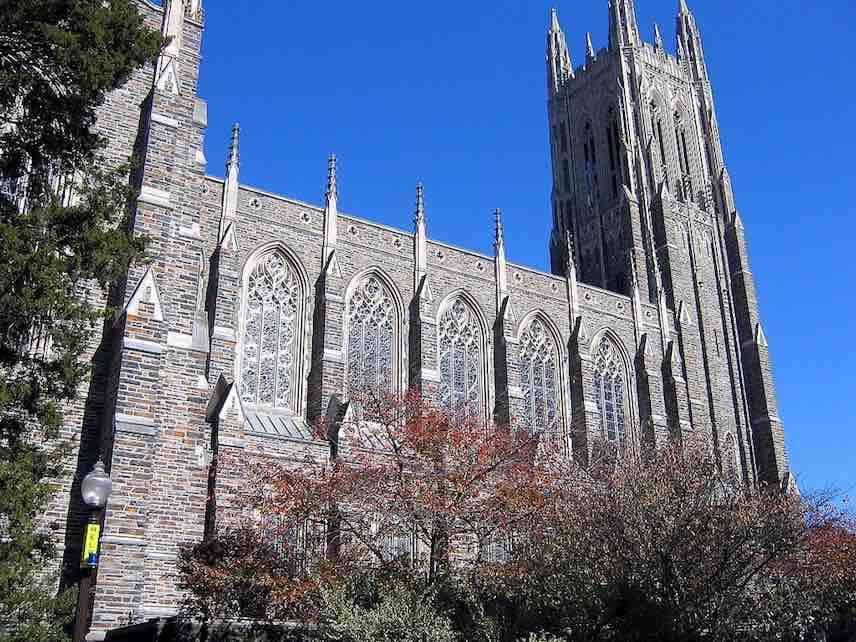 In the wake of shutdown attempts led by student-activists, administrators at Duke University and the City University of New York have finally made clear what their battle plan is for deterring such behavior in the future: do nothing.
Activists at Duke recently hijacked an alumni event and shouted down their own president, Vincent Price. The students were then shocked and outraged to learn that the administration was considering punishing them—even the mere suggestion of discipline was triggering and would exacerbate their "pre-existing mental health conditions," they claimed.
And so the administration folded. All student conduct investigations have been closed, according to The Daily Tar Heel.
At CUNY, student-protesters crashed a planned speech by South Texas College of Law Professor Josh Blackman. The talked over him for the first ten minutes of the event before leaving, which prevented Blackman from delivering his full remarks and may have intimidated would-be attendees. CUNY Law Dean Mary Lu Bilek essentially said that this was fine—Blackman was able to speak for some the time, so no college policy had been violated. "This non-violent, limited protest was a reasonable exercise of protected free speech, and it did not violate any university policy," she said.
Several CUNY professors—Martin Burke, David Gordon, K.C. Johnson, and David Seidermann—have now written a letter to CUNY Chanellor James Milliken asking him to "reaffirm CUNY's support for the rights of invited speakers to speak and the rights of students in their audience to hear their remarks." According to their letter:
Dean Bilek cited no provision of the student handbook to sustain her claim that "limited" disruptions of an invited speaker's talk do not violate CUNY policy. The handbook, we should note, implies the reverse, holding that "a member of the academic community shall not intentionally obstruct and/or forcibly prevent others from the exercise of their rights. Nor shall she/he interfere with the institution's educational process or facilities, or the rights of those who wish to avail themselves of any of the institution's instructional, personal, administrative, recreational, and community services."

It is noteworthy that, according to Blackman, the disruptors were intimidating enough to discourage some students from entering the room while the protesters were there. He was, he has stated, "not able to give the presentation I wanted—both in terms of duration and content—because of the hecklers. The Dean is simply incorrect when said the protest was only 'limited.'" (Blackman had planned a 45-minute address, to be followed by a question-and-answer session, thereby planning to allow time for CUNY Law students, including his critics, to ask him questions about his arguments.) Photographs of the event show the disruptors not only preventing him from delivering a portion of his planned remarks but also obstructing the audience's view of his PowerPoint presentation.
It's appropriate for university officials to exercise some caution when contemplating disciplinary action against students. But at some point, letting students face absolutely no consequences for such behavior is putting the free speech rights of everyone else at risk.