Jeff Sessions' Latest Lame Excuse for Blocking Medical Marijuana Research
The attorney general claims that approving new producers of cannabis might violate anti-drug treaties.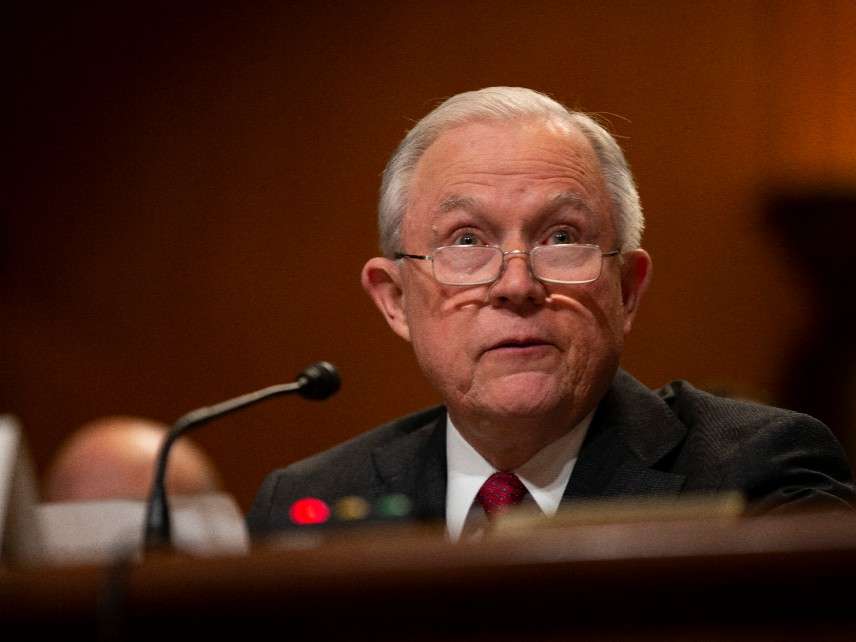 Yesterday U.S. senators asked Attorney General Jeff Sessions to explain why the Justice Department continues to block research into the medical uses of cannabis. More specifically, Wednesday's hearing marks the second time in the last year that senators have confronted Sessions about his reported refusal to license new producers of cannabis for research.
Scientists who want to study marijuana in the United States currently have to obtain it from the National Institute on Drug Abuse, which relies on a single contractor at the University of Mississippi and has long been faulted for mediocre quality and a meager selection. Just as he did in October 2017, when Sen. Orrin Hatch (R-Utah) first pressed him in public about the issue, Sessions claimed to be working toward approving new applicants while offering a flimsy reason why his office has done nothing in more than a year. This time Sessions claimed approving new cannabis manufacturers could violate the U.N. Single Convention on Narcotic Drugs. From Tom Angell at Marijuana Moment:
"We are moving forward and we will add fairly soon, I believe, the paperwork and reviews will be completed and we will add additional suppliers of marijuana under the controlled circumstances," [Sessions] said during an appearance before the Senate Appropriations Commerce, Justice and Science Appropriations Subcommittee.

In his answers, Sessions indicated that he thought opening up research could put the U.S. at risk of violating international drug treaties.

The "treaty requires certain controls in that process," he said, adding that in his view, the "previous proposal violated that treaty."
This is hogwash. When the Drug Enforcement Administration announced in 2016 that it planned to approve new producers of research cannabis, the agency said it was doing so "within the framework of the Controlled Substances Act and U.S. treaty obligations." That treaty is the U.N. Single Convention on Narcotic Drugs, which requires that cannabis production facilities be licensed, regulated, and secured, and that signatories "prevent the accumulation, in the possession of drug manufacturers, of quantities of drugs in excess of those required for the normal conduct of business, having regard to the prevailing market conditions."
Does Sessions not trust the DEA to approve only legitimate applicants operating secure facilities? Something tells me this isn't really about treaty compliance. I suspect that if no one were asking him questions, if he had not received letters from more than two dozen members of Congress demanding an explanation, Sessions would never lift the hold he has put on applications from would-be growers.
The latest such letter came from Sens. Hatch and Kamala Harris (D-Calif.), and it highlights the root of the problem: The Justice Department should not be in the business of policing medical research or the development of medical products. From the letter:
As of August 11, 2016, 354 individuals and institutions were approved by the DEA to conduct expansive research on marijuana and its related components. Those researchers needed access to a federally compliant expanded product line—they needed to study different types of marijuana and across various delivery mechanisms. Accordingly, a diverse, DEA-vetted market of suppliers of research-grade marijuana would be critical. Since the DEA's Federal Register Notice on August 12, 2016, at least 25 manufacturers have formally applied to produce federally-approved research-grade marijuana.
I've spoken to half a dozen of those applicants, and none of them has heard from the DEA in almost a year. This obstruction is outrageous. There are dozens of recreational marijuana products available to tens of millions of Americans that researchers can't legally study in human subjects because they weren't grown at the University of Mississippi.
As a result, we risk surrendering the biggest clinical discoveries to scientists in other countries, where growing cannabis is not treated like necromancy. Israel is decades ahead of us on this front. And as Mark Kleiman notes today (and Jacob Sullum explored in an incredible recent feature), now is the perfect time to be studying whether cannabis can substitute for prescription drugs in the treatment of pain and post-traumatic stress disorder. But it's difficult to conduct those trials with a single supplier whose product is half a century behind the most advanced commercial production science.