Actually, Rand Paul Will Support Mike Pompeo for Secretary of State
Paul says he's reversed his stance on Trump's nominee after several conversations with the president.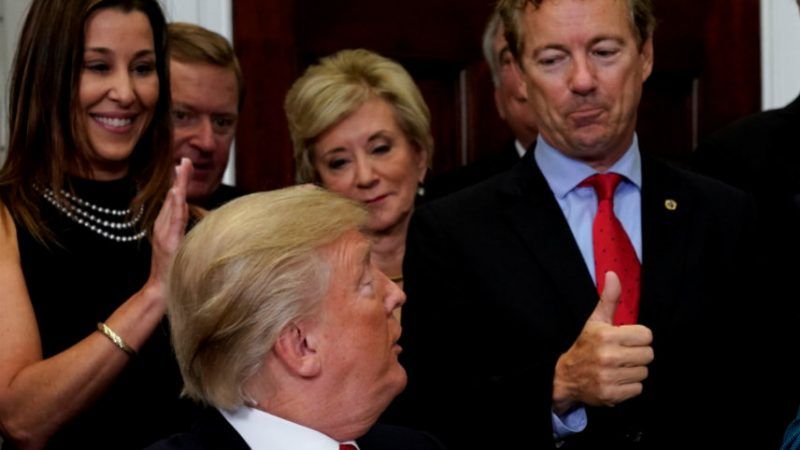 (KEVIN LAMARQUE/REUTERS/Newscom)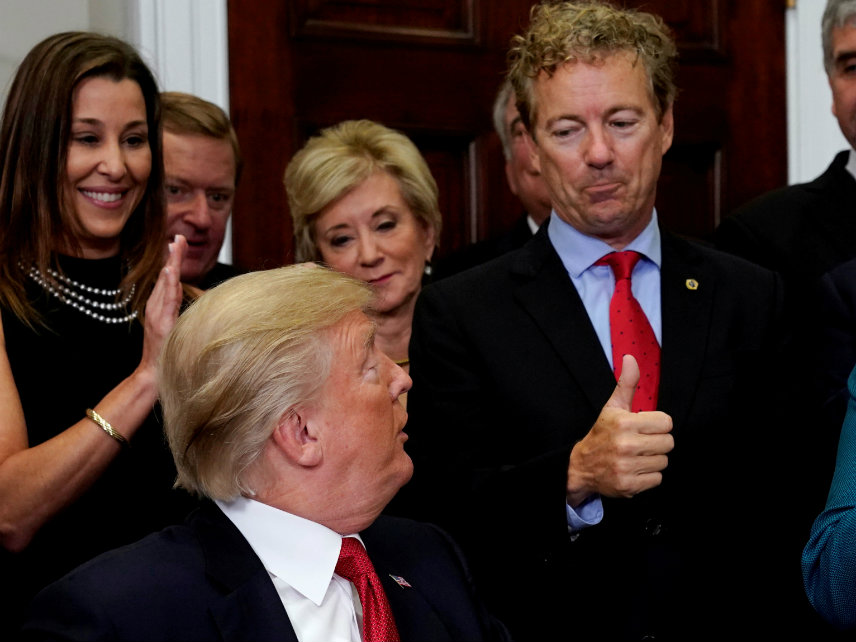 After weeks of suggesting he would vote against the appointment of CIA Director Mike Pompeo as secretary of state, Sen. Rand Paul (R-Ky.) flipped on Monday afternoon and now says he will support Pompeo's appointment. The reversal likely smooths Pompeo's path to confirmation in the Senate, where Paul and Sen. Jeff Flake (R-Ariz.) were two crucial GOP hold-outs.
Paul, on Twitter, said he was convinced to support Pompeo's appointment after several conversations with President Donald Trump. Paul wrote that he "received confirmation the Director Pompeo agrees" with the president that "the Iraq war was a mistake, and that it is time to leave Afghanistan."
With those assurances from the president, who has never changed mind or gone back on a promise, Paul said he was ready to deliver an affirmative vote for Pompeo.
Having received assurances from President Trump and Director Pompeo that he agrees with the President on these important issues, I have decided to support his nomination to be our next Secretary of State.

— Senator Rand Paul (@RandPaul) April 23, 2018
Paul had pressed Pompeo on Afghanistan during a confirmation hearing in the Senate Foreign Relations Committee earlier this month. Pompeo said at the time that he "shared the president's view" that it was not yet time for the military to leave the Central Asian nation where the United States has been engaged since shortly after the 9/11 attacks, more than 16 years ago.
But Paul faced significant political pressure from the White House to back Pompeo's confirmation. "I still think it's hard for Rand Paul to explain to Kentucky voters how he voted 'yes' for John Kerry for Secretary of State and 'no' for Mike Pompeo," Marc Short, a top legislative liaison for the White House, told Axios' Jonathan Swan over the weekend.
Paul had opposed Pompeo's appointment to run the CIA last year, saying in January 2017 that Pompeo's "desire for security will trump his defense of liberty." He was the lone GOP vote against Pompeo's appointment.
Paul's position on the Senate Foreign Relations Committee put him in a critical spot. If the committee's 10 Democratic members oppose him, Paul could be the swing vote on the 21-member committee. A committee vote is expected later this month.
With Paul falling in line, it seems like Pompeo is on a glide path to being the next secretary of state. And America's longest war continues.