The Way We Shop Online Will Be Threatened in the Supreme Court This Week: Reason Roundup
Plus: Ketamine nasal spray gets boost from Johnson & Johnson study and Philly protests over jailing of rapper Meek Mill.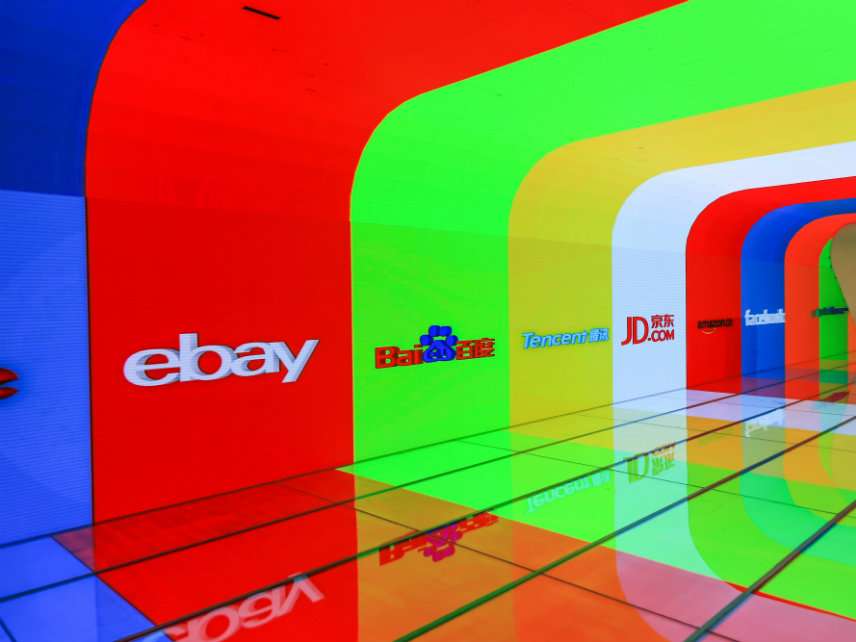 Tax case could kill small-scale digital entrepreneurs. The way we communicate online is in major peril. Is the way we shop online now threatened, too?
The Supreme Court this week will hear a case concerning state sales tax and independent sellers who peddle goods on Amazon.com, eBay, Esty, and countless other online marketplaces. Right now, state authorities can't make online merchants serve as state tax collectors unless the merchant has a physical presence in that state. But if the Court sides with South Dakota here, billions of dollars worth of merchandise could suddenly be subject to state sales tax.
"In the case, South Dakota is seeking to overturn a longtime precedent under which states can't require retailers to collect sales taxes unless the companies have a physical presence in the state," notes the Wall Street Journal.
The current tax rules—from the era of mail-order catalogs—helped fuel the rise of internet commerce and spurred frustration among brick-and-mortar retailers, shopping-mall owners and state governments. Tax and legal experts expect the court to overturn the precedent, freeing states to collect levies on future cross-state transactions. It isn't clear what new standard might take its place or what rules states might impose.
The case (South Dakota v. Wayfair Inc.) is supposed to be decided by the end of June. And the outcome could be a bigger deal than many even realize. Here's James Sutton at National Review:
But seriously — aren't we just talking about collecting sales tax and turning it over to the state? Don't we have software that can do this easily? This is what South Dakota would like everyone to believe. The reality is very different.
Sutton lays out myriad ways the change would harm small businesses and individual entrepreneurs. Or, as Marie Oh Huber at The Hill puts it: "If you run a company that makes just $60,000 a year, paying an accountant $50,000 a year to comply with 300 different tax jurisdictions' regulations isn't in your budget."
The Tax Foundation notes that 15 briefs were filed in support of South Dakota, and 23 briefs in Wayfair: "The Tax Foundation submitted a brief in support of neither party, making the case for a meaningful limit on state taxing power while agreeing that South Dakota's law doesn't burden interstate commerce."
FREE MINDS
Drug-company study gives ketamine nasal-spray a boost. There's been a lot of evidence in recent years showing that the drug ketamine is effective at treating depression. Now, the first study undertaken by a pharmaceutical company also confirms that ketamine shows promise. The study—from Johnson and Johnson subsidiary Janssen Research and Development and the Yale School of Medicine—involved 68 depression patients deemed to be at "imminent risk" of taking their own lives. All were hospitalized and put on antidepressants. Half were also prescribed a ketamine nasal spray (while the control group got a nasal-spray placebo).
According to results being published in the American Journal of Psychiatry, patients who got the ketamine spray saw much greater improvement during the first four weeks of treatment. "However, at 25 days the effects had levelled out," reports the BBC.
The study's authors suggest it could offer an effective rapid treatment for people severely depressed and at imminent risk of suicide and could help in the initial stages of treatment, as most anti-depressants take four to six weeks to become fully effective.
The ketamine nasal spray is currently in phase-three clinical trials, which must be completed before it can be licensed for sales in the United States. Previous positive research on ketamine as a depression treatment has been stalled here by worries over ketamine's popularity for recreational use.
FREE MARKETS
Trump's trade tantrums are threatening the European economy, warns a new report from the German Institute for Macroeconomics and Economic Research (IMK). Last month, the group estimated a 6.8 percent likelihood of a recession in Germany within the next three months. Now, they've ratcheted the recession estimate up to 32.4 percent. Said IMK research director Gustav Horn:
President Trump's flirtation with protectionism is sending out shock waves that are not only affecting financial markets, but also the German economy.
Horn said folks abroad are worried that the tariffs Trump is threatening to slap on China "will eventually also apply to European goods."
There's a protest in Philadelphia today over the treatment of rapper Meek Mill, who is currently imprisoned there. "The same officers who arrested Meek Mill are now under investigation for their participation in crimes conducted by fellow officers, ranging from assault, robbery, and kidnapping, to committing false arrests," say the organizers of the rally. "Despite this, Meek Mill has been refused bail, and remains in prison serving a 2 to 4-year sentence for technical probation violations: non-criminal and non-violent offenses."
Buzzfeed has published a massive trove of NYPD disciplinary files.
"I don't buy this stuff about him being mentally incompetent or early stages of dementia. He strikes me as a person of above average intelligence who's tracking conversations and knows what's going on. I don't think he's medically unfit to be president. I think he's morally unfit to be president." —Former FBI Director James Comey on President Trump, in an interview with ABC News.
Syrian refugees entering the United States. pic.twitter.com/MLoCaRBUzF

— Fox News (@FoxNews) April 15, 2018