Marketing Fentanyl as Heroin May Soon Carry Harsh New Penalties
Federal prosecutors didn't need more leverage against drug offenders, but they're going to get it anyway.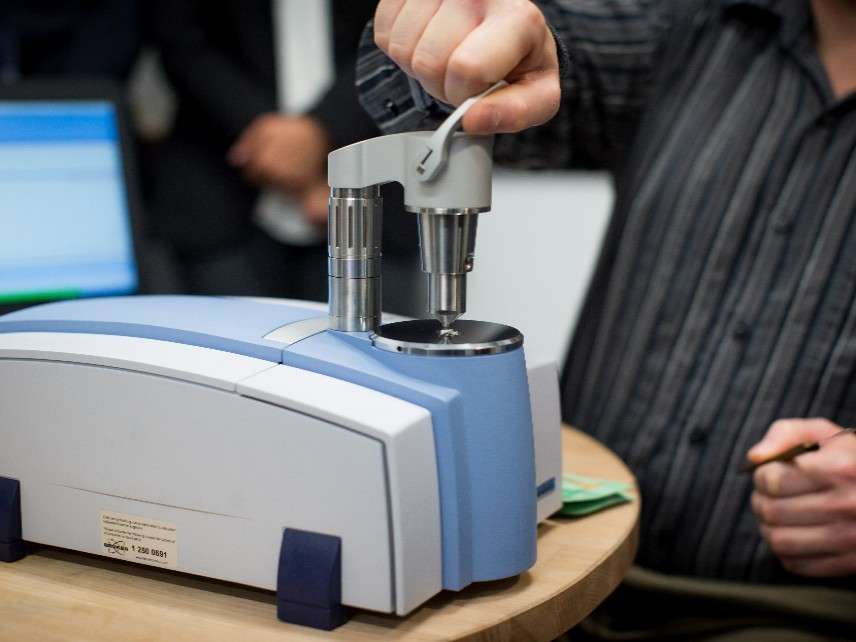 In response to the current panic over illicit fentanyl, a change to federal sentencing policy could dramatically increase the prison sentences of people who sell the drug mixed into heroin and other substances—whether they know that's what they're selling or not.
The U.S. Sentencing Commission (USSC) voted this week to increase federal prison sentences for drug offenders who market fentanyl or a fentanyl analog as a different drug. The new penalty is part of a raft of amendments to the Federal Sentencing Guidelines, which the USSC will send to Congress later this month for approval. Federal judges use these guidelines to calculate sentence lengths for convicted defendants. The new amendments will go into effect on November 1, 2018, unless Congress vetoes them.
While law professor Doug Berman, who blogs at Sentencing Law and Policy, writes that the amendments voted on this week are "fairly minor," I think he's underestimating the impact of the new fentanyl amendment. Here's the new guideline language from the USSC:
Part C of the proposed amendment would add a new specific offense characteristic at §2D1.1(b)(13) providing a 4-level enhancement to address these cases. The enhancement would apply if the defendant knowingly misrepresented or knowingly marketed as another substance a mixture or substance containing fentanyl (N-phenyl-N-[1-(2-phenylethyl )-4- piperidinyl] propanamide) or a fentanyl analogue.
Here's a plain-English example based on the 2016 sentencing table and the 2016 guidelines manual: An offender with little or no criminal history whose case involved between four and eight grams of fentanyl would be assigned level 15, for which the recommended sentence length is 18 to 24 months. Under this intent-to-deceive amendment, the person could be moved to level 19, where they'd face 30 to 37 months.
That's a huge difference, and it's based on the assumption that drugs are being mixed intentionally, that every person on the supply side of the equation knows exactly what they're passing along to the next person in the supply chain, and that street-level dealers are knowingly trying to deceive (and thus kill) their customers. Yet the USSC doesn't bother to say how frequently this enhancement might be used, in what kinds of cases, or even whether they think this enhancement will have a deterrent effect. The commission's justification:
The Commission has received comment that fentanyl and fentanyl analogues are being mixed with, and in some instances substituted for, other drugs, such as heroin and cocaine. According to commenters, fentanyl and fentanyl analogues are also being pressed into pills that resemble prescription opioids, such as oxycodone and hydrocodone. Commenters have also suggested that the harms associated with the use of fentanyl and fentanyl analogues are heightened by the fact that users may unknowingly consume fentanyl or fentanyl analogues in products misrepresented or sold as other substances, such as heroin or counterfeit prescription pills.
Illicit drug sellers are not chemical manufacturers or pharmacists. They don't use mass spectrometers. The fentanyl contamination issue is real and deadly, and that means someone, somewhere in the supply chain is being either sloppy, or intentionally cutting fentanyl (which is cheap) into diluted heroin in order to preserve potency. But it borders on the absurd to create a fraud penalty for vendors who are breaking the law regardless of how they market their products. Besides, it's not like fentanyl is the only thing you can introduce into an illicit drug mixture to make it more dangerous. Is the commission going to create a special enhancement for misrepresenting rat poison? Will it also be four levels, or only three? And what about a downard departure for people who cut heroin with powdered sugar, thereby diluting the potency?
The counterargument is that defendants can simply claim ignorance of what they sold. But prosecutors don't have to convince juries of misrepresentation, because 97 percent off federal drug cases conclude in a plea deal. It's much easier to imagine this enhancement being used as a cudgel to flip suspects and keep cases from going to trial. Consider the street-level cocaine vendor who sells someone a gram of coke that contains a small amount of fentanyl. The dealer doesn't know about the contamination, and so doesn't warn his customer. The customer (or a friend) overdoses from the fentanyl and dies, and the cocaine dealer is tracked down and charged with selling fentanyl. During plea negotiations, prosecutors can simply bring up the enhancement's existence (along with numerous others) as a sweating technique in order to get the defendant to plea to a shorter (but still long) sentence, and/or work as a confidential informant.
Prosecutors are pretty good at that already. This enhancement is just running up the score.