James Comey Book Release Prompts Pee-Tape News Revival: Reason Roundup
Plus: More charges for Backpage and moves to legalize hemp.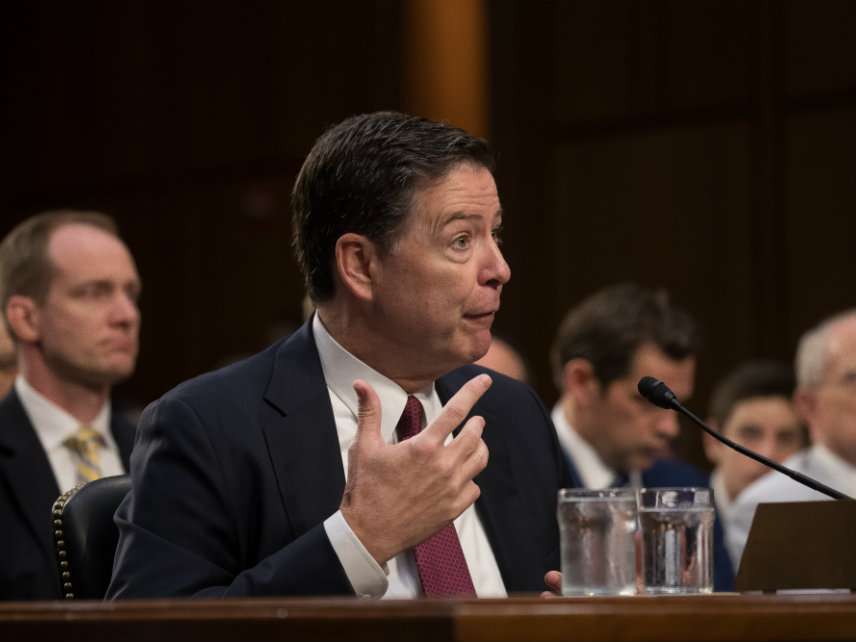 James Comey's book leak prompts pee-tape talk, moralizing. "I don't know whether… the current president of the United States was with prostitutes peeing on each other in Moscow in 2013. It's possible, but I don't know." That's former FBI director James Comey on the George Stephanopoulos show this morning, discussing allegations in the infamous Steele dossier about possible Russian "kompromat" on Donald Trump.
Comey has been making the media rounds ahead of his upcoming book release. The pompously titled book (A Higher Loyalty: Truth, Lies and Leadership) will officially come out on April 17, but a leaked copy has already permeated the internet. (Read some excerpts in The Washington Post.)
Talking to Stephanopoulos, Comey elaborated on the book's claim that Trump wanted him to investigate the so-called pee-tape dossier to "prove that it didn't happen" so Melania Trump wouldn't be mad at him. According to Comey, the president told him "If there's even a 1 percent chance my wife thinks that's true, that's terrible."
Apparently, Comey couldn't help but serve up some moralizing along with his claims:
And I remember thinking, 'How could your wife think there's a 1 percent chance you were with prostitutes peeing on each other in Moscow?' I'm a flawed human being, but there is literally zero chance that my wife would think that was true. So, what kind of marriage to what kind of man does your wife think [that] there's only a 99 percent chance you didn't do that?
Comey said the whole conversation with Trump was "really weird" and left him with an "almost out-of-body experience":
I was floating above myself, looking down, saying, 'you're sitting here, briefing the incoming president of the United States about prostitutes in Moscow.
In the book, he also claims that Trump denied the allegations by citing his personal cleanliness standards: " "I'm a germaphobe," Trump allegedly told Comey in January 2017. "There's no way I would let people pee on each other around me. No way."
Trump lashed out via Twitter this morning over Comey's media blitz and claims, calling him a "proven leaker and liar" whom it was Trump's "great honor to fire."
James Comey is a proven LEAKER & LIAR. Virtually everyone in Washington thought he should be fired for the terrible job he did-until he was, in fact, fired. He leaked CLASSIFIED information, for which he should be prosecuted. He lied to Congress under OATH. He is a weak and…..

— Donald J. Trump (@realDonaldTrump) April 13, 2018
….untruthful slime ball who was, as time has proven, a terrible Director of the FBI. His handling of the Crooked Hillary Clinton case, and the events surrounding it, will go down as one of the worst "botch jobs" of history. It was my great honor to fire James Comey!

— Donald J. Trump (@realDonaldTrump) April 13, 2018
But despite all the attention Comey's book is getting, it doesn't seem to reveal much in the way of new information, and certainly no bombshells. Rather, Comey meditates on the meaning of leadership and indulges in all sorts of other inspirational blather.
FREE MINDS
More federal charges for Backpage—but still none for sex trafficking. On Thursday evening, the Department of Justice (DOJ) announced further federal prosecution of people and entities associated with the classified-ad site Backpage, which has now been-seized and shut down entirely. Earlier this week, DOJ dropped a 93-count indictment against seven Backpage executives that included charges of money laundering, conspiracy, and violating the Travel Act (which prohibits using interstate commerce to facilitate prostitution)—but, notably, not any charges related to sex trafficking, which has all along been given as the reason for the nationwide witch hunt against Backpage.
A press release about the new prosecution, against Backpage CEO Carl Ferrar and "several Backpage related corporate entities," opens by calling Backpage "the Internet's leading forum for prostitution ads, including ads depicting the prostitution of children," and mentioning the earlier 93-count indicment—giving the immediate impression that the previous charges and/or the new ones are related to "the prostitution of children."
But, in fact, the charges that Ferrar and the Backpage-related entities copped to were also related to money laundering and violating the Travel Act. From the DOJ:
… Backpage's co-founder and CEO, Carl Ferrer, 57, of Frisco, Texas, has pleaded guilty to conspiracy to facilitate prostitution using a facility in interstate or foreign commerce and to engage in money laundering. Additionally, several Backpage-related corporate entities, including Backpage.com LLC, have entered guilty pleas to conspiracy to engage in money laundering.
Nonetheless, the DOJ press release follows up the announcement of these non-sex-trafficking convictions with a lot of quotes about how great it is that our brave government shut down a sex trafficking operation. "This website will no longer serve as a platform for human traffickers to thrive," said FBI Director Christopher Wray.
FREE MARKETS
Congress moves to legalize hemp. Senate Majority Leader Mitch McConnell (R-Ky.) yesterday introduced a bill that would remove hemp—the non-psychoactive cannabis cousin of marijuana—from the Controlled Substances List.
Here's my bottom line on hemp ?? If you can BUY it in a supermarket in America, farmers should be allowed to GROW it in America. #HempFarmingAct

— Ron Wyden (@RonWyden) April 12, 2018
The measure, co-sponsored by Sens. Ron Wyden (D-Ore.) and Jeff Merkley (D-Ore.) would make hemp legal under federal law and "remove restrictions on banking access, water rights and other roadblocks that farmers and processors currently face," explains Forbes contributor and Marijuana Majority chairman Tom Angell. It would allow hemp farmers to be eligible for crop insurance and federal research grants.
As it stands, U.S. retailers can sell products made from hemp and hemp-derived foods. But U.S. farmers aren't allowed to grow it for commercial purposes and only a few states are allowed to run hemp-farming research programs.