Trump Signs FOSTA 'Sex Trafficking Bill' Into Law. It's Already Changing the Internet For the Worse
Plus: Tabloid paid doorman to keep quiet about Trump's sex life; conservative students say they were targeted; and dairy farmers fight for truth in skim milk.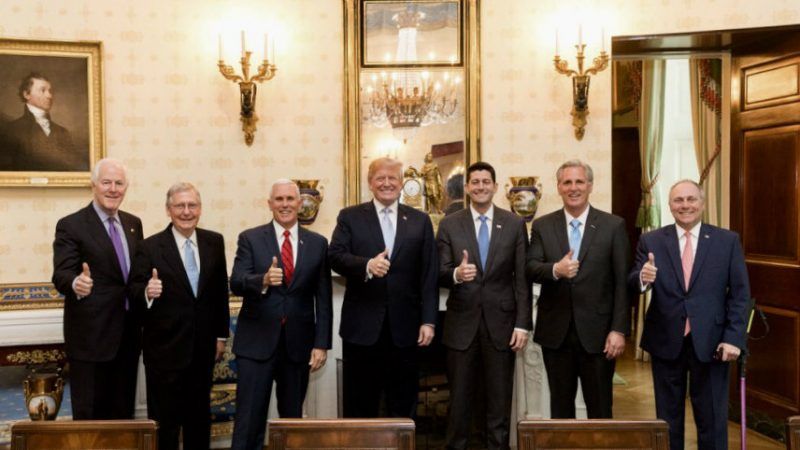 (@RealDonaldTrump/Twitter)
The day the internet died? On Wednesday, President Trump signed "FOSTA" into law, making it a federal crime for websites or apps to host any content that "promotes" or "facilitates" prostitution. The mainstream media has roundly heralded the signing as a great step in the fight against sex trafficking, even as those involved in the sex trade have been sharing increasingly dire stories of how the new legislation is impacting their lives.
Twitter is currently filled with stories from sex workers whose livelihoods—and very lives—are being threatened by the shutdown of Backpage.com and other escort-advertising platforms in the U.S.
Just heard my first report of a missing worker. She went outside to work after backpage went down and hasn't checked in. It's been over 24 hours.

— Fancy Baby aka Professor Stripsalot (@profstripsalot) April 12, 2018
That's what's so insidious about the new FOSTA legislation: Even if it gets struck down in court as unconstitutional, the damage will already have been done. Websites are shutting down, blocking access from U.S. servers, and blocking content remotely related to sex. Sex workers are being forced to find new and less-safe avenues for meeting clients and making ends meet. The internet and the sex trade will be remade for the worse by the time any court could rule against the new rules.
As Engadget notes, the fallout from FOSTA has already "been dramatic," including "the closure of sex-work directories like CityVibe and NightShift as well as the personals sections of websites like Craigslist. FetLife's kink-friendly social network is currently consulting with its users to determine its future plans." And "it's not just the realm of adults-only websites and platforms that are now having to crack down on discussions of sex," Engadget points out:
Microsoft and Google have moved to alter their terms of service to prohibit offensive or inappropriate content and language. Not even private discussions are safe, with Microsoft reportedly claiming the right to examine your content to investigate complaints. More troubling is the fact that according to Motherboard, Google is purging adult content from private Drive accounts. Performers who sell clips of explicit material to users have lost videos and received complaints from customers. Even videos with relatively anodyne names have been wiped or left in place but made unable to play, a troubling infringement of personal rights.
But it's a good day if you've got a grudge against any particular digital platform (and don't have a lot of scruples). Start spamming Snapchat with posts about how great prostitution is or use Facebook messenger to make plans for a paid sexual tryst and you, too, could cash in on the civil lawsuit bonanza that FOSTA will unleash.
Trump sad Syrians haven't thanked him yet. Remember how we were going to bomb Syria so Russia better beware? Yeah, nevermind. The president followed up Wednesday's warmongering talk with this Thursday morning tweet:
Never said when an attack on Syria would take place. Could be very soon or not so soon at all! In any event, the United States, under my Administration, has done a great job of ridding the region of ISIS. Where is our "Thank you America?"

— Donald J. Trump (@realDonaldTrump) April 12, 2018
FREE MINDS
Pro-Trump student journalists say they were unfairly targeted by university. Student reporters for CampusReform.com are suing the University of Illinois, Urbana-Champaign, in federal court over alleged violations of their rights to free speech and due process. "The suit comes after the school punished the students for reporting on a campus anti-Trump rally co-organized by the Black Rose Anarchist group in November 2017," said a statement from the students' lawyers.
"During the rally, Black Rose spokesman and university instructor, Tariq Khan, assaulted Joel Valdez and also went after student Blair Nelson who was video-recording the event," the statement continues. "Co-plaintiff Andrew Minik, who was not at the event, reported on the incident for Campus Reform, a college news organization."
Valdez, Nelson, and Minik all received university-issued restraining orders to stay away from and stop reporting on Khan. They say that Khan began using the restraining orders to target them "whenever he or his wife was in the same place with one of them on campus."
FREE MARKETS
Skim-milk skirmish turns on FDA's creative use of language. Maryland's South Mountain Creamery is suing over the U.S. Food and Drug Administration's ridiculous milk-labeling laws. With the help of the Institute for Justice, South Mountain Creamery owners Randy and Karen Sowers are fighting the food agency's demand that they label their all-natural cow's milk skin milk as an "imitation milk product" or "imitation skim milk," since the Sowers don't add vitamins back into the milk after skimming off the fat. Not only could this depress their sales, but its a violation of the First Amendment, the Sowers say.
"The government does not have the power to change the meaning of words or ignore common sense," IJ senior attorney Justin Pearson told the court. "The FDA is creating confusion where there was none whatsoever. People know what skim milk means, but they have no idea what 'imitation milk product' means. Pure, all-natural skim milk is not an 'imitation' of anything."
American Media Inc, the parent company behind the National Enquirer tabloid, paid $30,000 to a Manhattan doorman to sign over his rights "in perpetuity" to discuss any rumors he had heard about Trump's sex life, particularly the rumor Trump had fathered a child with a Trump World Tower employee.
The Senate today will consider Trump's nomination of Mike Pompeo to head the CIA.
Rand Paul, Civil Liberties Champion (lol), is upset that government employees don't lose their security clearances if they don't like Trump. Here's Cato Institute policy analyst Julian Sanchez with thoughts on that:
Uh… good? You can't style yourself a champion of the First Amendment & then demand federal employees be stripped of clearance unless they're personally pro-Trump. https://t.co/4ZTGkwc1Z4

— Julian Sanchez (@normative) April 11, 2018