If Police Kill Because Citizens Are Afraid, That's a Problem
Fatal shootings in Portland and Brooklyn demonstrate how fear pushes officers to escalate encounters.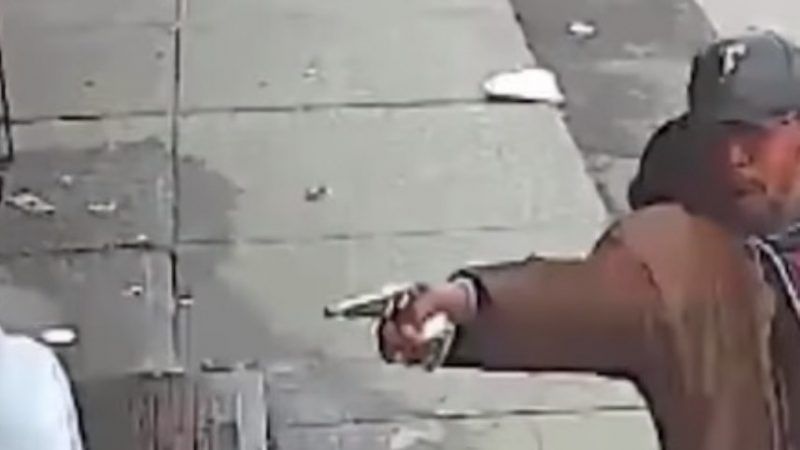 (Security footage released by NYPD)
On Saturday evening in Portland, Oregon, a pack of police cornered and fatally shot a man who apparently was wielding and stabbing himself with a knife in a homeless shelter. Observers have been questioning whether the cops rushed too quickly to open fire.
The man, since identified by family as John Elifritz, 48, was suspected of involvement in a reported carjacking that evening. Police followed him into a homeless shelter, where witnesses say he was cutting himself and otherwise behaving erratically. He had a criminal history and drug issues.
The man's shooting was captured on film and posted on social media. Watch below (warning: it's intense):
Graphic Video: Over a dozen Portland officers just shot a man inside a homeless shelter the day after the mayor called for increased criminalization of the homeless. pic.twitter.com/1KhX7RGaos
There's an awful lot of cops in there, and their behavior absolutely magnifies the terror of an already scary situation. Whatever "de-escalation" looks like, it's certainly not a dozen cops screaming at somebody. (Meanwhile, Mayor Ted Wheeler is calling on citizens to demand Portland City Council fund more than 90 new police officers for the apparent purpose of busting up homeless camps.)
The shooting also provides an important insight into eyewitness responses. A bystander who captured the incident on video says he thinks the police were justified and that Elifritz "lunged" at an officer before they shot him. That's not what the video shows. The man was staggering a little bit and was nowhere near the officers before they began open firing. Police say he waved his knife at a police dog on the scene, which also isn't apparent in the video.
But he clearly scared the hell out of a lot of people, including the witness. And on the basis of fear, some people will accept any response from police.
Just last week, some New York cops killed a man who had been carrying a small metal pipe. The police shot Saheed Vassell almost immediately after arriving on scene. Security footage showed him walking up to people and pointing the pipe at them as though it were a gun, these people's fear is certainly real and justifiable.
Neighborhood police knew that Vassell was bipolar and apparently had helped him out several times and taken him to a psychiatric hospital. They had also, according to The New York Times, handed him 120 court summonses for offenses over the years. But the officers who responded to the 911 calls were not the neighborhood police who dealt with Vassell and knew about his problems. His shooting was not captured on police body cameras.
I am not here to downplay how scary it must have been to be in either of these situations surrounding these two men. But when we justify police shootings based on fear of what might happen versus actual identifiable threats, the end result is that we end up giving police permission to shoot and kill citizens just entirely on the basis of being afraid (or saying they were afraid).
We see this play out again and again in police killings. A Sacramento officer screamed "Gun!" over and over as he and his partner opened fire on Stephon Clark. Clark had been holding a phone, not a gun. It happened in St. Anthony, Minnesota, when a police officer panicked at a traffic stop and opened fire on Philando Castile after Castile told him he had a gun legally in his possession.
Because we give police the power and authority to kill people, it's of utmost importance to hold officers to a higher standard than merely "fear." The fact that an eyewitness in Portland justifies a shooting by how scared he personally felt goes a long way toward explaining how this keeps happening.