Are We Already in a Trade War With China?, Venezuelans Blame Maduro for Food and Medicine Shortages, Russia Wants to Ban Encryption App: Reason Roundup
"We are not in a trade war with China," President Trump tweeted this morning.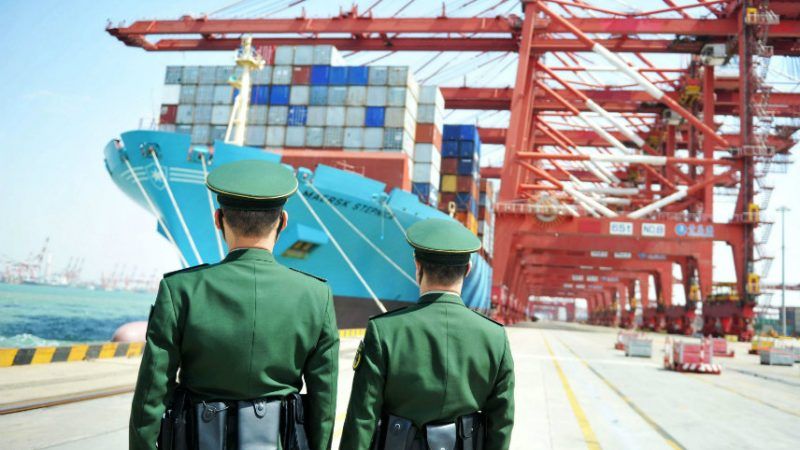 (YU FANGPING/FEATURECHINA/Newscom)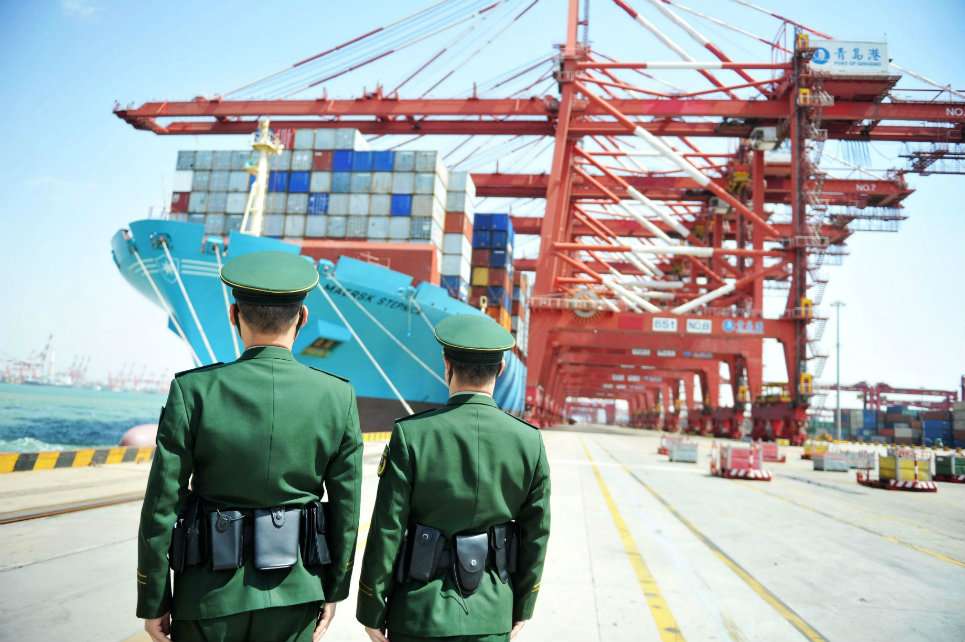 We're probably in a trade war with China. "We are not in a trade war with China," President Trump tweeted on Friday morning. Most signs say otherwise, or at least show that we're well on our way there.
For instance, China just filed a complaint with the World Trade Organization (WTO) over the billions in new tariffs that Trump is proposing. The WTO complaint gives the U.S. and China 60 days to resolve things, after which China may request that a WTO panel adjudicate.
It's also not reassuring that Trump's assertion that we're not in a trade war with China was followed up by this reasoning: "We already lost that war many years ago, leaving us "a Trade Deficit of $500 Billion a year, with Intellectual Property Theft of another $300 Billion." (All random capitalization the president's.) "We cannot let this continue!"
It sure sounds like Trump is hoping for another crack at trade shenanigans with China, only with the U.S. "winning" this time. But nobody wins in a trade war (as we've been saying). To quote a recent Sheldon Richman column, "You cannot advocate trade restrictions without also advocating state-bestowed privilege."
Trump has been crowing that even with his aluminum tariffs, "prices are DOWN 4%" and "lots of money coming into U.S. coffers and Jobs, Jobs, Jobs!" Here's Washington Post Fact Checker Glenn Kessler on that claim:
Someone exempted most of the big aluminum countries from the tariffs, so the impact was muted. Who was that? https://t.co/Zqa3sqT0ld

— Glenn Kessler (@GlennKesslerWP) April 6, 2018
But alas, even one-time free market cheerleaders like Economic Council Director Larry Kudlow are defending Trump's tariffs, saying this isn't "about trade wars" but "holding to the laws and customs of free trade." Free Markets Through Regulation, or something.
That seems to be the party line from the pro-Trump crowd: We're not restricting trade and raising taxes, we're securing the marketplace. Which sounds an awful lot like the liberal and Democratic justifications for messing with market forces that we've heard so many times before, with a dash of national-greatness conservatism and fear of wily foreigners mixed in.
"This is exactly what the free traders who formerly worked in the White House feared, Trump in a macho pissing match against Chinese President Xi," writes Jonathan Swan at Axios.
Trump has a blunt understanding of leverage and believes the worst thing he can show is weakness. He also believes, as he tweeted, that the U.S. already is so far down on the scorecard with China that he's got nothing to lose.
In any event, our counterparts across the sea seem to be, uh, keeping calm. From Reuters:
A trade war triggered by U.S. tariffs would cause a global recession—and the mere fear of one is already hurting the economy, European Central Bank board member Benoit Coeure said on Friday.
Russia wants to ban a popular encrypted messaging app. Russia is moving to block the encrypted messaging app Telegram after it refused to turn over keys to state authorities that would allow them to decrypt any and all user messages. Telegram—massively popular in some parts of the world, including Russia, many of the former Soviet Union states, and the Middle East—just hit 200 million monthly users. A lawsuit filed on Friday in Moscow now seeks to block access to Telegram throughout Russia. Iranian leaders have also been proposing a similar ban.
Venezuelans blame Maduro for deepening humanitarian crisis. A new poll of Venezuelans shows the effects of the ever-growing crisis there for ordinary people:
90 percent say the country's food supply is bad
95 percent of whom say the country's medicine supply is bad
88 percent say life is worse than a year ago
81 percent say the country is currently going through a "humanitarian crisis"
A majority—54 percent—blame President Nicolas Maduro and his policies. Nearly half said is leadership is "very bad" and 24 percent said that it was "bad," while just 0.4 percent said it is "very good" and 9 percent said that it is good.
The March 2018 Atlantic Council poll found that the biggest problem people see is inflation and the high cost of living (34 percent said it is the main problem) followed by food shortages (28 percent) and an array of other issues related to money (together, "personal insecurity," "the economic crisis," "lack of cash," and "economic warfare" were the main concern for 23 percent of respondents). Maduro was named as the main problem by 2.6 percent. Only 0.3 percent had international economic sanctions as a main complaint.