Trump's Trade War Will Crush American Farmers, Fuel Soy Boys
Chinese tariffs will make American soy cheaper in domestic markets, crushing farmers' profits and disrupting a $14 billion international market.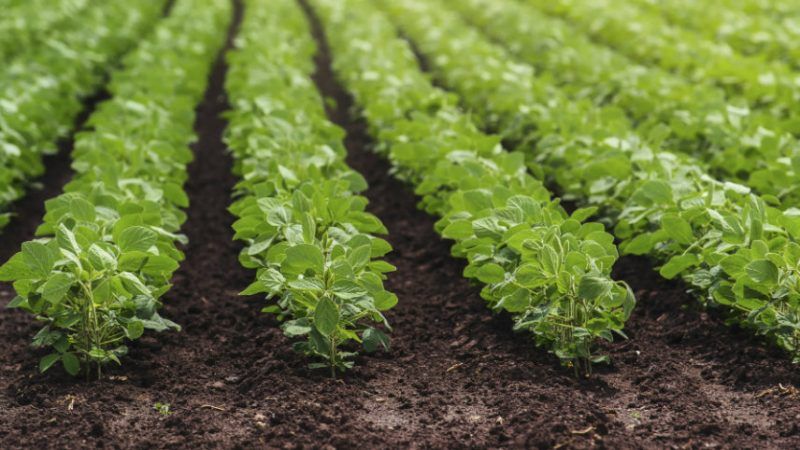 (IGOR STEVANOVIC / SCIENCE PHOTO LIBRARY/Newscom)
This year, for the first time in more than three decades, corn was not the most widely planted crop in the United States. But volatile trade policy emanating from the White House might cut short the reign of the new king crop, soybeans.
Farmers planted more than 89 million acres of soybeans across the United States in 2018, narrowly edging out the 88 million acres of corn that were planted, according to an annual survey by the Department of Agriculture. Soybeans cost less to plant, and their profitability has been on the rise in recent years, making them a more attractive option for farmers. A significant driver of soybeans' profitability has been increased demand in foreign markets, including China, which moved this week to slap a 25 percent tariff on American soybeans in response to the tariffs that President Donald Trump ordered on more than 1,300 Chinese-made goods.
America is the world's biggest producer of soybeans and the world's largest exporter of them. In 2015, nearly half of the U.S. soybean crop was exported.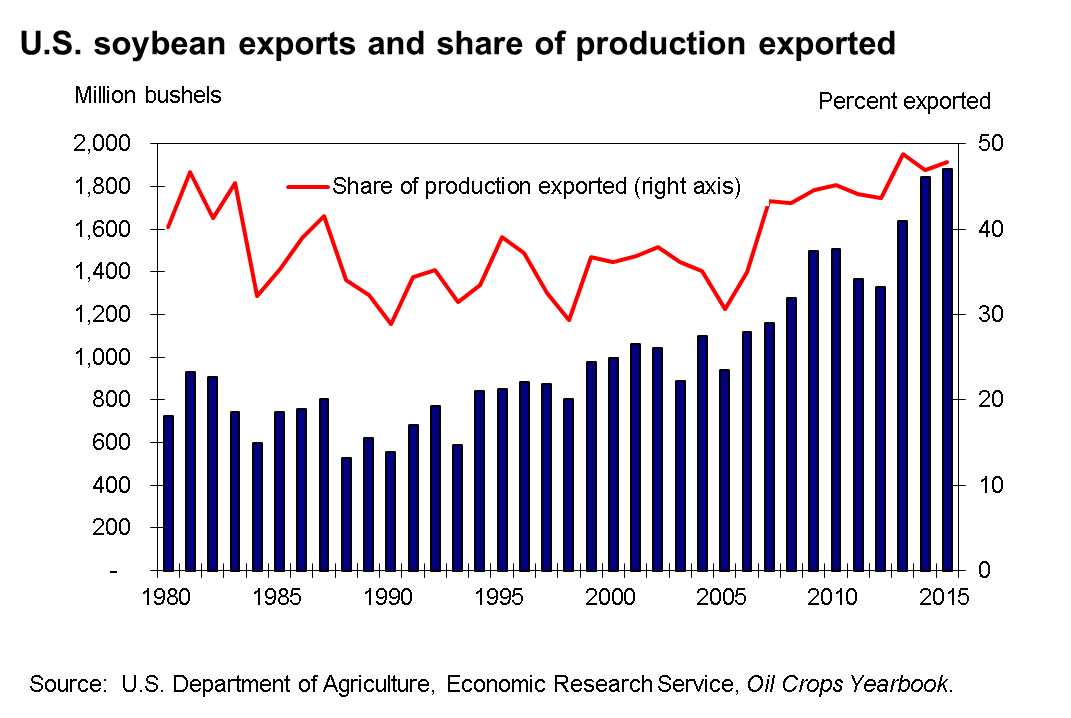 Meanwhile, China is the world's largest importer of soybeans, buying more than $14 billion of American-grown soy last year. China purchases 61 percent of total U.S. soybean exports and more than 30 percent of overall U.S. soybean production, according to the American Soybean Association, a trade group.
Disruption of that trade will be "devastating" for farmers, says ASA President John Heisdorffer. "It should surprise no one that China immediately retaliated against our most important exports, including soybeans," Heisdorffer said in a statement. "This is no longer a hypothetical."
Indeed, the consequences of tariffs became very real for soybean traders this week, even though the Chinese tariffs are not yet officially in place. Merely the suggestion of a 25 percent tariff was enough to reduce the price of soybeans by 40 cents per bushel on Wednesday. That might not sound like much, but with the 2018 crop estimated to produce 4.3 billion bushels, it means that farmers lost more than $1.7 billion in value. All that in a single day.
The consequences will continue to unfold for a while. If fewer soybeans are exported to China, farmers worry, it could result in excess supply in the domestic market, lowering prices further and hurting their bottom lines.
Despite what Trump has said, trade wars are not easy to navigate, and rarely do any of the participants win. When it comes to soybeans, for example, Chinese tariffs will hurt both American farmers and Chinese consumers, who will likely face higher prices for soybean products such as tofu, soy sauce, and hundreds of other things made with soybean oil. In much the same way that the United States relies on foreign supplies of steel and aluminum to meet domestic demand, China requires foreign soybeans to feed its huge population. This is why international trade works! Not every country has the exact right amounts of materials and goods that its population and industries desire.
But that doesn't mean there won't be winners in a possible U.S.-China trade war. On the soybean front, America's loss will likely be Brazil's gain. The world's second largest producer of soybeans enjoyed a bumper year during the 2017-18 growing season, and now seems poised to become an even more attractive source for Chinese importers if Trump and Chinese leaders continue on the current course toward a trade war. Brazil "will be licking their lips right now," Warren Patterson, a commodity strategist at Dutch bank ING Groep NV, told Bloomberg News.
Sen. Chuck Grassley (R-Iowa) said Wednesday that retaliatory tariffs against soybeans and other agricultural products were predictable. "Farmers and ranchers shouldn't be expected to bear the brunt of retaliation for the entire country," Grassley said. "It's not fair, and it doesn't make economic sense."