Trump's Increasingly Lawless Quest to Enforce a Bogus Rule of Law on Immigration
He is trashing the First Amendment to stifle the immigrant rights movement.
The Trump administration has opened a whole new front in its War on Immigration. In a bid to stifle the backlash against its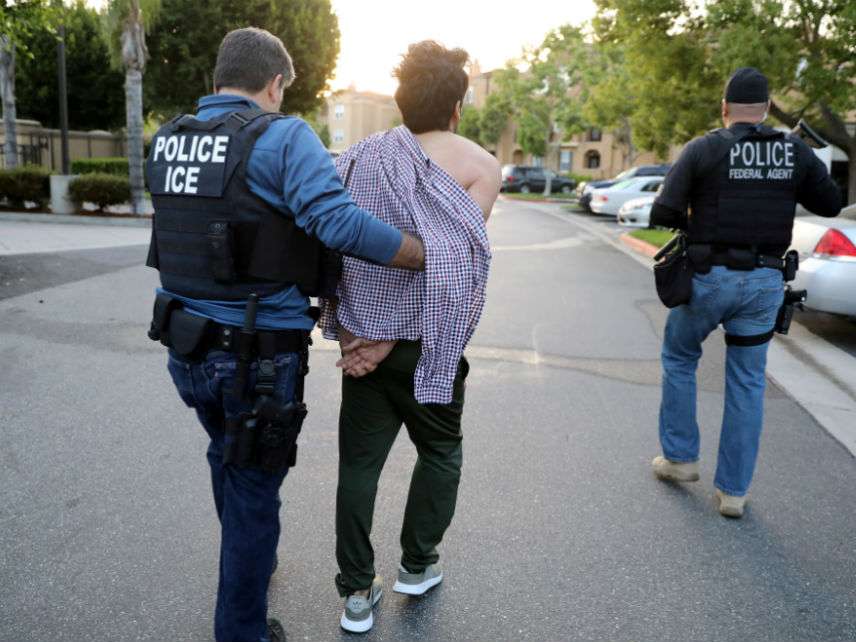 harsh enforcement policies, it is targeting high-profile immigration activists and citizens in addition to immigrants themselves. This is an affront to the First Amendment that shows that in a bogus quest to uphold the "rule of law," the administration is itself degenerating into lawlessness.
Soon after President Trump entered the White House, the Department of Homeland Security scrapped the Obama-era policy that prioritized enforcement action against undocumented aliens who had committed serious crimes while leaving others alone. In the name of bringing undocumented "lawbreakers" to book, Trump made everyone fair game—including those who have lived and worked peacefully in this country for decades while paying taxes and building lives with American spouses and children.
Still, few foresaw that this administration would actually go after activists just for trying to raise public awareness about their plight. In the last 14 months, the American Civil Liberties Union along with various immigration groups has documented about two-dozen instances around the country where Immigration and Customs Enforcement agents have detained immigrant activists.
The agency arrested six leaders of Migrant Justice, a Vermont-based non-profit outfit that seeks not just better government policies but also less exploitative working conditions for vulnerable undocumented workers, particularly in the state's dairy industry where many of them are employed. Its "Milk with Dignity" campaign, for example, shamed Ben & Jerry's, the ice cream company that bills itself the paragon of progressive virtue, into offering better living conditions, shorter shifts, and higher wages for late-night milking.
Undercover ICE agents recently arrested two of Migrant Justice's most prominent leaders, Zully Palacios Rodriguez and Enrique Balcazar Sanchez, as they were driving away from the group's Burlington headquarters. They are both outspoken advocates of immigrant rights, and Balcazar serves on the Vermont attorney general's immigration task force that was formed specifically in response to Trump's harsh enforcement policies.
Palacios and Balcazar both had clean records, so ICE specifically interrogated one of their detained colleagues for dirt. After learning that Palacios had overstayed a student visa and Balcazar had entered the country illegally, ICE had pretext to apprehend them. It even held Palacios without bail—a highly unusual step for someone who has never committed a criminal offense, her lawyer noted.
ICE allowed its true intentions to slip on the rap sheet of at least one Migrant Justice detainee, noting that he was a part of the "local immigrant advocate group."
This is not the only instance when ICE has officially alluded to the advocacy record of those it has targeted. In December, the agency detained and started deportation proceedings against Maru Mora-Villalpando, a 47-year-old Mexican who came to the U.S. on a student visa 25 years ago and lives near Seattle. The agency targeted her, it said, because "she has extensive involvement with anti-ICE protests and Latino advocacy programs." Mora-Villalpando's arrest is so egregious that it compelled the United Nations Office of Human Rights to beseech ICE to "guarantee that no action, including detention and deportation, as a means of retaliation" would be taken against her.
At the same time as Mora-Villalpando was apprehended, The Intercept reports, Baltazar Aburto Gutierrez, a 35-year-old clam harvester also in Washington, was detained after he commented on his girlfriend's deportation to a local paper. "You're the one from the newspaper," the ICE agent who hauled him in reportedly commented. "My supervisor asked me to come find you because of what appeared in the newspaper."
But the most ominous of all might be ICE's actions against two leaders of the New York-based New Sanctuary Coalition, neither of whom has lived in the country illegally. New Sanctuary Coalition, which helps asylum-seekers file petitions and accompanies undocumented aliens to their ICE hearings or check-ins, is an outspoken critic of ICE policies.
The agency first detained and deported 48-year-old Jean Montrevil in January and then a few days later went after his colleague, Ravi Ragbir. Montrevil is a native of Haiti who came to America in 1986 with a green card, and Ragbir, who hails from Trinidad, acquired a green card after arriving two decades ago.
Montrevil was convicted of drug possession charges at the age of 17 and served a five-year term, after which Montrevil says a judge erroneously ordered his deportation. He's been trying to correct the error ever since—while also getting married, having children, starting a business, and in many ways becoming a model citizen. He has also been religiously checking in with ICE as required. Ragbir, who is married to an American lawyer, served time after being convicted of processing a fraudulent mortgage application while working for a real estate broker, and was ordered deported.
Although both are challenging their deportation orders, neither has ever been in the country illegally. Yet without any notice or cause — and months before his next check-in—ICE accosted Montrevil outside his house and deported him to Haiti before his lawyers even had a chance to obtain a cease-and-desist order. Ragbir, meanwhile, was detained at his regularly scheduled check-in a few days later, although his lawyers have managed with great difficulty to halt his deportation.
What has made ICE's actions against the duo so spooky is that they both had pending appeals challenging their deportation orders. The agency typically does not target immigrants whose appeals process is still playing out, especially when they are in the country legally.
The difference in this case, of course, is that Montrevil and Ragbir are both outspoken activists who command huge influence with New York City politicos. ICE vehemently denies targeting any immigrant simply because of their advocacy, but that strains credulity given the lack of other cause, which is why the New Sanctuary Coalition has retained a reputable law firm to sue ICE for violating its First Amendment rights.
As if all this is not bad enough, the administration is going after not just immigrants, but Americans sticking up for immigrants as well.
Last December, it fined volunteers of No More Deaths, a humanitarian group in Tucson, Arizona, for leaving water bowls in the Sonora desert to reduce dehydration deaths of migrants. Providing such relief is not illegal, so the government slapped them with charges of entering a wildlife refuge without a permit and operating a motor vehicle in a wilderness area.
The administration's campaign of harassment and intimidation to stifle the immigrants' rights movement shows that it is prepared to trash the First Amendment, do an end run around the courts, and manufacture charges against anyone — immigrant and citizen alike — in the name of catching lawbreakers. As Ragbir's attorney noted, "If the First Amendment means anything, it means the government can't silence immigrant-activists … by deporting them."
To enforce the law, the Trump administration is refusing the play by the rules, becoming lawless itself. This is the essence of tyranny.
This column originally appeared in The Week