Police Can Refuse to Say Whether Records Exist, New York's Highest Court Rules
In a case brought by two Muslim men seeking surveillance records on themselves, the court approves the NYPD's "neither confirm nor deny" response.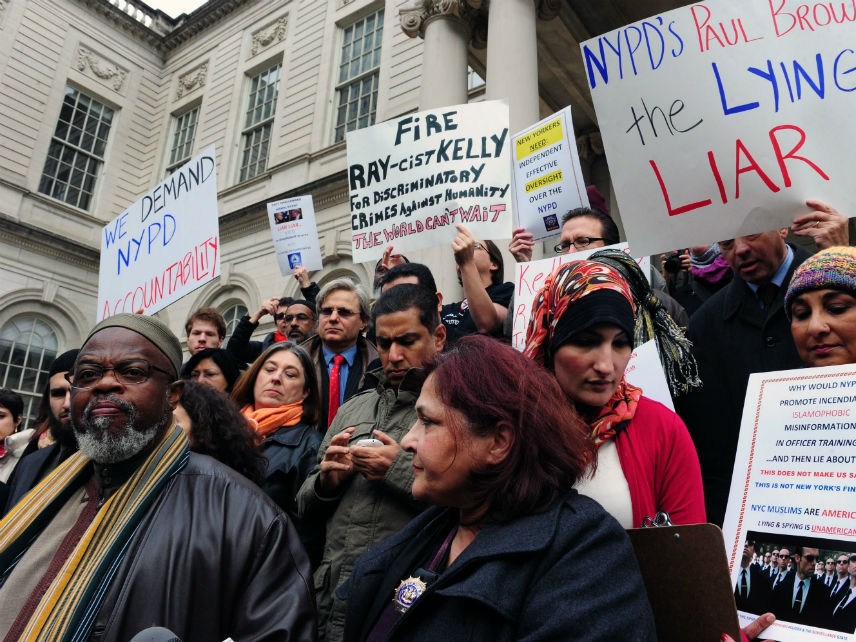 New York's highest court ruled today that the NYPD can refuse to confirm or deny the existence of public records, a decision that transparency and press freedom groups called a blow to open government.
In a lawsuit brought by two Muslim men seeking NYPD surveillance records on themselves under New York's Freedom of Information Law (FOIL), the state Court of Appeals said the department can invoke the so-called "Glomar response" made famous by the CIA—that is, it can refuse to say whether or not the records exist. Chief Judge Janet DiFiore, in a majority opinion joined by three of her colleagues, accepted the NYPD's argument that disclosing whether or not such records exist would compromise its counterterrorism operations. FOIL, DiFiore writes, "was never designed to compel a law enforcement agency to disclose inherently confidential, investigatory information of this nature."
Media outlets, press freedom organizations, and civil liberties groups say the ruling is a another example of federal secrecy doctrine trickling down to state and local agencies. "This ruling opens the door to the NYPD and other police agencies vastly expanding the secrecy that already conceals too much of what they do," Chris Dunn, associate legal director at the New York Civil Liberties Union, said in a statement to Reason. "But the ruling also makes clear that this should be a narrow exception, and we intend to fight to make sure it remains a narrow exception."
The case started in 2012, when Samir Hashmi and Talib Abdur-Rashid—a Pakistani business student and an imam at a Harlem mosque, respectively—filed FOIL requests seeking any NYPD surveillance records on themselves. A 2011 Associated Press investigation had revealed that the NYPD's Demographics Unit, with help from the CIA, was using undercover officers and paid informants to extensively surveil Muslim communities, not just in New York City but also in New Jersey and other places far outside its jurisdiction. Hashmi and Abdur-Rashid strongly suspected they had been surveilled.
Hashmi had been involved in the Muslim Student Association at Rutgers University, one of several Muslim student groups the NYPD had monitored, while Abdur-Rashid was a politically active black Muslim. Among the documents obtained by the A.P. was an NYPD Demographics Unit list of "ancestries of interest," which included "American Black Muslim."
After stonewalling their requests for more than a year, the NYPD finally issued a response saying it would neither confirm or deny that such records existed. The Glomar doctrine—named after a 1975 Freedom of Information Act (FOIA) lawsuit seeking records about the Glomar Explorer, a salvage ship the CIA used in an attempt to recover a sunken Soviet submarine—is well-established at the federal level, but it is virtually nonexistent at the state level. As far as public records experts could tell, the NYPD's response was the first time any state or local agency in the country had tried to invoke Glomar powers. New York's open government statutes don't grant any such escape hatch for public agencies, and Hashmi and Abdur-Rashid's case was the first time New York courts had considered the question.
Although the majority of the appeals court sided with the police department, Judge Leslie Stein noted in a dissenting opinion that the court had not even reviewed the records at issue to determine if the NYPD was frivolously using terrorism as an excuse to deny Hashmi and Abdur-Rashid's requests. "Rather, the majority accepts, without any scrutiny, the NYPD's claim that the scope of the relevant 'investigation' is 'terrorism', and that revelation of any investigation—apparently of any person for any reason—could impede its counterterrorism efforts," Stein writes. "Viewed in this light, it follows that the NYPD could claim the right to refuse to confirm or deny the existence of any record that even tangentially relates to any past, present, or future investigation of 'crime,' thereby avoiding its FOIL obligations in innumerable cases."
For Hashmi and Abdur Rashid, their case was less about abstract transparency concerns than about their own dignity as American citizens. "I wanted to see exactly what [the NYPD] had, what they were alleging and investigating," Abdur-Rashid told me in 2016. "We live in America, man. And dissent against social injustice is not a crime or a justification for being investigated."