North Korea Talks With China, Walmart Caves to Crusade Against Cosmo, States Sue Over Citizenship Question: Reason Roundup
Meanwhile, Trump promises the Second Amendment will never be repealed and Mitt Romney disses DACA.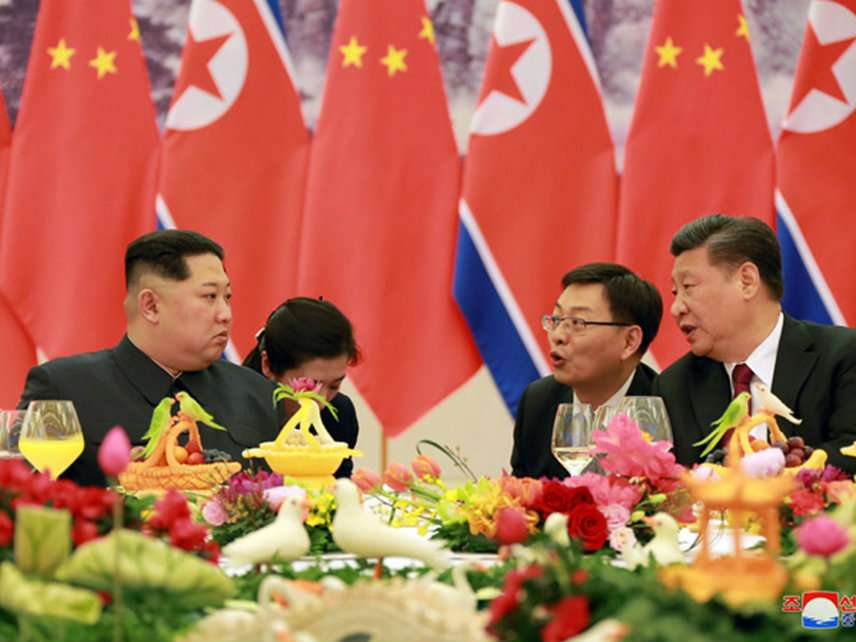 Did U.S. sanctions force North Korea to talk? North Korean leader Kim Jong Un met with Chinese President Xi Jinping this week, which is the first time since he took office that he's left the country or met with a foreign leader. President Trump announced earlier this month that he would meet with Kim sometime soon.
Of course, some American media are reporting that the visit to China is all about us. "Kim Jong Un's visit to China this week may have been motivated by US President Donald Trump" says AOL, reporting—with no evidence to back up the speculation—that the North Korean leader wanted tips from Jinping for his upcoming Trump meeting.
The Trump administration, meanwhile, has been crediting our sanctions against North Korean for forcing a talk. "There's no question these sanctions are working, and that's what brought them to the table," said Treasury Secretary Steven Mnuchin. But this may just be wishful thinking or propaganda.
"There's certainly a lot of anecdotal evidence that growth [in North Korea] is, if not positive, at least flat," according to Daniel Ahn, who studied the sanctions as the head of the State Department's Office of the Chief Economist (a position he left in February). By all sorts of indicators, the country's economy is doing well.
In any event, the potential meeting between Trump and Kim Jong Un will be unusual. "Under normal circumstances, lower-level diplomatic staffers from the U.S. and North Korea would spend months negotiating the terms of a potential agreement, and a meeting between the nations' respective leaders would come at the end," writes New York's Margaret Hartmann.
Instead, it appears Trump's plan is to get in a room with Kim and show off his famous negotiation skills (though so far, he's demonstrated little dealmaking ability as president). Some argue that in this case, that isn't the worst strategy.
On NPR, Frank Aum, a former senior adviser on North Korea at the Department of Defense, said:
… one positive of going big like this is that North Korea has a tendency and a preference to prefer big agreements. They're a top-down regime. Their lower-level officials don't have the authority to negotiate. Remember; in 1994, it took a meeting between Jimmy Carter and Kim Il Sung to lay the foundation for the agreed framework, and then later on lower-level officials hammered out all the details. So I think if we're going to hope for something big, it's better to do it at the highest levels."
FREE MINDS
Walmart stops displaying Cosmopolitan—for the children. The 1980s crusaders formerly known as Morality in Media are still fighting against stores selling Cosmopolitan magazine. Walmart—the country's largest peddler of magazines—has agreed to move Cosmo out of the checkout aisles. It comes at a bad time for the magazine, which saw single-copy sales fall 67 percent from the end of 2014 to the end of 2016.
The crusade against Cosmo is in part pushed by Victoria Hearst, of the Hearst media empire, an evangelical Christian who runs the website Cosmohurtskids.com and told the New York Post a few years ago that "Jesus Christ told me to get Cosmo out of the hands of minors."
But these days the old Morality in Media—now rebranded as the National Center on Sexual Exploitation—avoids this sort of religious talk in favor of zeitgeisty feminist framing. Cosmo "places women's value primarily on their ability to sexually satisfy a man," said NCOSE director Dawn Dawkins. "This is what real change looks like in our #MeToo culture, and NCOSE is proud to work with a major corporation like Walmart to combat sexually exploitative influences in our society."
FREE MARKETS
Free trade in Africa? As American tightens controls on trade under President Trump, at least some places are freeing things up. In Africa, leaders from all but 10 nations just signed an agreement to create the African Continental Free trade Area, establishing tariff-free trade across the African Union. As it stands, "Less than 20 percent of Africa's trade is internal," said Rwandan President Paul Kagame in a speech yesterday. The agreement must be ratified by 22 countries now.
QUICK HITS