3 States Pushing Stricter Gun Laws After Parkland (Plus 2 States That Want to Make Gun Ownership Easier)
Age restrictions, body armor bans, and constitutional carry.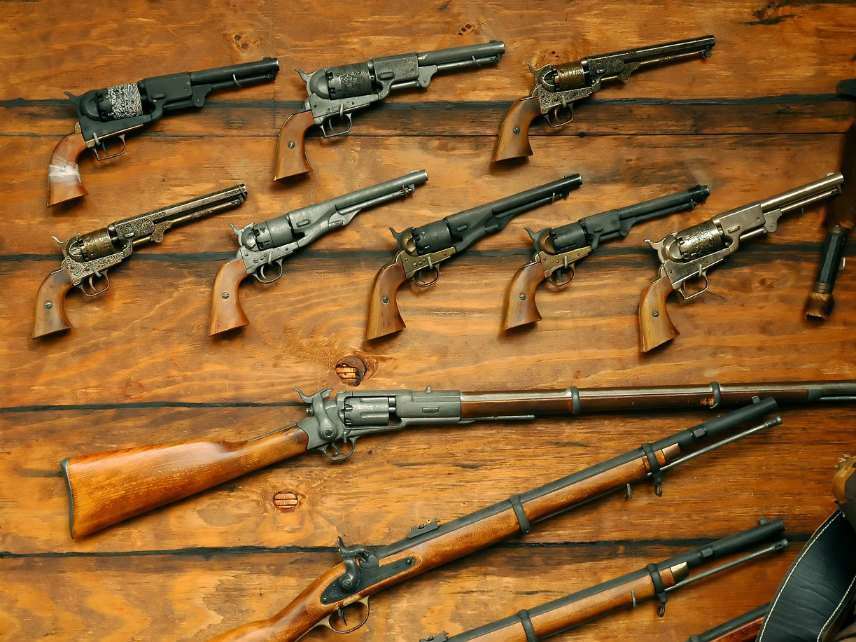 Any momentum for federal action on gun legislation following the recent shooting in Parkland, Florida—which left 17 people dead—appears to be stalled for the moment.
In the wake of the shooting, Democratic lawmakers renewed their demands for an "assault weapon" ban, while President Donald Trump has pushed for arming teachers.
But with Congress predictably logjammed on the issue—and having chosen instead to tackle banking reform before the Easter recess—states have taken the initiative, with wildly divergent results.
1. Illinois
Leading the pack of Democratic states pushing stricter firearm regulations is Illinois. The legislature there is currently mulling a slew of bills to crack down on gun ownership.
House Bill 1467 would prohibit the possession of bump stocks, a relatively uncommon gun modification that increases the rate of fire of a semi-automatic weapon. Because of their relative unpopularity, bump stocks have become the low-hanging fruit of gun control measures. More sweeping is House Bill 1465, which bans those under the age of 21 from possessing any semi-automatic rifle that can hold more than 10 rounds and certain pistols with detachable magazines. Both bills have passed the state House and are now being considered by the state Senate.
Also under consideration is House Bill 1469, which would prohibit magazines that hold more than 10 rounds and ban civilians from wearing body armor—with exceptions for security guards, actors, and kids with Kevlar backpacks.
2. Washington
Not to be outdone is Washington state, which last week passed its own bump stock ban and is now moving on to bigger and better gun control measures. These include Senate Bill 6620, which would prohibit anyone under 21 from owning not just pistols—something state law already does—but literally any semi-automatic rifle. The bill also establishes a grant program to fund school resource officers—law enforcement employees who, you may remember, proved less than helpful during the Parkland shooting.
The National Rifle Association says that preventing law-abiding adults "from acquiring semi-automatic rifles would deny them access to the most modern and effective rifles for self-defense, thus depriving them of their constitutional rights." The bill has currently passed out of committee and is waiting to be voted on by the full state Senate before moving on to the state House.
3. Pennsylvania
Pennsylvania legislators are in the early stages of pushing gun control legislation. State Sen. Wayne D. Fontana (D–Allegheny) is currently soliciting co-sponsors for an "assault weapons" ban that would likely go beyond what even Washington and Illinois have so far proposed.
"My bill will broaden the [scope] of what the state classifies as assault weapons including banning more than 150-gun models," says Fontana in a memorandum to other state legislators that also refers to the "Lakeland, Florida" shooting and promises to mirror legislation passed in Connecticut shortly after Sandy Hook.
Fontana is also pushing for the creation of Extreme Risk Protection Orders, which would allow family members or law enforcement officers to petition a court to suspend a person's right to possess firearms for up to a year if a judge finds that person a risk to himself or others. Oregon passed a similar law last year; Washington, California, and Connecticut also have versions on the books.
The details of Fontana's proposals are still sketchy, as the legislation has yet to be drafted.
4. Oklahoma
In Oklahoma, meanwhile, state lawmakers are looking to loosen restrictions on firearms. Currently awaiting a floor vote from the state House of Representatives is H.B. 2951, which would eliminate the requirement that residents get a permit in order to carry a concealed weapon within state borders. Such "constitutional carry" legislation is already the law of the land in some 13 states.
The bill was proposed by Rep. Jeff Coody (R–Grandfield), who is also sponsoring legislation to give local school districts the power to allow teachers to carry firearms on campus.
"The permitting laws that we have take that right away and cause us to ask permission, pay a tax and wait on a state bureaucracy to determine whether or not they see fit to allow us to have that constitutional right back," Coody told The Oklahoman, saying his bill would restore Second Amendment protections in the state.
5. South Dakota
A similar spirit has animated gun legislation in South Dakota, where lawmakers are looking to expand the number of places one can carry a firearm. State law currently makes it a misdemeanor to possess a gun on school grounds, whether that school is public or not. But H.B. 1271 would lift the ban for private schools and during supervised school firearm training sessions.
* * *
As these very different state-level responses to the Parkland, Florida, shooting make clear, discussions about gun ownership are becoming increasingly polarized. Just a decade ago, it was not uncommon to find reliably blue states such as Oregon with relatively permissive gun laws, while "permitless" concealed carry was not yet a reality even in most red states. The pattern following each new shooting, however, has been for liberal states to ram through more restrictions on firearms as conservative states look to scrap anything that smacks of gun control.