Two New Sitcoms High on Concepts; Unfortunately Less So on Laughs
Life Sentence and Champions have interesting ideas, lackluster execution.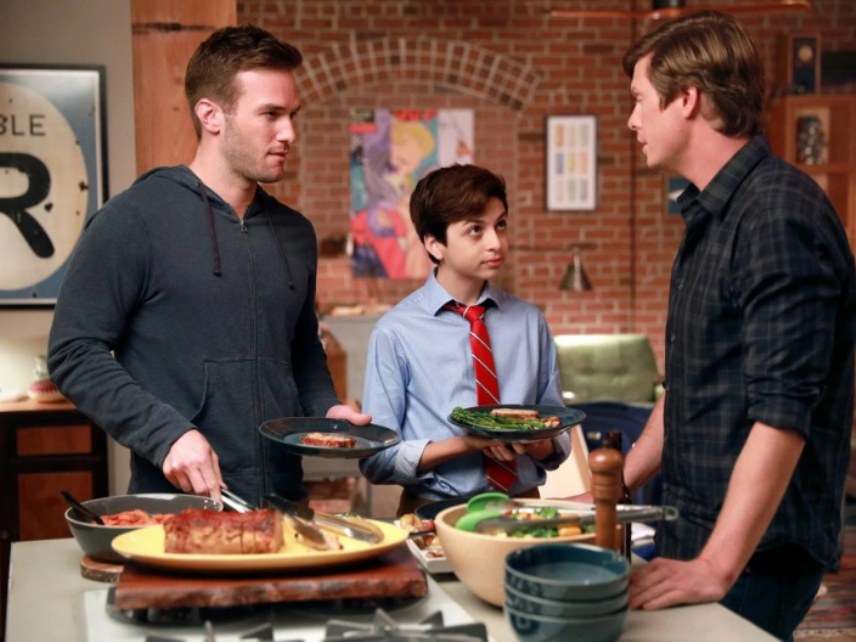 Life Sentence. The CW. Wednesday, March 7, 9 p.m.
Champions. NBC. Thursday, March 8, 9:30 p.m.
Once upon a time, television sitcoms were mostly high-concept, built in a one-punch concept: Appalachian rednecks move into a Southern California mansion! An astronaut lives with a hot supernatural chick who will do anything for him, except show her belly button! Identical teenage cousins with violently different temperaments (Where Cathy adores a minuet, the Ballets Russes, and crepe suzette, our Patty loves to rock and roll, a hot dog makes her lose control …) wreak havoc!
In recent years, high concept has taken a back seat to sitcoms in which the characters mostly sit around in offices or coffee shops, talking about stuff. Supposedly this is a more realistic approach, though my bosses don't seem to think so. ("No, you may not take your laptop over to Starbucks for the afternoon.") But the pendulum may be swinging back, if next week's sitcom premieres are any indication. The CW's Life Sentence and NBC's Champions are very high on concept. Not so much on jokes or characters, though.
Life Sentence is essentially a giant good-news-bad-news joke: Hey, you're not dying of cancer after all! But while you were sick, your family turned into a bunch of bilious, broke blockheads!
Lucy Hale, the weird but cute-as-a-button Aria in Pretty Little Liars, plays ex-cancer-victim Stella Adler, whose family wrapped her in a tight, Make-a-Wish cocoon during an eight-year battle against a disease that everybody thought was terminal. "My life has been pretty amazing," she says, and indeed it has been: An endless round of elegant pre-funeral parties; a long visit to Paris "where I dressed up like a sexy mime and waited for a soulmate to appear"; marriage to a sexy continental chap she hardly knows. ("It was only a six-month commitment, tops!")
But the news that an experimental therapy has cured her also flattens Stella under the weight of the real world. That trip to Paris bankrupted her father and hastened her mother's entry into an affair. Her oh-so-supportive sister is really a shrew, her lovable brother a slacker whose sole waking activity is boinking married women. And it turns out the continental chap would, all things considered, prefer being whipped to hours of having hours of butterfly sex by candlelight.
Oh, and when her dad's cancer family support group found out his daughter wasn't going to die, they gave him a farewell pizza and booted him before he could even slice it.
Life Sentence is going for the same macabre, black-comedy laughs that Queen Latifah did in her 2006 mistaken-terminal-diagnosis Last Holiday, or even those Alec Guinness chased in the less sunny original 1950 version of the film. Hale and the rest of the cast get a few of them, particularly when they're first realizing that they can no longer hustle favors by playing the cancer card.
But as the financial and emotional dominoes keep tumbling, there are only so many chuckles to be wrung from financial ruin and emotional defenestration. The show goes from morbidly funny to morbid to jagged and depressing at record speed. There are a lot of jokes in Life Sentence about patients watching "sappy cancer movies." Now, for a change of pace, they've got a cruelly serrated TV show about wellness. As jokes go, that's more of a bad-news-worse-news type.
The concept in Champions seems to be Two and a Half Men viewed through the lens of Queer Eye for the Straight Guy. Written, produced, and even acted in an inexplicable bit by Mindy Kaling (much loved as a writer on NBC's The Office, much unwatched as the creator-producer of Fox's The Mindy Project), Champions concerns a couple of amiably dumb jock brothers who somehow wind up with the custody of a flamboyantly gay teenage boy. Laffs mostly do not ensue.
Anders Holm, part of Kaling's crew on The Mindy Project, plays gym owner Vince, whose lack of intelligence or ambition is compensated for with a prodigious string of romantic conquests. His life get turned upside down when the fruits of one of those turns up on the doorstep: Michael (J.J. Totah, Spider-Man: Homecoming), the 15-year-old offspring of a high school sweetheart, a child he didn't know he had.
Vince and his younger, dumber brother Matthew (Andy Favreau, who played a similar role as junior Beach Boy Dennis Wilson in Aquarius) are confounded by their new ward, who breaks into show tunes at random moments and quotes the book of Les Miz the way Chinese communists quote Mao. Young Michael is, if anything, even more bemused; he'd been told by his mother that his dad was a soldier killed in Afghanistan as he liberated a school full of blind girls.
There are a few amusing exchanges across this cultural divide, but they get old quick. Mostly they serve to invite questions why the Hollywood portrayal of gay characters as supercilious fops persists without protest. Two decades ago, when "gay" on television was a synonym for heroin addiction or psychotic icepick wielding, Champions might have been a truly high-concept addition to the TV lineup. These days it's just low comedy.