33% Off! Attend Students for Liberty's LibertyCon in DC, March 2-4
Speakers include Dave Rubin, John Mackey, Patrick Byrne, and Reason staffers Katherine Mangu-Ward, Matt Welch, Peter Suderman, and Nick Gillespie.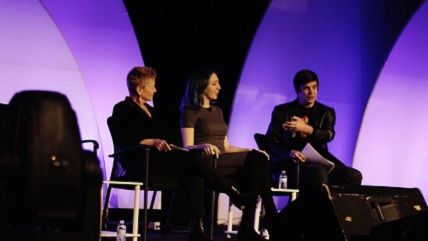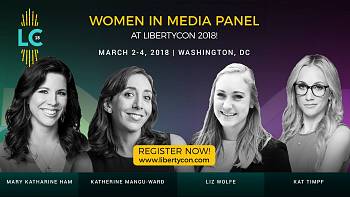 Students for Liberty's annual conference, LibertyCon, is happening between March 2 and March 4 in Washington, D.C. It's an essential annual meetup for young libertarians from all over the world. I'm happy to announce that SFL is offering a 33 percent discount for Reason readers (of all ages). Use the discount coded BeFree when signing up.
Go here to get information about who is speaking when and how much everything costs. College students and recent grads are especially welcome, but everybody who is interested in the future of "Free Minds and Free Markets" should attend.
Reason-rich panels include the following:
Unsuck Your Video: Five Tips For Making Better Political Comedy
Meredith Bragg, Austin Bragg, Andrew Heaton
Meet some of the warped brains behind "Libertarian Game of Thrones," "Attack Ads 1800," "Mostly Weekly," and many of your favorite comedy Reason TV videos. These guys will cram decades worth of experience into 25 minutes of distilled wisdom.

From Cocktails to Cannabis: How Prohibition Always Kills Your Buzz
Peter Suderman, Katherine Mangu-Ward
More than 80 years after Prohibition, the craft cocktail scene is booming. Is pot next? Come watch Reason.com Managing Editor Peter Suderman demonstrate how to make the classic cocktail known as "The Old Fashioned." Suderman and Reason Editor-in-Chief Katherine Mangu-Ward will discuss the long-tail effects of alcohol prohibition—and how legalized pot is finally coming into its own.

How To Talk About Freedom on TV
Katherine Mangu-Ward, National Review's and Fox News' Kat Timpf, The Federalist's and CNN's Mary Katharine Ham, and Young Voices' Liz Wolfe discuss how best to represent the radical ideas of libertarianism in ways that aren't just pure but are persuasive.

Facebook, Technology, and Freedom
Reason's Matt Welch leads a free-wheeling discussion on how social-media platforms such as Facebook and other disruptive new methods of getting your voice out there are putting a stake through the heart of legacy gatekeepers like CBS, The New York Times, and more.

Nick Gillespie Interviews Dave Rubin
Dave Rubin, the former lefty member of The Young Turks about why he left the left behind and gained a massive YouTube audience by hosting civil, thoughtful, and in-depth conversations about every hot-button topic under the sun.
So register for SFL's LibertyCon now! Enter the discount code BeFree for a 33 percent discount!
Last year at one of the kick-off sessions, Katherine Mangu-Ward and I talked with former Reason top editor Marty Zupan, who ran the Institute for Humane Studies, the first 49 years of Reason and the growth of the libertarian movement. Take a look: