West Africa's Libertarian Moment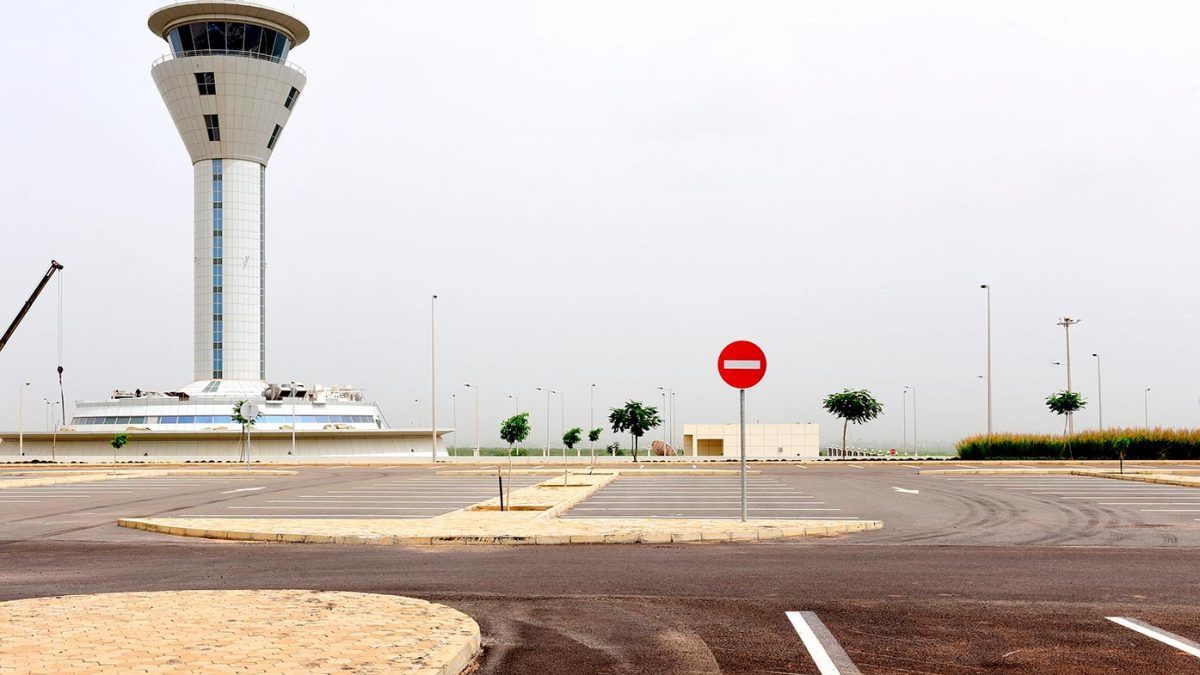 (Seyllou/AFP/Getty Images)
In December 2017, after 10 years of delays, Senegalese president Macky Sall finally unveiled the brand-new Dakar airport before a crowd of supporters waving posters of his face. With a cost of roughly $600 million, and a footprint five times the size of the previous airport, nothing about the project was small—including its ambitions. The presidents of Gabon, The Gambia, and Guinea Bissau joined Sall for the launch, underlining the dream: Blaise Diagne International Airport, they hope, will become a regional transport hub that jump-starts local economies and symbolizes the bright West African future.
As it turns out, the airport inauguration did symbolize West Africa's shifting climate. Just not in the way any of the politicians planned.
A new airport needs a new airline, so the Senegalese government launched one of those, too. Air Senegal, the new state-owned national carrier, replaces its predecessor, Senegal Airlines (shut down in 2016), which itself replaced Air Senegal International (shut down in 2009).
Everyone hoped that Air Senegal could succeed where those before it failed. Aviation Minister Maimouna Ndoye Seck insisted a national airline was "a necessity." Government officials wanted the airline to claim the honor of operating the new airport's first commercial flight.
But it was not to be. Air Senegal couldn't get all of the necessary flight licenses together in time for the launch, so its inaugural flight was symbolic only. Instead, the honor of the new airport's first commercial flight went to Transair, a privately owned local carrier.
As the government airline watched from the ground, burdened by gravity and the weight of unfinished paperwork, the private airline took off.
Enter Africapitalism
For decades, West Africa was inhospitable soil for the seeds of libertarianism. Léopold Senghor, the first president of Senegal, famously argued that socialism is an inherent fit for the region, saying: "Africa's social background of tribal community life not only makes socialism natural to Africa, but excludes the validity of the theory of class struggle." Along with Kwame Nkrumah of Ghana and Modibo Keita of Mali, Senghor designed a model of West African governance in which social development would be guided by a large public sector. Driven by this vision (and considerable financial support from the USSR), state participation in regional economies was taken to extremes: in Ghana, for example, Nkrumah nationalized all foreign companies, imposed price controls, collectivized agriculture, and established state-run industries in everything from cocoa processing to pharmaceuticals to metallurgy.
But George Ayittey, a Ghanaian economist who has argued that "Africa is poor because she is not free," says private business and free enterprise have deep—albeit misunderstood—cultural roots on the continent. Visit any market and it's plain to see: West Africa is an energetic hive of entrepreneurship.
"One can be communalistic or socialistic without being a socialist," Ayittey writes in Defeating Dictators: Fighting Tyranny in Africa and Around the World. "In peasant societies, the means of production are owned by the clan, [which] acts as a corporate body or unit. However, the clan is not the same as the tribal government; it is a private entity and, therefore, the means of production are privately owned."
He describes West Africa's history of socialist experiments as a rejection of colonialism: After all, Lenin said imperialist colonialism is the highest stage of capitalism, so it makes sense that the Lenin-reading survivors of imperialism would reject its alleged economic roots. But that rejection (and the pillaging legacy of colonialism) has resulted in a paradox: At the turn of the 21st century, Africa was the richest continent in the world in terms of natural resources, but the poorest in terms of socio-economic development and inclusive growth.
But after decades of heavy-handed government regulation, something new is happening across West Africa. Privatization, deregulation, and free market capitalism—along with growing skepticism of state control—are gaining momentum.
Ayittey cautions against characterizing the movement as a specifically "libertarian" one—"ideological tenets that are meaningful in the U.S. may not necessarily translate in Africa," he says, noting that, for example, the term conservative has different meanings in the United States and Russia. But he agrees that West Africa has a growing "disgust or revulsion against political leaders and governments." Nigerian entrepreneur Tony Elumelu calls it "Africapitalism"—the urge to combat economic and social challenges with entrepreneurship rather than charity or state intervention.
"It is a drastic departure from the old model of centralized governments managing basic industries," Elumelu writes in his manifesto, Africapitalism: The Path to Economic Prosperity and Social Wealth. "That is the heart of Africapitalism: long-term investment that creates economic prosperity (a commercial objective), as well as social wealth."
West Africa is certainly not a utopia of unfettered socio-economic liberty. Anti-government theories are growing largely because the region's political leaders have crammed authoritarianism down citizens' throats for so long. In recent months, Cameroon's Francophone-dominated government has cracked down violently on Anglophone secessionists seeking independence. In Senegal, Franco-Beninese activist Kemi Seba was arrested and deported after he publicly set fire to a banknote to protest the colonial currency still being used by eight West African countries. In November 2017, the Mauritanian Cabinet approved an amendment to the penal code that would punish "defamation to God, the Prophet Muhammad, Holy Books, angels or prophets" by death. LGBT rights in the region are bad in theory and even worse in practice. In the Cato Institute's 2017 Economic Freedom of the World report, almost all West African nations were placed in the "least free" category. It would be silly to pretend activists in the region aren't at the beginning of a long and difficult climb.
But although authoritarian governments die hard, they are dying in West Africa. In 2014, when Burkinabé President Blaise Compaoré tried to amend the constitution to extend his already 27-year-long term, protesters responded with a series of uprisings that ultimately forced Compaoré to dissolve his government and flee to Côte d'Ivoire. In Togo, anti-government protesters are currently thronging the streets in an attempt to overthrow the Gnassinbé dynasty, which has maintained control over the country for more than five decades by terrorizing those who speak out against corruption and misrule. And with the fall of The Gambia's Yahya Jammeh in early 2017, all 16 countries in West Africa now have democratically elected governments. In November, The Gambia even got its first private television station.
This momentum has swelled to include more than just the fall of authoritarian political dynasties. In 2016, the African Union launched a common passport that will grant visa-free travel to all member countries by 2020—a move that regional libertarian activists, such as African Students for Liberty's Oluwafemi Ogunjobi, hail as "a key step towards…economic growth with free movement of people, goods, and services." Other deregulatory economic policies have sparked excitement, too: After the Nigerian government privatized the telecommunications industry in 1999, the sector boomed, contributing over 6,000 jobs and an additional 6.97 trillion naira (or 8.68 percent) to the gross domestic product (GDP). When Senegal dismantled its government monopoly on cement, prices fell by a third.
"We are witnessing the beginning of a major intellectual revolution," says Ayittey. "In the past, the people were not willing to complain and accepted whatever excuse the government gave them. Not anymore."
Changes are afoot in West Africa. As activists for social and economic liberty increasingly shape the regional dialogue, it's worth asking: Is this West Africa's libertarian tipping point?
Reducing Harm
In November 2009, the burned-out carcass of a Boeing 727 was found in the arid deserts of northern Mali. Investigators said smugglers had used it to fly a shipment of drugs in from Venezuela, unloaded them, and then torched the plane to hide the evidence. Transatlantic flights of drugs have also been recorded in Guinea-Bissau and Sierra Leone—a flashback to the 1970s and '80s, when drug smugglers flew openly between Colombia and the U.S. border. Today, the estimated annual value of cocaine transiting through West Africa is $1.25 billion—significantly more than the annual national budget of several countries in the region.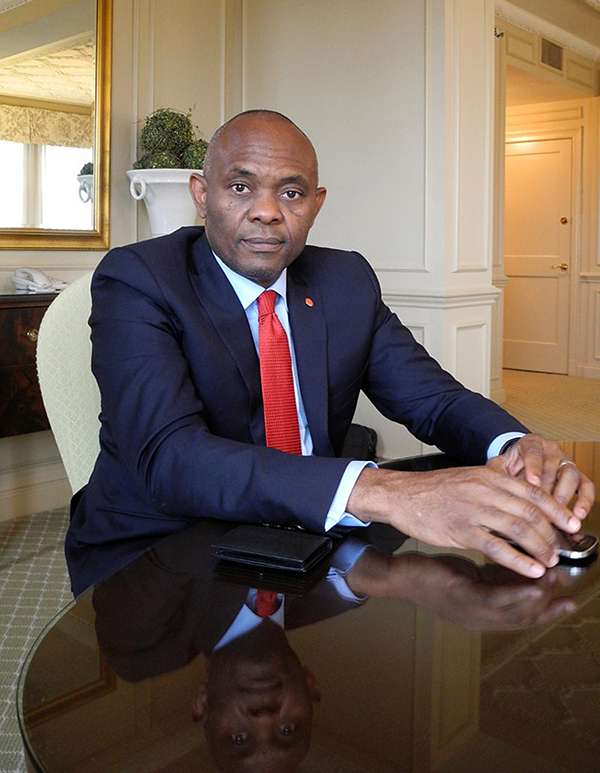 And West Africa isn't just a transit hub; the region's production capacity is growing as well. Synthetic drug production centers have emerged in Côte d'Ivoire, Guinea, and Nigeria; according to a report from the International Narcotics Control Board, 10 meth labs were dismantled in that last country between 2011 and 2015, and drug production chemicals have also been seized in Senegal.
So to consider West Africa's shifting stance on state control, drug policy is a good place to start.
For decades, regional drug policy has emphasized criminalization, with ineffective and even counterproductive results. Policies are harsh: In Ghana, drug use carries an automatic minimum sentence of five years. Possession is not distinguished from trafficking and carries a minimum of 10 years. Prohibition has fueled health hazards, such as the HIV epidemic and the spread of hepatitis C, and put pressure on the region's already overburdened criminal justice system. It also limits economic options for Ghanaian farmers, whose work accounts for 21 percent of the country's GDP; in 2016, a farmer was sentenced to an astonishing 15 years in prison for growing marijuana.
But the tide is turning. In 2014, a report from the West Africa Commission on Drugs concluded: "We believe that the consumption and possession for personal use of drugs should not be criminalized. Experience shows that criminalization of drug use worsens health and social problems, puts huge pressures on the criminal justice system, and incites corruption."
Those recommendations are translating into policy. Ghana is on the brink of becoming the first country in the region to decriminalize the personal use and possession of all drugs, and several other countries are poised to follow Ghana's lead.
"You'd be amazed at how people's opinions have changed about the need to decriminalize drugs," says Maria-Goretti Loglo, a Ghanaian lawyer and consultant for the International Drug Policy Consortium. "We have come to acknowledge the fact that the same methods we've used over and over again haven't helped solve the problem."
Loglo says the government's first draft of the drug bill was terrible. It "sought to raise penalties with the mindset that, when you severely punish people, they will stay away from drugs." But when civil society organizations, such as the West African Drug Policy Network, intervened, they were able to convince legislators that an evidence-based decriminalization approach would save lives.
The specific details of the current legislation are still under debate, but, remarkably, both political parties agree that the final policy will end imprisonment for use and possession—a first for the continent.
According to Loglo, who helped develop the current policy recommendations, first-time offenders will be given a warning. Second-time offenders face a proposed fine of 100 "penalty units" (1,200 Ghanaian cedis, or $267), although some are pushing to have that fine cut in half. Third-time offenders will be referred to treatment and counseling programs.
"Initially, we had a lot of resistance," says Loglo. "But now you'd be amazed—the majority of parliament [members] support it. Yes, there are one or two individual legislators who feel this is a moral issue that people must be punished for, but they are the minority."
The Ghanaian policy has provoked excitement and optimism from harm reduction advocates around the world. "It will be huge," says Niamh Eastwood, the executive director of Release, a London-based drug policy organization. "It will be beneficial to the state in terms of economics, but it's also treating people with the dignity they deserve. It's groundbreaking for West Africa."
Ghana's position on the issue is already influencing other countries in the region. William Ebiti, the point person for Nigeria with the West African Drug Policy Network, says the country was considering a bill that would tighten punishments for drug possession, but that bill has been put on hold. Instead, Ebiti has been asked to facilitate a roundtable discussion between government officials, traditional leaders, international organizations, and civil society groups in Northern Nigeria to explore decriminalization and harm reduction options.
The Nigerian Drug Law Enforcement Agency "is beginning to soften its tone on the issue of possession," Ebiti says. "We are seeing a slow shift in terms of attitude towards drug use. Something very interesting is happening."
Students for Sensible Drug Policy, an international network that "neither condones nor condemns drug use" but campaigns for "the right of individuals to make decisions about their own health and well-being," has chapters in Sierra Leone, Gambia, and Liberia as well as Ghana and Nigeria. The activism that has spread across the region is manifesting in policy: Stakeholders involved in the Ghanaian legislation, for example, recently traveled to Monrovia to discuss their findings and policy recommendations with the Liberian president.
"Liberia is really prepared to engage with us as to what kind of changes we can bring," says Loglo, noting that the country's long civil war left an unusually large number of addicts—mostly former rebel soldiers who were fed on drugs. "We met with the attorney general, and they are prepared to amend their laws to give an opportunity to these communities."
Ghana is on the brink of becoming the first country in the region to decriminalize the personal use and possession of all drugs, and several other countries are poised to follow Ghana's lead.
Loglo adds that Benin and Guinea are also discussing drug policy reforms. And the region's first harm reduction center—where drug users are offered health services and a safe place to get high without fear of legal punishment—opened in December 2014 in Dakar, Senegal. It's been so successful there are plans to open a second in Mbour, and others are being developed in Cabo Verde and Côte d'Ivoire.
"It's a tipping point for West Africa," says Loglo. "Government is beginning to listen to civil society, and that is the way forward. Government cannot do everything."
Privatizing Schools
If any education system is ripe for change, it's Liberia's. During the country's 14-year civil war, gangs of rebel soldiers ransacked schools, ultimately forcing an estimated 80 percent of them to close. Then the Ebola epidemic came along to make a bad situation worse: The few schools that had survived the war had to close for seven months while the country grappled with a public health crisis.
Today, the effects of Liberia's history on its education system are obvious and devastating. Fewer than 60 percent of school-age Liberian children are actually in school—one of the lowest net enrollment rates in the world. Even among those who are enrolled, the picture is grim: Less than one in five adult women who reached fifth grade in the country can read a single sentence. In 2013, roughly 25,000 high school graduates took the University of Liberia's entrance exam. Every single one failed.
Desperate for solutions, President Ellen Sirleaf appointed George Werner, a former teacher, to the position of education minister in 2015. He faced a daunting task. With a budget of only $44 million, he was to bring Liberia's education system back to life.
Werner moved quickly and dramatically. In September 2016, he announced an experiment with private primary education. The project, called Partnership for Schools in Liberia (PSL), handed over management of 93 schools to eight private companies, including for-profit providers and charities.
Roughly a quarter of those—25 schools in total—went to Bridge International Academies, a U.S.-based for-profit education provider sometimes referred to as the "Uber of education." With more than 100,000 children enrolled in its schools in India, Kenya, Uganda, and Nigeria, and with high-profile investors such as Chan Zuckerberg Initiative and Bill Gates Investments,* Bridge is one of the largest providers of low-cost education in the world.
The remaining 68 schools were divided among seven other organizations via a competitive bidding process. Werner's bold proposal was widely reported as the largest, and most ambitious, privatization project in Africa's recent history. "Our challenge to fix education is gigantic," he said at the time. "Partnership Schools offers us an unprecedented opportunity to confront and fix as many broken pieces as we possibly can."
Data suggest the effort worked. An independent randomized control trial from the Center for Global Development found that after one year, test scores rose by 60 percent in public schools managed by private contractors. Students in the private-management experiment also had better access to school supplies: They were 19 percent more likely to have textbooks, 18 percent more likely to have chalk in their classrooms, and 10 percent more likely to have pens and pencils. Even when the results did not reflect especially well on either system—a random spot check found that only 68 percent of PSL teachers were physically at school, as compared to 54 percent of government teachers—the private program numbers looked better.
Buoyed by those statistics, the PSL program was doubled to include 202 schools for its second year. "The world was watching to see whether Liberia's education system could be transformed," Shannon May, a co-founder of Bridge International Academies, announced. "And the answer is yes."
But from the start, the project was plagued with controversy. Kishore Singh, the U.N.'s special rapporteur on the right to education, condemned the experiment as "completely unacceptable" and "a blatant violation of Liberia's…obligations." At upward of $25 million over three years, not including the costs of its planned expansion, critics questioned whether PSL was worth the investment. And there were disturbing anecdotes: According to one report, after a Bridge PSL school promised students a school lunch program but failed to deliver, the poorest students simply dropped out.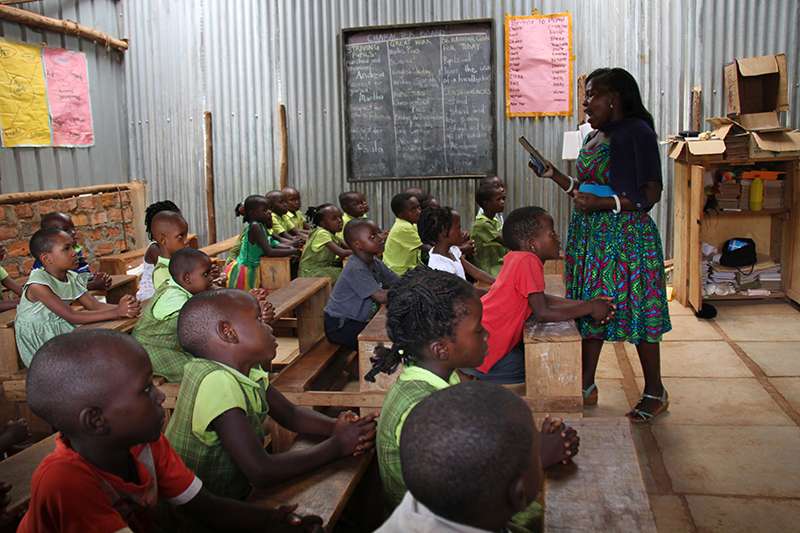 Even those test score improvements provoked debate. Steven Klees, a professor of international education policy at the University of Maryland who thinks PSL represents the "McDonaldization of education," argues that when controls for student pre-test scores and other factors are taken into consideration, student improvement goes down from 60 percent to 35–45 percent. That's still an improvement—but Klees does not think it's due to the privatization scheme.
"To me, it has nothing to do with privatization," says Klees. "PSL schools had smaller class sizes, more instruction time, better trained teachers, and didn't have to follow the existing primary school curriculum—all things you could easily do in public schools. Given that difference in resources, I'm honestly surprised the PSL test scores went up so little."
The economics of the plan have provoked questions as well. Here's how it works: The Liberian Ministry of Education (MOE) already spends $50 per year on every student in the system, most of which goes to teacher salaries. Under the privatization experiment, that didn't change: Both PSL and non-PSL students continue to receive that $50 baseline from the ministry for the duration of the proposed three-year pilot. But the MOE wanted to see what additional spending, when combined with private management, could achieve—so it raised an additional $50 per student per year from philanthropic organizations and other donors. (It also freed up funds by purging more than 6,000 "ghost teachers"—teachers who never existed but likely had been added to the system to generate salaries that lined the pockets of corrupt officials—from the payroll.)
On top of that, the eight private PSL providers were free to raise additional money if they chose. After all was said and done, the private provider that produced the most impressive student improvement statistics, Bridge International Academies, had spent a staggering $373 per student in its first year of operation, not including start-up costs. Bridge supporters are quick to emphasize that those additional funds came at no cost to either the Liberian government or to Liberian parents.
But others argue that the big test scores—and their big price tag—aren't sustainable long-term. Klees pointed to the example of Edison Schools, a for-profit private contractor that reported only one profitable quarter while it was publicly traded. (Bridge International Academies is not currently making a profit.) To survive, Edison Schools was eventually forced to move away from school management and into supplemental services, such as testing and tutoring.
As PSL enters its second year, education professionals around West Africa and around the world are watching Liberia—and interest in private options to address regional education deficits is spreading. In October 2017, one year after the launch of PSL, the Nigerian Stock Exchange "donated" a Bridge International Academies school to the Borno State Government. (Borno is one of three so-called "emergency states" most affected by Boko Haram.) In Ghana, 5.6 million cedis (about $1.25 million U.S. dollars) of microfinance loans have been disbursed to 584 low-fee private schools; the program reaches almost 140,000 kids and boasts a 92 percent loan repayment rate. Meanwhile, in Sierra Leone, Rising Academy Network (another for-profit education provider) started with one school in 2014 but quickly grew to include 2,000 students at all different grade levels throughout the country.
Rising Academy, which also runs 29 schools in Liberia through PSL, initially entered West Africa as a purely private response to need, rather than at a government's invitation. Like other low-cost private education efforts, it has attracted controversy. Tuition at the company's schools in Sierra Leone is $140 per year—a steep price in a country where, according to a World Bank estimate, gross national income per capita is $340. (That means 72 percent of the population lives on less than $1 per day.)
"Our parents are average Freetown residents," claims Christina PioCosta-Lahue, the managing director of Rising Academy Network. "They're not just the elite." She stressed that tuition can be paid in installments and includes "everything: uniforms, workbooks, everything the students need." But that's not quite true—when asked if the tuition includes school lunch, PioCosta-Lahue admits it does not.
The relatively expensive option does seem to produce results, though. A three-year impact evaluation of Rising Academy schools in Sierra Leone by Oxford education psychologist David Johnson found that the private students had made two to three times as much progress in reading and math as their peers in government schools. And advocates of private education options in the region emphasize that even desperately poor parents want what any other parents want: the most effective education options for their kids.
"People who respond negatively to the idea don't know this context well, if at all," says PioCosta-Lahue. "The situation we found in [government] schools was really dire—unimaginable to someone in D.C. What parent wants to send their child to a school where the teacher is illiterate?"
Changing Minds
In West Africa, enterprise starts with the soil. According to the World Economic Forum, an estimated 70 percent of people on the continent depend on agriculture for their livelihoods. But regional governments have struggled to boost the economic potential of their farmers; often they've been unable or unwilling even to get out of the way. In Senegal, for example, cattle are the main capital for 30 percent of citizens—but imported powdered milk is taxed at 7 percent, while the taxes imposed on local milk add up to a crippling 30 percent.
No conversation about the present (and future) of socio-economic liberty in West Africa can ignore the region's farmland—which is why it's no surprise the next generation of West Africa's libertarian activists hatched on a chicken farm.
At 24, Olumayowa Okediran had just graduated from university. Like other Nigerian graduates, he entered the National Youth Service Corps, a required national service year that gives people work placements around the country. Okediran was sent to a small village called Fasola, to work on a poultry farm. Tending to the chickens was fun. But the economics of the enterprise made him grumpy.
"It was very unproductive," he says. "I kept pondering why the farm had not been sold to a private investor to manage it. They were making huge losses—it was unsustainable, and it was a waste of money."
Frustrated with the inefficiency he saw by day, Okediran used his nights to fantasize about ways to take the pet project he had started during college—a small group called the African Liberty Students Association (ALSO)—to a broader audience. "I was slaving away for the government," says Okediran with a laugh. "But I spent that time building the groundwork for something big." By 2013, he'd brokered an alliance between ALSO and the U.S.-based Students for Liberty.
Today, the child of that union—African Students for Liberty—boasts more than 6,000 contacts in 22 countries around the continent. It's Africa's biggest libertarian group.
As the momentum continues to build, everyone agrees: Conversations about liberty in the region must center on African voices and narratives. As George Ayittey puts it, "Africa's salvation lies in building upon its own indigenous institutions, not copying foreign systems."
Okediran agrees. An early challenge to the group's advocacy, he says, was to overcome the idea that it's merely proselytizing for Western theories. "I get accused of being a stooge of the West," he says. "They say, 'Oh, you've come with your neo-colonialism, you want to colonize us all over again.'"
To counter that, African Students for Liberty stopped distributing material by Western writers, and started sharing a collection of essays by authors from the continent instead. Called Voices for Africa, it includes essays such as "An African Intellectual's View on Libertarianism" and "Debunking the Myths of Free Enterprise in Africa." The tactic is working.
"This is a tipping point," says Okediran. "More young people are marching on with their ideas of liberty now than ever before. Whether they self-identify as libertarian or not, their choices—the arguments they make online—reflect libertarian ideals. The young people who believe these things now will go on to be journalists, businessmen, policy makers. And when we get into those positions of power, the belief systems we're building will begin to play out in policy."
It has already started. Recently, Okediran looked up his old chicken farm—curious, he said, to see if the operators had learned from past mistakes.
It's going private.
CORRECTION: The original version of this story described investors in Partnership for Schools in Liberia as Mark Zuckerberg and the Bill and Melinda Gates Foundation. They are Chan Zuckerberg Initiative and Bill Gates Investments.
This article originally appeared in print under the headline "West Africa's Libertarian Moment".