Pennsylvania's Redistricting Crisis Deepens as SCOTUS Takes Hard Pass on Getting Involved
The SCOTUS won't get involved in a dispute over Pennsylvania's congressional district lines. Could an algorithm succeed where lawmakers and judges have failed?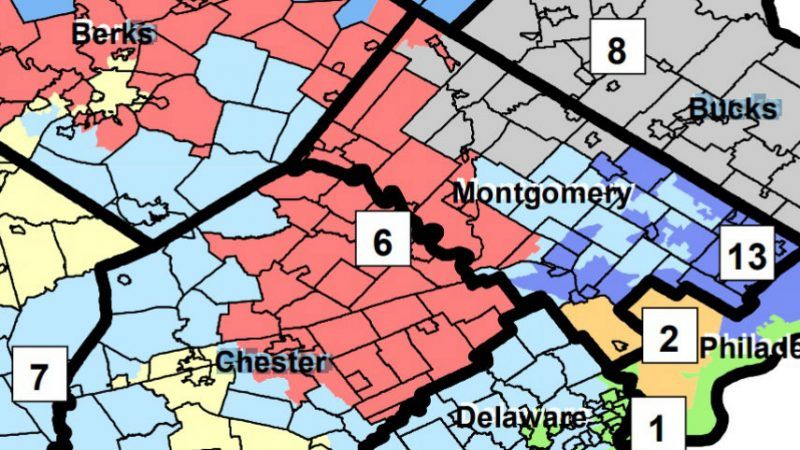 (Redistricting.state.pa.us)
As half the state nursed a celebratory Super Bowl hangover, Pennsylvania took another half-step towards a full-blown constitutional crisis. Today the U.S. Supreme Court has rejected a request from Republicans in the state legislature, who sought an order stopping the state Supreme Court from ordering new congressional maps before the 2018 election.
Yes, it's a bit confusing. Here's how we got here. The state's high court ruled last month that current congressional district lines, drawn by Republicans in 2011, were unconstitutional. New maps must be passed by the state legislature and signed by the Democratic governor before February 9, the state court said, or else the court would design its own maps for the upcoming midterm elections. Republicans in the legislature refused to comply and asked the U.S. Supreme Court to tell the state court it was out of line.
Now that the SCOTUS has refused to do that, the legislature has just four days to get new maps drawn up and passed.
"Now, all parties must focus on getting a fair map in place," said Gov. Tom Wolf, a Democrat. "Gerrymandering is wrong and we must correct errors of the past with the existing map."
If Republicans continue to refuse to draw new maps, the state Supreme Court may have to back up its threat to take matters into its own hands. It's not at all clear that the state court has the authority to do that, since both the state and federal constitutions give redistricting authority to the legislature. Should the state court produce new maps and order them used for the midterms, another GOP-backed appeal to the U.S. Supreme Court would seem likely.
The crisis in Pennsylvania—like other ongoing court battles over partisan redistricting, in such places as North Carolina and Wisconsin—points to a broader problem. It's relatively easy to show that redistricting is often done in partisan, biased ways, but it's much harder to find a workable alternative.
One supposed solution to gerrymandering is supposedly independent "redistricting commissions" filled with supposedly independent normal people.
The main problem with that approach is that the list of people who care about redistricting enough to serve on such a panel and are not interested in partisan politics is just about zero. As Reason's Ron Bailey has pointed out, independent redistricting commissions tend to gerrymander just as much as legislators do. In California, a citizens redistricting commission in 2010 was infiltrated by union-backed groups and, no surprise, produced maps that pretty clearly advantage Democratic candidates.
Another possible solution—one that the state Supreme Court in Pennsylvania has now embraced—involves greater activism from judges. In the past, courts at all levels generally have been unwilling to strike down maps purely for reasons of partisan bias (though there is a history of courts rejecting maps that deliberately diluted minority populations' votes).
The problem with that is that it raises questions about the impartiality of judges. Republicans in Pennsylvania are howling about comments made by Supreme Court Justice David Wecht in 2015, when he was running for a seat on the state Supreme Court. "Gerrymandering is an absolute abomination. It is a travesty. It is deeply wrong," he said at a candidate forum in Philadelphia. "There are only 5 Democrats in the Congress, as opposed to 13 Republicans. Think about it. Do we need a new Supreme Court? I think you know the answer."
Judicial elections are tricky things. There's a fine line between a judge informing voters about his stance on an important legal issue and a judge campaigning for a seat on the bench so he can overturn a partisan map for partisan reasons. Wecht, no surprise, was one of the five justices on the state Supreme Court to vote in favor of tossing the 2011 maps.
What's to be done? One possible solution is to let computers do the dirty work for us. Like with many other jobs that humans don't care to do or don't do very well, computers might actually be pretty good at this whole redistricting thing.
For example, here's the 2011 congressional map side-by-side with a potential district map drawn by a computer algorithm as part of FiveThirtyEight's "Atlas of Redistricting" series (check out the maps for other states here):

The computer-drawn maps would give Democrats an edge in two Philadelphia-based districts, two other districts in the Philly suburbs, and one district centered on Pittsburgh. Republicans would have a clear edge in nine other districts covering most of the rest of the state. That leaves four "highly competitive" districts along the eastern edge of the state, stretching from Scranton and Wilkes-Barre in the northeast to Bucks County just north of Philadelphia. The map would likely leave Republicans with an 11-7 edge in the state's congressional delegation—a margin the GOP should be pleased with, considering that there are more registered Democrats than Republicans in the state—instead of the current 13-5 split.
To my eye, the computer-drawn maps using county lines as their foundation do a nice job of grouping together Pennsylvania's various and often conflicting political communities. I'm not sure this represents the best possible congressional map—in fact, I'm not sure there is such a thing, period—but it's a pretty clear improvement over the cartoonish shapes and Democratic "vote sinks" that defined the 2011 maps.
If Republicans in Pennsylvania's legislature and Democrats in the state's governor's mansion and on the state's high court are unable to reach an agreement on what the new congressional districts should look like, maybe a novel experiment is in order. Put the computers in charge.