Harvard Commits to Ban on Single-Sex Organizations, But Will Allow 'Gender-Focused' Female Groups
Female groups are allowed to remain "gender focused," while male groups are penalized.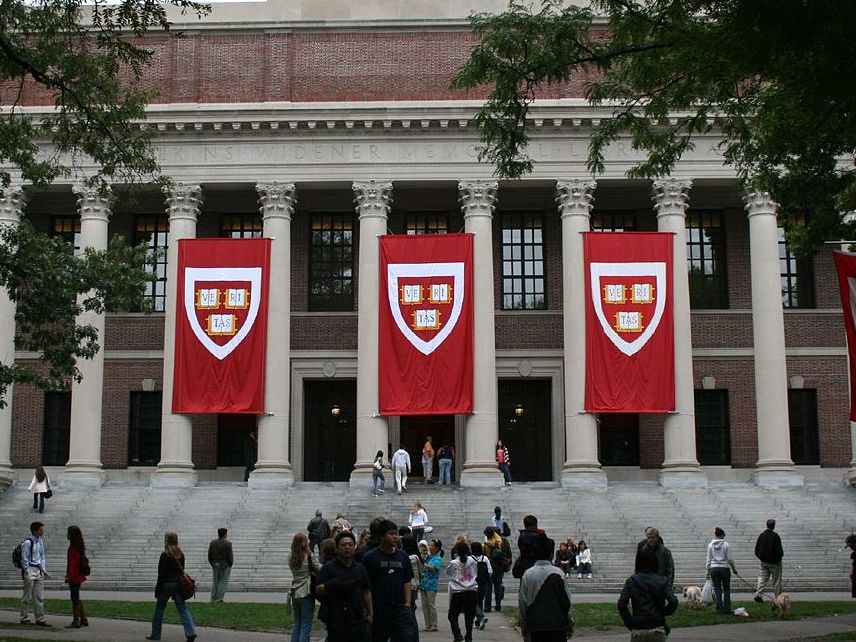 As Harvard reaffirms its ban on single-sex organizations, female clubs will become "gender-focused," while all-male organizations will be slapped with sanctions.
In May 2016, Harvard University banned single-sex clubs, stating such groups "propagated exclusionary values" and maintained "forms of privilege." The ban, which bars members of single-sex organizations from leadership positions, athletic teams, and scholarships, targets all single-sex organizations from finals clubs to fraternities.
While many at Harvard championed the new policy as a necessary antidote to the campus's sexual assault problem, others were concerned about how the ban would impact single-sex female groups. Legions of female students protested across campus and #HearHerHarvard became an online rallying cry. The Crimson felt the ban was unfairly targeting "spaces for women," yet hailed the ban's treatment of male organizations as rightfully addressing "the role exclusionary social organizations play in perpetuating outdated notions of elitism, classism, and exclusivity on campus."
In December, after months of debate, Harvard reaffirmed the ban on single-sex organizations. While all-male groups will be immediately punished by their choice to remain sex exclusive, all-female groups will be given up to a five-year grace period during which they could remain "gender-focused" while complying with the policy.
This update to the ban has caused a handful of groups to go gender neutral; most notably, Harvard's Kappa Kappa Gamma chapter—now The Fleur-de-Lis—is the first sorority to become gender neutral since the ban in 2016. Recruitment for gender-neutral group's like The Fleur-de-Lis will be open to all genders, yet activities held within the group are "gender-focused," according the the group's press release. Though such "gender-focused" organizations are encouraged to move towards full inclusion, Harvard's policy seems like a semantic loophole to allow certain groups (i.e., women's groups) to remain essentially single-sex while punishing the disfavored groups (i.e., men's groups). Not only does this harm students' free association rights, but it also creates a potentially discriminatory double standard. What makes an organization "gender-focused," if not the gender of its members?
While some may feel like all-male groups create dangerous environments, simply banning these organizations does not fix the underlying cultural problems that lead to such environments. Nor does this ban stop these unsavory people from associating unofficially in less regulated spaces, creating an even more dangerous climate. While it's fair to say inclusive programs and spaces for gender-non-binary individuals are both positive and necessary things, this policy substantially burdens free association among students.
Other Harvard groups feel the same way. While Harvard's prestigious Fly Club may be lawyering-up over the ban, Sororities Alpha Phi, Delta Gamma, and Kappa Alpha released a joint statement announcing they would continue with single-sex recruitment moving into 2018. The statement, titled,"We Believe Women Should Make Their Own Choices," reads: "While Harvard's sanctions claim to support women's right to make their own decisions, these sanctions actually force women to choose between the opportunity to have supportive, empowering women-only spaces and external leadership opportunities."