New Mexico Considers Forcing High-School Students into State-Approved Post-Graduation Plans
Want to go straight into the job market? No diploma for you.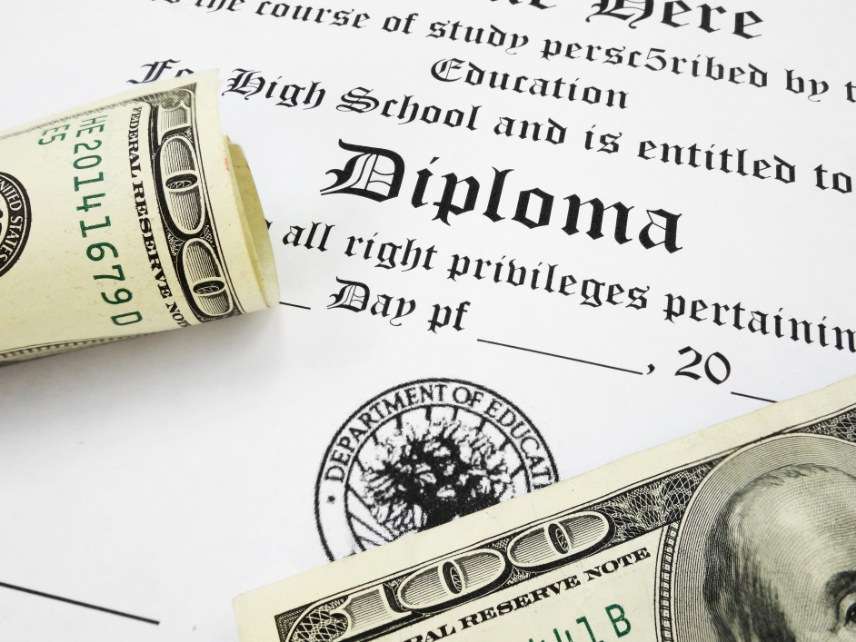 At least two New Mexico lawmakers don't want students to be able to collect a high school diploma unless they have a state-approved post-graduation plan.
To be clear, the students can't simply tell their school counselors what their plans are. The bill—HB23, introduced by Nate Gentry, a Republican, and Daniel Ivey-Soto, a Democrat—gives teens a small menu of approved choices. To get their diplomas, students have to commit to one of the following:
Attending college (either four-year or two-year)
Participating in a trade or vocational program
Getting an internship or apprenticeship
Military service
Note the gigantic, important option missing: getting a job. The original draft of the legislation did include that among the choices, but it's been crossed out in the current version. Chicago recently implemented a similar program, but that one included a job offer among the government-approved futures.
In an interview with the Albuquerque Journal, Gentry made it clear that the purpose of this bill is try to get more students to go to college. "This is a politically easy thing to move the needle," he said.
Let's just set aside for a moment (just a moment) that high school seniors are not the property of the State of New Mexico, and it's morally repugnant for them to withhold a diploma just because someone won't comply with a list of government-approved futures. There are other problems here too. New Mexico already has the second-worst high school graduation rate in the country, at 71 percent. Certainly another barrier to graduation is not going to help.
And no, the proposal doesn't provide a way to cover costs for low-income students essentially being forced to apply to college in order to earn their high school diploma. Nor do the legislation's sponsors seem to care whether students are able to succeed in college or even have access to the apprenticeships the bill mentions. A legislative analysis warns that the plan
requires students to apply to college, but does not address college-readiness or completion. It is imperative to ensure students are prepared for success as 39.1 percent of New Mexico high school graduates (graduated in FY16) enrolled in remedial coursework as first time freshman at New Mexico public postsecondary institutions….

HB23 does not address the quality or availability of internships and apprenticeships available to high school graduates. Apprenticeships are most often part of Career Technical Education (CTE) programs, and may only be available to select students who took CTE dual credit coursework that articulated into a certificate or degree.
More than a third of New Mexico high school students arrive at college unprepared and unable to actually take college-level classes. Perhaps the state's schools would be better off focusing on teaching students what they need to know to survive in college. Let the families figure out the best way forward.
One rationale the bill's sponsors offer for their plan is an estimate that by 2020, two thirds of all jobs will require some sort of postsecondary education. That's a strange explanation for a couple of reasons. First of all, if students are able to get a job with just a high school diploma, this proposal will not let them. Essentially, it's telling students that they aren't allowed to pursue those jobs that don't require postsecondary education.
Second, let's not forget one big reason we've seen a dramatic increase in postsecondary education requirements in order to hold a job: occupational licensing. The same government that wants to force students into postsecondary education is also creating legal barriers to keep people from getting jobs unless they get that additional training. The consequences are bad for the economy and for the poor. Just this week, there was an absolutely crazy fight in Arizona where cosmetologists are trying to defend a licensing regime that requires more than 1,000 hours of training to get state permission to blow-dry somebody's hair.
But absurdly strict licensing mandates apparently aren't enough for some people. Now they want to add another barrier before New Mexicans can even earn their high school diplomas. That's grotesque. And it's self-serving, because it forces people to fork even more money over to educators just to get permission to make a living.