Inside the Insane Battle Over Arizona's Blow-Dry Licensing Bill
Gov. Doug Ducey called the Arizona cosmetology board "a bunch of special interest bullies," and cosmetologists across the state are proving him right.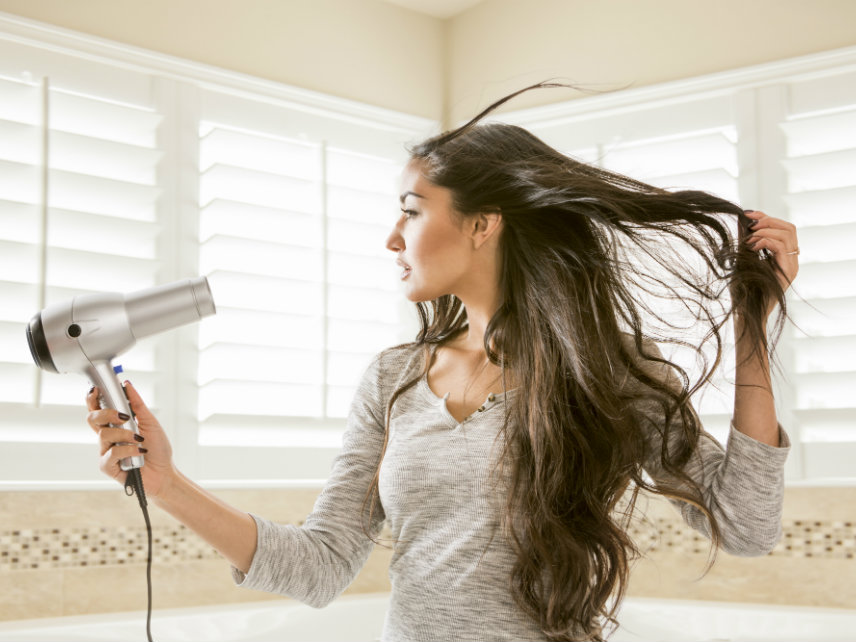 Brandy Wells never anticipated the amount of vitriolic abuse she would receive over—of all things—her public support of a proposal to let people blow-dry hair without a state-issued license.
"I've been called a cunt, a bitch, an ass, trashy, a puppet, a pawn, repugnant," Wells says. "And my favorite: 'your logic on deregulation of cosmetology is much like your hair, dull and flat.'"
Wells says she's received several attacks from cosmetologists on social media accusing her of being "uneducated" or "clueless" about cosmetology because she doesn't work in the industry. It's true that Wells isn't a licensed cosmetologist (though she does, in fact, know how to use a blow-dryer, she confirmed to Reason), but that's actually the precise reason why she's speaking up.
Wells serves as the lone "public member" of the Arizona State Board of Cosmetology. That means she is the only member of the seven-person board who does not work in some capacity as a cosmetologist or with a connection to a cosmetology school. Last month, she voiced her support for House Bill 2011, which would removing blow-drying from the state's cosmetology licensing requirements. Under current law, using a blow-dryer on someone else's hair, for money, requires more than 1,000 hours of training and an expensive state-issued license. Blow-drying hair without a license could—incredibly—land you in jail for up to six months.
In response, Wells says, members of the cosmetology profession have sent messages to her employer, the Arizona Chamber of Commerce, suggesting that she should be fired—fired because she thinks people can safely blow-dry hair without 1,000 hours of training!
The cosmetology board is "a group of special interest bullies," said Arizona Gov. Doug Ducey, a Republican, in his recent State of the State address. The board, Ducey said, "is going after people who simply want to make a living blow-drying hair. No scissors involved."
This week, the fight over the so-called "blow-dry bill" spilled into the state legislature. The state House Military, Veterans, and Regulatory Affairs Committee held its first hearing on the bill, and licensed cosmetologists packed the room to speak one-by-one about the potential dangers of letting unlicensed professionals blow-dry hair.
It was amazing.
Unlicensed blow-drying will "hurt society," said one salon-owner who spoke to the committee. "The possibility of a health crisis will rest on your shoulders, and your scalps," offered another. Other testifiers worried about the potential for burnt skin and damaged hair, and one went even further by reading the manufacturer's warning on a curling iron: "It could burn eyes!" It went on like that for well over an hour (watch the video here).
Donna Aune, executive director of the cosmetology board, warned the committee that delicensing blow-drying would allow untrained individuals to use dangerous chemicals on the scalps of unsuspecting consumers. She was either unfamiliar with the actual proposal or deliberately trying to mislead. The bill exempts only blow-drying, curling, shampooing, and other hair styling services from the state's cosmetology licensing requirements, as long as the service does not involve any chemicals—like those used for perms.
Diana Ellis, who said she had 34 years of experience as a hairstylist, put the cherry on top.
"If there are unlicensed stylists that work in these bars, they are going to take a lot of work from us," Ellis told the committee. "I think that's just really unfair."
Licensing requirements are artificial barriers to entry for workers, and limit competition for incumbent businesses. But there's no good reason for government to prevent competition between hair salons or to help current hairstylists and salon-owners keep their prices higher by eliminating would-be competitors.
"It limits job opportunities. It's a barrier to newcomers in the industry, and it increases the cost of the service. None of which helps the public," said state Rep. Michelle Ugenti-Rita (R-Scottsdale), who sponsored the one-page proposal. "This is what reducing the size of government looks like."
Nothing in the bill would prohibit customers from seeking out licensed cosmetologists if the extra 1,600 hours of training is important or essential. Eliminating the licensing requirement for blow-drying hair would mean only more options for consumers and more opportunities for workers.In fact, it might help current license-holders, something more of them might see if they weren't so fixated on maintaining their government-enforced protectionism.
Jennifer Ryback, a cosmetologist from Gilbert, Arizona, told the committee that she would love to hire an assistant to handle blow-drying responsibilities at her salon. Doing so would let Graves double the number of clients she can serve in a single day, and would provide a good-paying entry-level job for someone who is considering a career in cosmetology.
If existing business owners want to only hire people with a state license, nothing in the bill would force them to do otherwise.
"Those who want to only hire individuals who have a cosmetology license as free to do so," says Ugenti-Rita. "If that's something the business believes in, certainly by all means have that as your hiring standard."
If the heat from a blow-dryer constitutes a public safety danger, than all of Arizona should be on alert about the temperature of the rhetoric surrounding Ugenti-Rita's proposal. Wells says she hopes lawmakers stay focused.
"I care about this because people want to work," she told Reason. "Blow drying and styling are a form of art. Let the artists practice their art. If the client doesn't like how they blow dry, they don't have to go back."