Bari Weiss: 'It Was Heartbreaking for Me' to See the Wall Street Journal Editorial Page Go Soft on Trump
Former WSJ'er, current NYT'er, and inspiration for a hilarious Saturday Night Live skit this weekend talks about her contrarian media life (and much else besides) on The Fifth Column.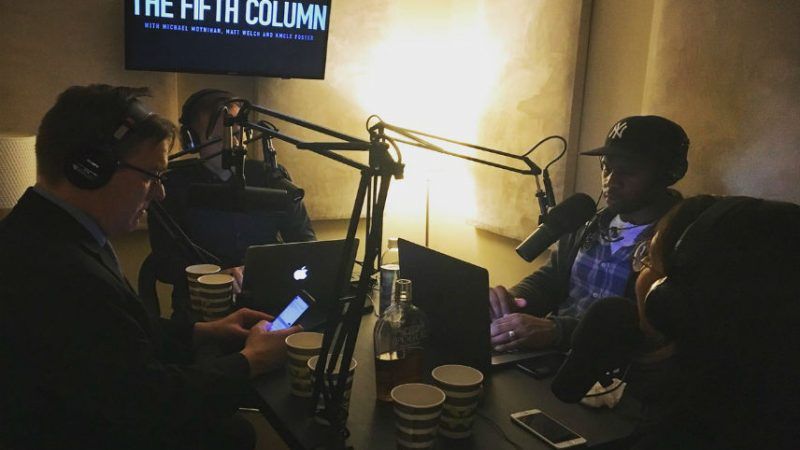 Did you see the Saturday Night Live skit this weekend about good New York liberal yuppies tiptoeing on eggshells about a NYT op-ed on Aziz Ansari and the #MeToo movement? Take a look:
The piece in question was written by Bari Weiss, a staff editor and writer over at the Times' opinion section (Robby Soave discussed her piece here). Luckily this bit of immortalization happened two days after the latest recording of The Fifth Column, the podcast featuring Kmele Foster, Michael C. Moynihan, and myself, so we were able to spend nearly two steadily inebriating hours talking with Weiss about #MeToo, government shutdowns, immigration deals, anti-Mueller conspiracies, why Kmele still doesn't think Donald Trump is a racist, and so forth.
But one of the biggest eye-openers was her discussion about her previous employer, the Wall Street Journal. After never experiencing much resistance to placing political op-eds on the editorial page, Weiss said, "all of a sudden I was being told that I didn't, you know, have the standing to write about these things, or that they were too anti-Trump." This happened on "several" occasions, she said, with the atmosphere contributing to the exodus not just of her but of a number of prominent #NeverTrump types. "It was heartbreaking for me to see people who I thought that we sort of shared fundamental values making peace with a candidate who, I mean, just from the most basic perspective ran a campaign on denigrating and demonizing the weakest people in our culture," Weiss said.
Listen to the whole thing here, and sorry about the spotty audio:
Over at Esquire last month, Sam Tanenhaus wrote more about the WSJ ed-page controversies:
Much has been written about friction between the Journal's down-the-middle, just-the-facts news reporters and its highly ideological editorial department. But the more significant story—an obsession for the Never Trumpers—is the rupture within the Journal's editorial pages and the exodus that resulted.

Bret Stephens, who won a Pulitzer in 2013, was the defector with the highest profile. He was deputy editor when he jumped over to the Times, where he was soon joined by his editor at the Journal, Bari Weiss. The Journal's books editor, Robert Messenger, is now at The Weekly Standard. Sohrab Ahmari, a foreign-policy writer, went to Commentary. Mark Lasswell, an editor, was told not to return from a book leave.

Those were heavy losses in pages whose content is managed by fewer than thirty people in total. And the reason, according to several defectors, was the Journal's skidding reversal once Rupert Murdoch realized Trump could win. Several sources pointed to the editorials by one writer, James Freeman. "All-in for Ted Cruz" during the primaries, Freeman wrote a strong attack on Trump's Mob dealings, and had a second ready to go. But as Trump got closer to clinching the nomination, Paul Gigot kept delaying publication, saying "it needed work." Once Trump became the likely Republican nominee, Freeman executed a neat volte-face. "The facts suggest that Mrs. Clinton is more likely to abuse liberties than Mr. Trump," he wrote. "America managed to survive Mr. Clinton's two terms, so it can stand the far less vulgar Mr. Trump."

Since then, the Journal has gone further. Even jaded readers were startled to see the editorial-page call for Robert Mueller, who is leading the Russia investigation, to resign.