Trump's NAFTA Demands Could Crash the U.S. Auto Industry
The administration pushes harsh protectionist measures at the Montreal NAFTA talks.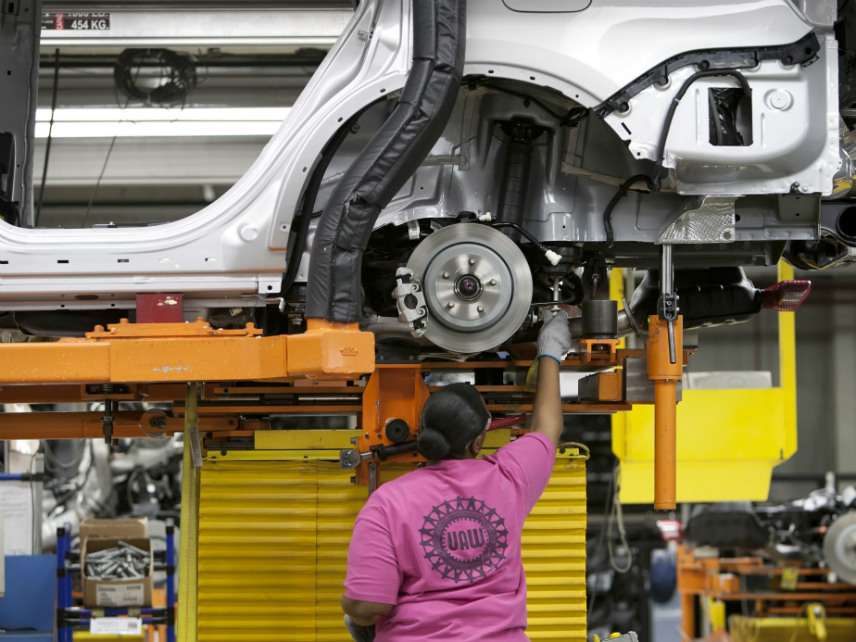 It's been a bad week for free trade.
On Tuesday, the Trump administration announced steep new tariffs on washing machines and solar panels. Importers of cheaper foreign washing machines will now be hit with levies of 20 to 50 percent, while solar panel makers will see a new 30 percent charge on their wares.
To make matters worse, the administration announced those tariffs the same day that official gathered in Montreal to renegotiate the North American Free Trade Agreement (NAFTA). The new trade barriers added yet more tension to talks that were already strained by Washington's protectionist demands.
U.S. negotiators want to increase the percentage of North American–made parts required for an automobile to be sold tariff-free in the NAFTA nations. This has provoked strong opposition from Canada, from Mexico, and from the American automotive industry, which says the change would be devastating for car manufacturers and retailers.
"There are no products made in North America today that would meet the U.S. proposal," says Matt Blunt, former Missouri governor and current president of the American Automotive Policy Council. "If we don't have a NAFTA we can use, it's the equivalent of not having a NAFTA."
Under current NAFTA rules, vehicles can be sold tariff-free in North America as long as some 65 percent of the parts (as determined by value) are manufactured in Canada, Mexico, or the United States. The Trump administration wants to increase this "rule of origin" requirement to 85 percent. It wants 50 percent of the parts to be made in the United States.
Current U.S. tariffs on automobiles range from 2.5 percent on cars to a whopping 25 percent on light trucks.
U.S. Trade Representative Robert Lighthizer contends that an updated NAFTA requires stricter rule-of-origin rules to protect American jobs. Last August he declared that "in the auto sector alone, the U.S. has a $68 billion [trade] deficit with Mexico. Thousands of American factory workers have lost their jobs because of these provisions."
It is true that full-time manufacturing jobs are down slightly for vehicle and parts makers, from roughly 1 million workers in 1992 to 946,700 in 2017. This dip has little to do with shipping jobs overseas; its chief causes are technological innovation and swings in the economic cycle. Auto manufacturing jobs grew after NAFTA was implemented in 1993, hit a high in 2000, and didn't fall below pre-NAFTA levels until the Great Recession.
Meanwhile, Association of Global Automakers President John Bozzella notes that American production of automobiles has gone nowhere but up.
"If you look at what has happened under NAFTA, we've been incredibly successful. We are making over a million more cars and trucks every year in the United States than we were before NAFTA," he tells Reason.
In 1992—one year before NAFTA was signed—the U.S. manufactured 9.6 million vehicles, according to the Bureau of Transportation Statistics. In 2015, the number was 12.1 million vehicles. The United States has also been exporting more vehicles too since the implementation of NAFTA. In 1993, the United States exported 492,200 autos. In 2016, the figure was 1.3 million. (Those figures do not include minivans and sport utility vehicles.)
By creating a continent-wide auto market, Bozzella points out, NAFTA has encouraged the United States to innovate and thus to increase production. "If we become an island market, that innovation will take place elsewhere," Bozzella says. "It will take place in Asia and China, it will take place in Europe, and it will not take place in the United States."
On top of all that, U.S. negotiators are pushing yet another bad idea in Montreal: a sunset clause that every five years would allow a NAFTA member to withdraw unilaterally from the pact. Blunt says this would cripple business planning and investment. "With an industry like ours, where the product cycles can be more than five years, it would clearly create uncertainty that would clearly undermine the case for investment in North America."
Canada has proposed a rule-of-origin compromise that would raise the amount of North American–sourced material to 85 percent but include in that figure the value of a vehicle's software. Mexico has suggested an extension of the talks if a deal isn't reach by late March, when negotiations are currently scheduled to end.