Movie Review:Maze Runner: The Death Cure
Over and out.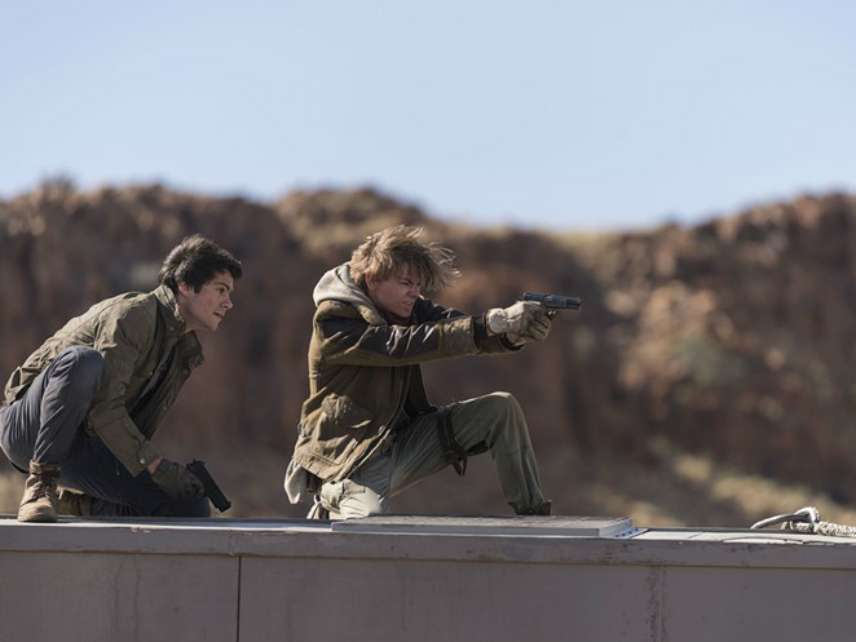 I missed the second Maze Runner movie because of a scheduling conflict – and, I must admit, because I had seen the first one. Released in 2014, the original Maze Runner, which cleaned up at the box office, nevertheless seemed a feeble entry in the waning teen-dystopia craze. (How many remember The Giver, also 2014, or the previous year's Ender's Game?). So I missed and then willfully skipped the second film—The Scorch Trials, it was called—and now, checking back in for The Death Cure, the concluding installment of this franchise, I discover that the story has taken a hard left turn into an action-crazed Mad Max universe, with a pit stop in Blade Runner-ville.
Maybe director Wes Ball – whose feature-film résumé consists entirely of Maze Runner movies—just said what the hell and decided to expend his biggest budget yet on demonstrating how much he'd learned helming the series. He's learned quite a bit. Death Cure opens in the midst of a howling train chase across a vast desert. The train contains a payload of disconsolate youths in chains on their way to someplace unpleasant operated by the evil org called WCKD. Banging along behind the train are two vehicles containing familiar faces, among them series protagonist Thomas (Dylan O'Brien) and his pals Newt (Thomas Brodie-Sangster) and Frypan (Dexter Darden)—all survivors of the Glade, the mysterious monster farm introduced in the first film – and rebel warrior Brenda (Rosa Salazar). The practical stunt work here—real people leaping around on real conveyances at high speed and considerable danger to life and limb (O'Brien was seriously injured while shooting this movie) —may not be up to the standards of genre god George Miller, but they do call him to mind.
Thomas and company manage to rescue some of the captured kids, but not their Glade buddy Minho (Ki Hong Lee), soon to become a subject of gruesome experimentation in the Last City, a walled CGI fantasyland that serves as WCKD headquarters. There, bent scientists Ava Paige (Patricia Clarkson) and sneer-master Janson (Aidan Gillen)—aided by Thomas's sorta love interest, the ethically ambiguous Teresa (Kaya Scodelario) —are seeking a cure for the deadly plague that has reduced most of the world to digital wrack and ruin. And it looks like this cure, not surprisingly, will require the blood of young Glade survivors, who are immune to the pestilence.
This is a serviceable story, and there are nifty touches along the way: some set-piece helicopter action, a snarling tunnel attack by a crowd of zombified "Cranks." But there is also endless running and hiding and running and fighting and running and running. And just when you're getting annoyed by the movie's dragging on so long (on its way to a nearly two and a half hour runtime), director Ball wheels in a battered character named Lawrence (Walton Goggins), whose only function is to inflate the movie's already over-generous runtime with his babblings about rebellion and whatnot.
By now the weary viewer is gasping for a wrapup. But no: there's also a big smashy-crashy fight in a laboratory that I thought would never, ever end. The only reason it did, I suspect, is because the director finally ran out of budget.