Electric Dreams Is a Sci Fi Anthology Series That Warns Against Safe Spaces
The show, based on the work of Philip K. Dick, is like Black Mirror but if people were sometimes good.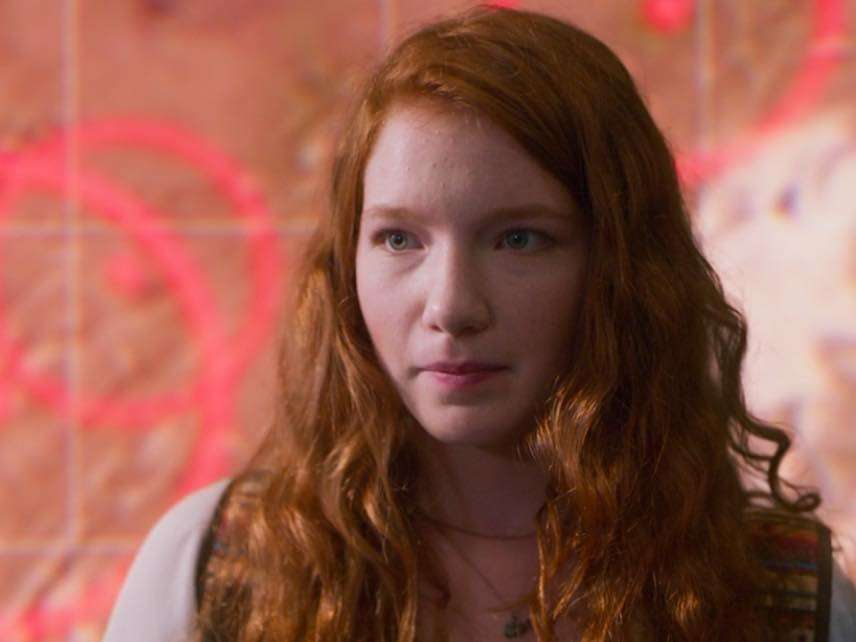 Black Mirror got you down? Sci-fi enthusiasts should try out a similar yet less depressing new anthology series, Electric Dreams, which became available for streaming on Amazon Video last week.
The series, based on the work of science fiction author Philip K. Dick and named after his famous novel Do Androids Dream of Electric Sheep?, is absolutely terrific. I've now watched all 10 episodes, each of which take on a separate and distinct sci-fi premise: a post-apocalyptic society, the breeding of artificial humans, an alien invasion, virtual reality, etc.
The usual technology-is-going-to-kill-us-all themes pervade Electric Dreams, inviting comparisons with Black Mirror, an extremely popular British anthology series known for its deeply cynical treatment of mankind's reliance upon machines. But Electric Dreams restrains itself somewhat. Two of the episodes, "Autofac" and "Impossible Planet," introduce robots with seemingly sinister intentions, then complicate or outright betray those expectations by the stories' ends. And as far as humanity is concerned, the show's creators "have a lot more faith in the people" than Black Mirror does, observes The Verge's Noel Murray.
Stories about corporations and governments harnessing powerful new technologies often invite libertarian questions, and Electric Dreams is no different. Most notably, the final episode, "Kill All Others," levels an obvious and timely criticism at the creeping totalitarianism of a government that loudly eliminates dissent while an apathetic populace shrugs and changes the channel. Another episode, "Safe and Sound," has a bunch of specifically libertarian axes to grind. (Minor spoilers to follow.) It stars Maura Tierney (The Affair) as Irene Lee, a political activist who leaves her home in a self-governed "bubble" within a futuristic United States to spend a year as an ambassador of sorts to a purportedly terrorism-prone major city. That no actual terrorist attacks have occurred is something widely known to bubble denizens, but people within the city receive a constant barrage of government-filtered news about barely thwarted attacks and threats of violence. Irene's daughter Foster accompanies her to the city, but finds it difficult to adjust to a new school, where outsiders are bullied for being potential terrorists.
In a stroke of genius, the episode's writers make the school a metaphor for the absurdity of safe spaces. The students are surrounded by invasive and unnecessary security measures designed to make them feel both comfortable and protected from threats that aren't actually real. One student even complains that Foster's presence makes her feel unsafe. Later, when Foster begs Irene to buy her a "dex," a kind of iPad that doubles as a government tracking device—it would help her fit-in at school—mom objects on grounds that "I really don't want you to surrender what little freedom they allow you to have." Foster counters, "It's not a surrender, it's security. People need to know I'm safe." The villain of the episode is even a "so-called consumer rights advocate"; instead of warning customers that the dex is a threat to their privacy, the advocate is not-so-secretly working to making its use mandatory.
The safe-space criticisms may have been too on the nose for some reviewers—Vulture's critic calls it "one of the most sneakily offensive episodes of television I've ever seen" for committing essentially two crimes: casting the mistreated outsiders (Irene and Foster) as white people, thus erasing the minority experience, and stoking a "kind of false-flag paranoia nonsense that's best left to Infowars." But that's a bad take. There isn't anything wrong with occasionally consuming a little fiction in which the people pushing safety are gullible, misguided, or outright evil.
Episodes ranked, from best to worst: "The Commuter," "Safe and Sound," "Autofac," "Kill All Others," "Human Is," "The Father Thing," "Real Life," "Impossible Planet," "The Hood Maker," "Crazy Diamond."