Trump Trades Blows with Canada
The escalating tit-for-tat over trade policy risks an all-out trade war.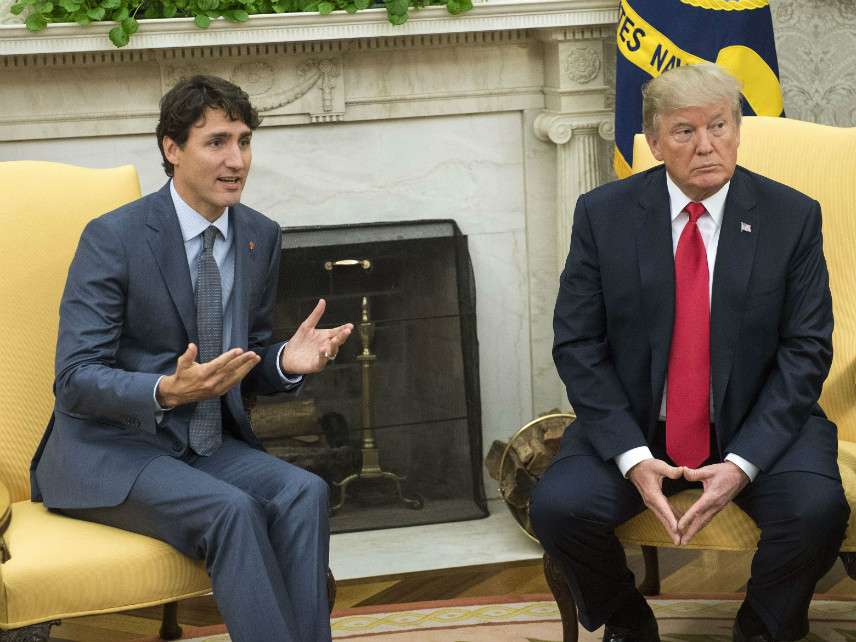 America's trading relationship with its northern neighbor continues to deteriorate as the U.S. and Canada butt heads over the Trump administration's protectionism.
On Tuesday, Commerce Secretary Wilbur Ross announced that Washington would impose countervailing duties of between 6 and 10 percent on uncoated groundwood Canadian paper.
"Today's preliminary decision allows U.S. producers to receive relief from the market-distorting effects of potential government subsidies," said Ross in a statement, instructing Customs and Border Protection agents to begin collecting cash deposits from paper importers at the border.
This is hardly Donald Trump's first protectionist action against Canada. Last year he slapped tariffs on Canadian softwood lumber and Bombardier passenger jets.
Tuesday's decision prompted Canada's foreign ministry put out a statement calling the move disappointing and "unjustified" (and noting, correctly, that "any duties will have a direct and negative impact on ?U.S. newspapers, especially those in small cities and towns, ?and result in job losses in the American printing sector?"). And yesterday, a day after the paper tariffs were announced, a complaint against the U.S. that the Canadians had lodged with the World Trade Organization was made public.
In what reads like the pee dossier of trade policy, Canada accuses the United States of 188 different violations of World Trade Organization policies going back to the mid-1990s. The alleged violations include levying artificially high countervailing duties, collecting duties retroactively, and maintaining an unfair process for determining where these duties will be imposed.
The complaint covers actions taken against not just Canada but countries all around the world, from Japan to South Africa.
The WTO process allows 60 days for Canada and the U.S. to reach some form of bilateral settlement. Failing that, the dispute will goes to arbitration, which could open up the United States to having to pay compensation or otherwise face hefty countervailing duties and tariffs.
U.S. Trade Representative Robert Lighthizer has dismissed the complaint, saying "Canada's claims are unfounded and could only lower U.S. confidence that Canada is committed to mutually beneficial trade." Missing from Lighthizer's statement, naturally, was any mention of how the administration he works for has lowered confidence in the U.S.'s commitment to mutually beneficial trade.
The escalating tit-for-tat between the two largest economics in North America shows how quickly Trump's tough-talking protectionism can get out of hand. What started as tariffs on lumber products has blown up into a vast relitigation of trade disputes going back two decades.
And who will pay the price for this breakdown of relations? The consumers, workers, and businesses, both in the U.S. and around the world, that depend on the foreign trade.