Darrell Issa Retiring from Seat He Barely Won Last Time
The congressman leaves with a mixed record.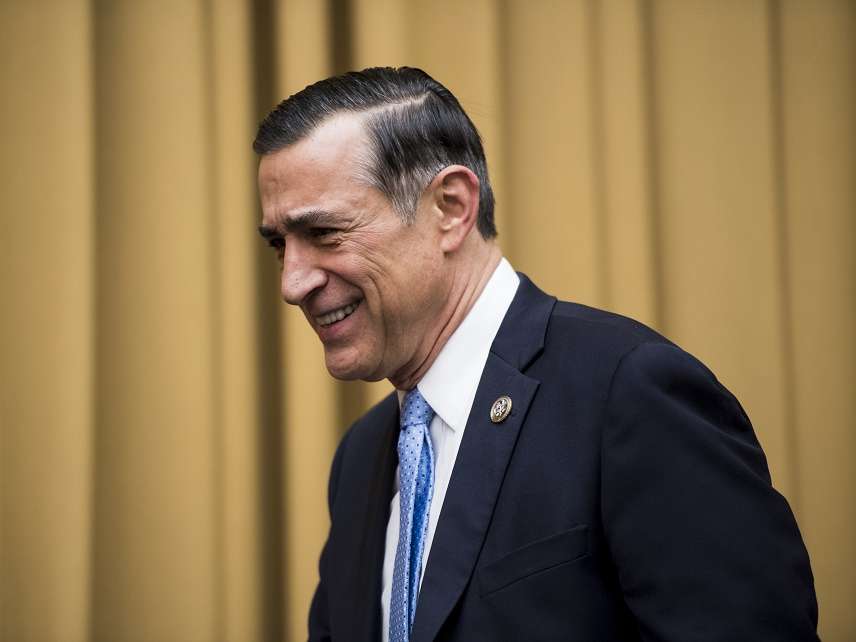 Darrell Issa, widely considered the most vulnerable Republican in this November's House elections, announced today that he is retiring from Congress.
Issa, who has represented his corner of California since 2001, chaired the House Government Oversight Committee from 2010 to 2015. There he led probes into whether the Internal Revenue Service (IRS) targeted Tea Party groups; how the Bureau of Alcohol, Tobacco and Firearms (ATF) lost track of illegally purchased U.S. guns it allowed to be taken to Mexico; troubles with Transportation Security Administration body scanners; and, of course, Benghazi. He also ended the preposterous congressional hearings into steroid use in baseball.
Unfortunately, little of this led to substantive action. Forget abolishing the IRS—Issa's investigations didn't even let us review or reduce the ATF's budget. As of 2016, nearly 800 body scanners were deployed at 157 airports.
Nevertheless, the investigations were still by and large far more useful than anything the committee, now obsessed with Russia, has produced in the last year.
Also on the plus side: In 2012, Issa prevented an amendment from gutting Texas Rep. Ron Paul's Audit the Fed bill. (Paul's legislation passed the House unanimously but died in the Senate.) Issa also introduced a sensible bill last year aimed at preventing state licensing boards from self-dealing. A vocal critic of asset forfeiture, Issa recently tried to defund the Department of Justice's asset forfeiture fund.
In other ways, alas, Issa was an orthodox Republican. He voted for the Iraq war and the PATRIOT Act, and his zest for government oversight faded after President Trump took office.
He faced an uphill battle for re-election: Hillary Clinton won his district by nine points over Trump in 2016, when Issa won over his Democratic opponent by about half a percentage point. With today's announcement, someone else will have to carry the GOP's banner in the race.