Trump Wants 'Bill of Love' That Deals With DACA, Border Security, Chain Migration, Diversity Lotto
Cameras were rolling at today's immigration meeting.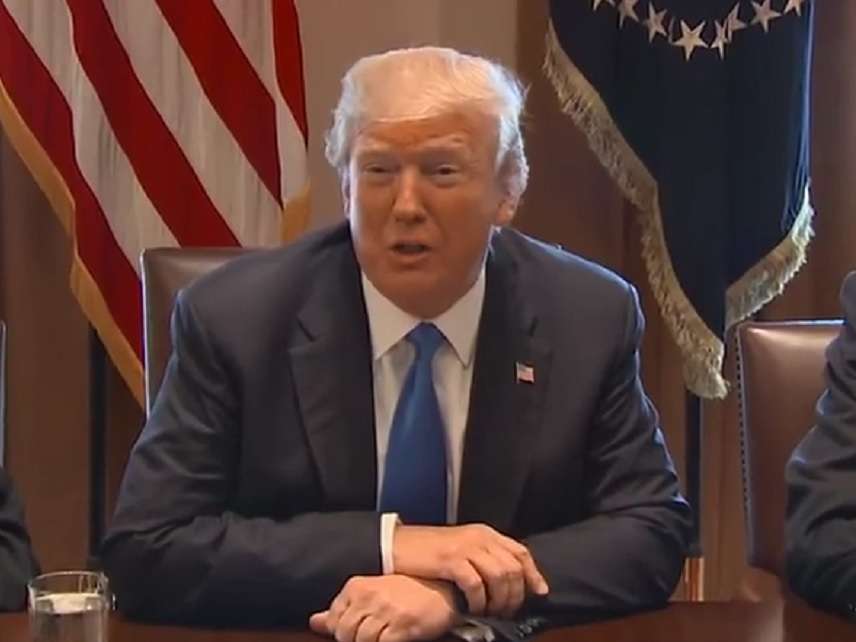 President Trump let the cameras stick around as he met with a bipartisan group of lawmakers to discuss an immigration reform bill. While Trump declared a bipartisan "bill of love" was possible, he insisted it be one "where we're able to secure our borders."
At one point Trump also claimed his positions would be "what the people in this room come up with."
Sen. Dick Durbin (D-Ill.) said he was pleased by the "sense of urgency" at the meeting, where he noted border security was also important because of drugs, and said participants had narrowed down what would be discussed during the "DACA phase" of immigration talks to "border security, chain migration, and the diversity visa."
Durbin and Sen. Lindsey Graham (R-S.C.) lead ongoing bipartisan negotiations into immigration reform.
Unfortunately, the issues lawmakers have narrowed it down to have become more useful to them as stalking horses than anything else.
"Chain migration is so insidious," Sen. David Perdue (R-Ga.) insisted during the meeting. "It is the fundamental flaw in the immigration policy of the United States."
Trump picked up where Perdue left off, insisting that chain migration had "taken a very big hit" in the last six months to a year and pointing to a truck attack in New York City's West Side Highway as a reason. Trump repeated his unsubstantiated claim that the perpetrator, an Uzbek immigrant, was responsible for more than 20 people coming into the United States.
Trump first made the claim a day after the terror attack, saying Sayfullo Saipov was the "primary point of contact" for 23 people who "came in or potentially came in" with him.
It's not how "chain migration" works. The ill-defined term is usually used to describe the idea that legal immigrants can help other immigrants come to the U.S. Family reunification visas, however, only work for a sponsor's closest relatives, who must still meet all the other requirements of U.S. immigration law.
It's a process that can take decades, despite how misleading White House infographics try to present it.
The diversity lottery is similarly misunderstood. Recipients of visas "awarded" under the program must still meet all other immigration requirements, while "diversity" referred to the program being meant for nationals of countries under-represented in annual immigration entry. It was created in the 1980s to help Irish, and other predominantly white, immigrants.
Most importantly, both of these issues represent legal avenues of immigration, and Republicans who have long insisted they are opposed merely to illegal immigration are looking to narrow them.
It's a poor start for negotiations meant to resolve the legal status of hundreds of thousands of DACA recipients, the children of illegal immigrants. DACA provisions expire in March.
Meanwhile, the most recent government funding measure, which some Democrats have threatened to tie to DACA, expires on January 19.