In Wake of New HIV Cases, Northern Kentucky Public Health Officials Call for More Clean Needle Exchanges
Harm reduction advocates urge Kentucky counties to act before an epidemic occurs.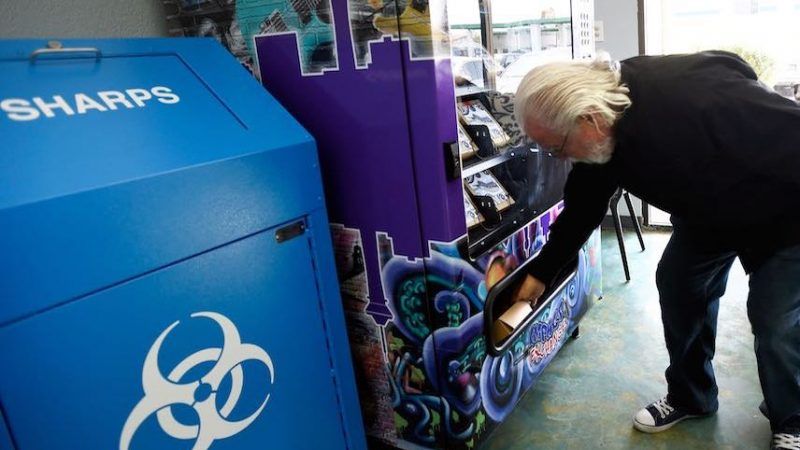 (David Becker/ZUMA Press/Newscom)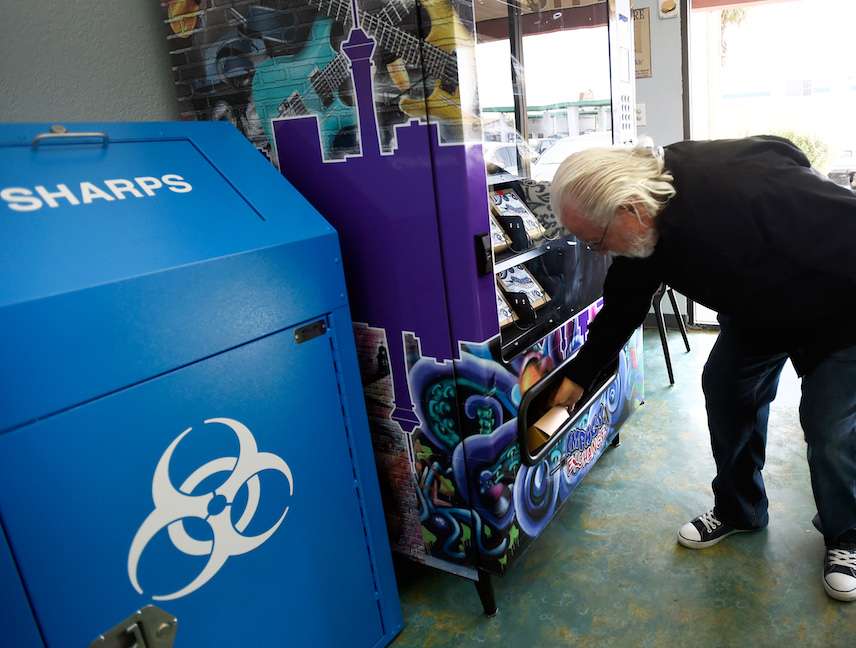 Public health officials in Kentucky are sounding the alarm about a brewing HIV problem in the northern part of the state, including a threefold increase in the number of people who may have contracted the virus via intravenous drug use. The Northern Kentucky Health Department (NKHD) identified 37 new cases of HIV in the region, compared to 25 in 2016 and 34 in 2015.
"These numbers are concerning to us because they may be an indication of more widespread HIV infections in our community," the NKHD's Lynne M. Saddler said in a statement released today. The department will now ask the Centers for Disease Control and Prevention (CDC) to test samples from newly identified HIV patients in order to assess whether they've all been infected with the same strain.
In the meantime, public health officials are calling for more counties to create clean needle exchange programs to curb the spread of HIV and hepatitis C.
"We know that access to clean injection equipment is a proven measure to reduce the spread of HIV and other infectious diseases among individuals who inject drugs," says a statement from Garren Colvin, CEO of the St. Elizabeth Healthcare network of Catholic hospitals. "For the last several years, St. Elizabeth and the Health Department have advocated for syringe access exchange programs in our region. Now more than ever, we need to move from advocacy to action, and encourage local officials to act quickly to allow for such programs to operate."
The Kentucky legislature legalized clean needle exchanges in 2015, but the decision to open them is ultimately made at the county level. The state now has 39 exchanges, and advocates want to see more in order to avoid the kind of epidemic-level outbreak experienced by southern Indiana.
"The lesson from the Scott County, Indiana, HIV outbreak is twofold," says Daniel Raymond, deputy director of planning and policy for the Harm Reduction Coalition. "HIV transmission can rapidly spread among people who inject drugs when you don't have good syringe access, but prompt and decisive action by policymakers and health officials can successfully contain an outbreak. Times of crisis can cut through political debates, but smart policy can prevent a crisis from coming to a head."
According to the Kentucky Cabinet for Health and Family Services, Kentucky has one of the highest rates of hepatitis C in the U.S.—a "canary in the coal mine for an HIV outbreak." Of the 220 U.S. counties thought to be vulnerable to an HIV outbreak like southern Indiana's, the CDC estimates that 54 are in Kentucky.
"Our best tool for stopping further HIV transmission is syringe exchange," Raymond says. "Without immediate action to scale up syringe exchange programs, more people who inject drugs will get HIV."