The 10 Worst Helicopter Parenting Moments of 2017
It isn't just parents. Cops, schools, reporters, bureaucrats and busybodies got in on the action this year.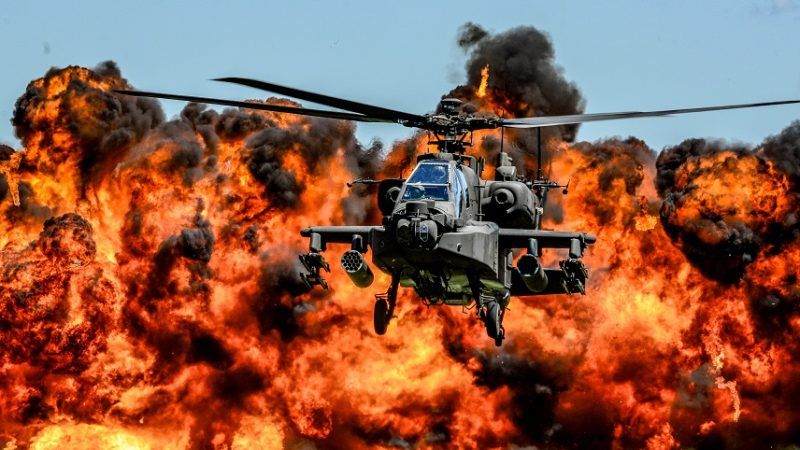 (US Army/Cover Images/Newscom)
1. MOM TICKETED* FOR TRYING TO GET HER BABY OUT OF THE CAR
An Omaha woman taking her niece out of an SUV when the wind blew the door shut and the car locked with her keys and the child inside. The mom, the aunt and two other relatives tried frantically to open the door using a hanger and screwdriver, and when they couldn't, they called 911. The cops arrived, broke the window, and got the child out, safe and sound. Then ticketed mom on "suspicion of child abuse by neglect."
2. DAD FORCED TO INFANTILIZE HIS KIDS
Vancouver dad Adrian Crook taught his kids 7, 8, 9 and 11 how to ride the city bus to and from school and that's what they had done, without incident, for the past two years. Then someone reported these "unsupervised" kids to the Ministry of Children and Family Development, which informed Crook that children under 10 years old cannot be unsupervised in or outside the home, for any amount of time. The 11-year-old didn't count as a chaperone. The kids can no longer ride the bus—or even walk to the corner store—without an adult accompanying them.
3. CARTOONIST ORDERED NOT TO DRAW ALIENS WITHOUT LIFE VESTS
Cartoonist Nick Confalone released a list of the changes demanded by the "Standards and Practices" lawyers at his television job. These included: "When we first see the aliens waking up on the beach, we should see that they are clearly wearing life jackets." "Please ensure all daredevil tight-ropers are only a few feet off the ground and wearing appropriate safety gear." And "Both characters should be wearing helmets while riding the T-Rex."
4. STUDENTS DENIED ANNUAL D.C. TRIP BY SCAREDY-CAT ADMINISTRATORS
The North Ridgeville Academic Center in Ohio cancelled its annual three-day student trip to Washington, D.C. because of the threat of terrorism. Never mind that the terrorists might not know the exact dates and places on the school's itinerary. the students were visiting. "As you know, the safety of our students and staff is our main priority," the principal wrote to parents, "and we feel that the risk of travel to Washington, D.C., is not worth the potential for tragedy." Not only are the odds of dying in a terrorist attack astronomically low, they are far lower than the odds of dying in a car ride to the school. As one commenter asked, "Are there no math teachers at this school?"
5. NEWSPAPER RUNS "ABDUCTION" STORY THAT MOM MADE UP
A Reno mom posted on Facebook she was almost certain she, her husband and kids were about to be kidnapped and sex trafficked, because when they went into the parking garage, there was another car there with four people already in it. One had a device in his ear! The mom added: "Just because it didn't happen to us that night doesn't mean it couldn't happen." Which is technically correct…about everything. Not only was her post was shared thousands of times, the Reno Gazette Journal ran an article about the mom's intuition, accompanied by a map pinpointing where the abduction did not occur. (But could have!) David Finkelor, head of the Crimes Against Children Research Center at the University of New Hampshire, reports that not only is snatching young children from their parents in a public place for sex trafficking purposes rare, he has never heard of such a crime.
6. DAD TACKLES MAN TRYING TO HELP HIS TOT
When a Good Samaritan noticed a little girl wandering by herself near a softball game in Lakeland, FL, he assumed she was lost and started taking her around, trying to help her find her family. Alerted by bystanders that a stranger was walking toward the playground with his daughter, the dad punched the man out. "What would you do?" the father told NBC affiliate WFLA in a phone interview. "I wanted to kill him!" Even after the police explained the stranger had truly been trying to help, the dad went on social media to say: "So, I guess in Lakeland, you can kidnap a child and get away with it," and called the Samaritan a "child predator." The Samaritan fled town, fearing for his life.
7. NEW APP LETS PARENTS PROGRAM THEIR KIDS
A new app available for pre-order will allow parents to log the food their child eats each day and compare it to the child's perspiration and activity levels. The company's website explains, "the Kiddo app compares consumed calories against those burned through exercise and recommends appropriate activities to help them maintain a healthy weight." At last you can program your child like a robot. A skinny robot.
8. NEW "BUDDY SYSTEM" REQUIRES A BUDDY FOR THE BUDDY
A mom reports that at her daughter's Y Camp over the summer, the girls were told they had to take two buddies with them anywhere they went, including from the pool to the lockerroom. "My daughter complained that she nearly had to pee in the pool because she couldn't find two other girls to go to the locker room with her," one mother said. Worse, if they had to go to the bathroom at night, they had to wake two buddies AND a counselor.
9. FATHER ASSUMED TO BE TRAFFICKER
A dad returning from Mexico with his 3-year-old daughter was suspected of sex trafficking her, despite his having his passport, her passport, AND a notarized letter from the mom saying that she gave them her permission to travel. Authorities felt compelled to act upon a "tip" that was nothing more than a passenger's hunch. The authorities finally allowed the dad and daughter to carry on after reaching mom, who confirmed the dad was the dad, their kid was their kid and the notarized letter was, indeed, notarized.
10. SCHOOL BANS GRANDMA FROM PROM
Bryce Maine invited his beloved grandma to be his date to the Eufaula High School prom. The principal said no, because, "Safety of students and staff is the first and most important of the many tasks of a school administrator. For the 10 years I have been high school principal, we have denied requests each year from students asking to bring older dates to prom. We do not chance leaving any stone unturned when it comes to safety." A local restaurant invited Bryce and his grandmother to dine at their place, on the house, instead. We can only hope the other diners ate safely, in the general area of a grandma.
CORRECTION: In the original version, Reason said Mom was arrested for trying to get her baby out of the car. Police ticketed her.