First Batch of Inauguration Day Protesters Acquitted In Key First Amendment Case
The Justice Department's attempt to prosecute six anti-Trump protesters falls flat on its face, but it says more trials will follow.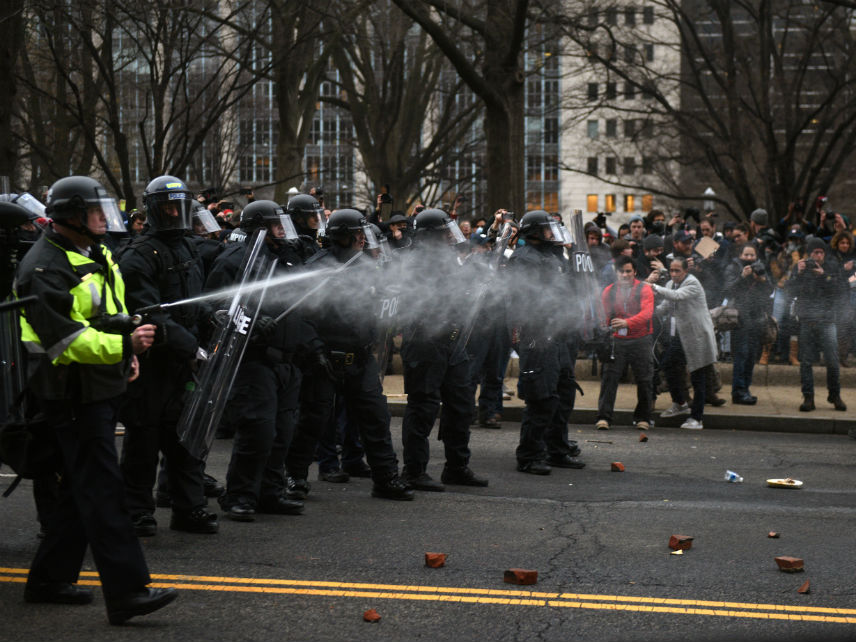 Six defendants facing charges of rioting for their alleged roles in Inauguration Day protests earlier this year were acquitted today, in what civil liberties groups have called a key test of free speech and dissent under the Trump administration.
The acquittal is an embarrassing start to the Justice Department's attempt to prosecute roughly 200 protesters arrested by the Metropolitan Police Department (MPD) of Washington, D.C., during the chaotic January 20 protests.
During Donald Trump's inauguration, as protests spilled through the streets of D.C., several groups of masked rioters began smashing windows, damaging cars, and injuring several police officers. In response, MPD encircled and arrested en masse one large group of protesters. But many of those arrested say they had nothing to do with the destruction and were subjected to excessive force by police.
Prosecutors for the government argued that, while there was no physical evidence linking the six defendants—who included a journalist and two street medics—to property destruction, they were part of a criminal conspiracy to aid or support rioters. Defense lawyers responded that the charges were nothing more than an overreaching attempt to punish political speech.
D.C. Superior Court Judge Lynn Leibovitz acquitted the defendants of felony charges of inciting a riot before sending the rest of the charges to a jury. The jury returned verdicts of not guilty on all the remaining counts of felony property destruction, misdemeanor rioting, and misdemeanor conspiracy to riot.
Scott Michelman, an attorney for the American Civil Liberties Union, said in a press statement that today's verdict "reaffirms two central constitutional principles of our democracy: first, that dissent is not a crime, and second, that our justice system does not permit guilt by association.
"We hope today's verdict begins the important work of teaching police and prosecutors to respect the line between lawbreaking and constitutionally protected protest," he continued. "We hope that the U.S. Attorney's Office gets the message and moves quickly to drop all remaining changes against peaceful demonstrators."
That hope appears to be in vain. Twenty more trials of small batches of Inauguration Day defendants are scheduled to run through 2018, all on the taxpayer's dime. "We appreciate the jury's close examination of the individual conduct and intent of each defendant during this trial and respect its verdict," the U.S. Attorney's Office said in a statement. "In the remaining pending cases, we look forward to the same rigorous review for each defendant."
The Justice Department has also been fighting to access protest organizers' Facebook accounts, as well as the IP addresses of those who visited a J20 protest website, in another move that has alarmed civil libertarians. The ACLU of D.C. has also filed a federal civil rights lawsuit against the MPD in response to the mass arrest, pepper-spraying, and detention of J20 protesters.
But for at least six defendants whose lives were turned upside down by the prosecution and trial, their day in court is over.