The Senate's Rejection of Export-Import Bank Critic Shows How Entrenched Crony Capitalism Is in Washington
Several Republicans broke ranks to kill the nomination of Rep. Scott Garrett to head the Export-Import Bank.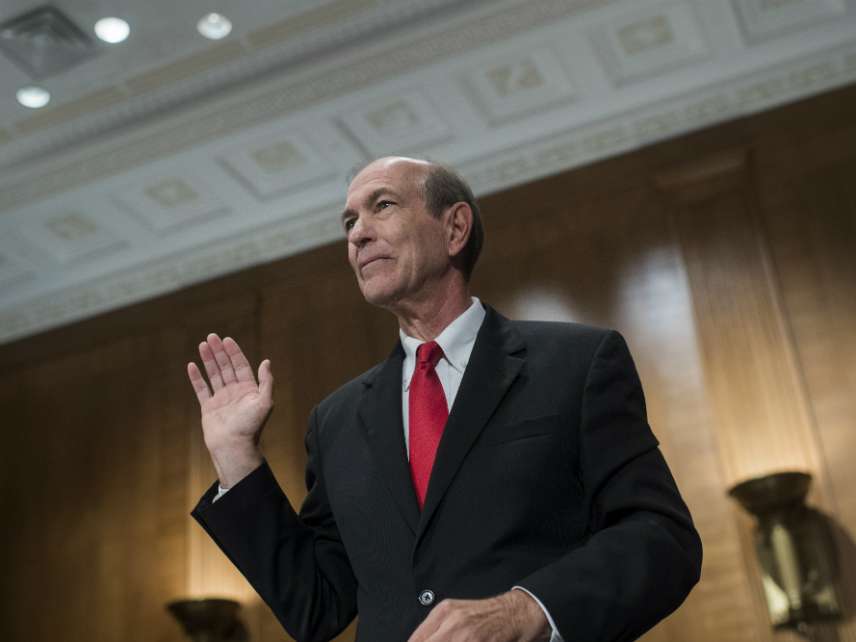 The Senate Banking Committee voted 10–13 yesterday to reject former New Jersey Rep. Scott Garrett to head the Export-Import Bank, an institution that has become synonymous with corporate welfare. Two Republicans on the committee—Sens. Mike Rounds (R–S.D.) and Tim Scott (R–S.C.)—broke ranks to vote against Garrett, who had called for the bank's elimination while he was in Congress and who had promised to reform the institution if tapped to lead it.
Scott cited Garrett's "long history opposing the Ex-Im Bank" in explaining his vote. Scott's state contains a plant for the aviation giant Boeing, whose customers get some 40 percent of the Export-Import Bank's financing. The institution is sometimes called "Boeing's bank."
In opposing Garrett's nomination, Scott and Rounds made common cause with their Democratic colleagues.
Sen. Maria Cantwell (D–Wash.)—whose home state also contains major Boeing operations—said in a statement that she "applauds" the banking committee's rejection of Garret. "If we want to create jobs across America, we need a fully functioning Export-Import Bank approving these deals from manufacturers that are ready to close sales and hire workers." Sen. Sherrod Brown (D–Ohio), the ranking Democrat on the banking committee, called Garret's nomination "inappropriate," adding that "the National Association of Manufacturers, Chamber of Commerce, Aerospace Industries Association and the Ohio Manufacturing Association all oppose his nomination."
The Bank works by giving low-interest loans—backed by the full faith and credit of the U.S. taxpayer—to foreign customers of American exporters. It also issues guarantees to private banks making loans to foreign purchasers of American products, promising to cover these banks' losses should these foreign debtors fail to make good on their obligations.
Because of these direct taxpayer subsidies for corporate sales, critics have long derided the bank as one of the worst examples of crony capitalism. The Competitive Enterprise Institute's Daniel Press calls it "one of the capital's greatest boondoggles." Veronique de Rugy of the Mercatus Center—a Reason columnist—has frequently suggested that the bank should be scrapped.
On this point, Garrett was once in agreement. While in Congress, he voted repeatedly to eliminate the Export-Import Bank. He has described it bluntly as an institution that "embodies the corruption of the free market system." If Garret had been approved—and if he kept that reformist spirit—he could have used his perch to expose bad deals and improper conduct.
Since 2015, operations of the Export-Import bank have been largely stalled, as empty board seats have left it without the quorum it needs to approve larger deals. The silver lining to Garrett's rejection is that the Bank will continue to be hobbled in conducting many of its ordinary operations.
Regardless, the Senate's refusal to confirm him demonstrates how entrenched, and indeed how bipartisan, corporatist interests in federal government are.
For all his faults, President Donald Trump has appointed a number of reformist, free-market-minded officials to staff his administration, including Neomi Rao at the Office of Information and Regulatory Affairs and Scott Gottlieb at the Food and Drug Administration. But Garret proved a bridge too far. Big business, progressive Democrats, and conservative Republicans closed ranks to prevent him from getting his hands on Boeing's bank.