GW Students Organize to Fight Oppression By Oppressing Reading Choices
Obvious propaganda should be labeled propaganda, obviously.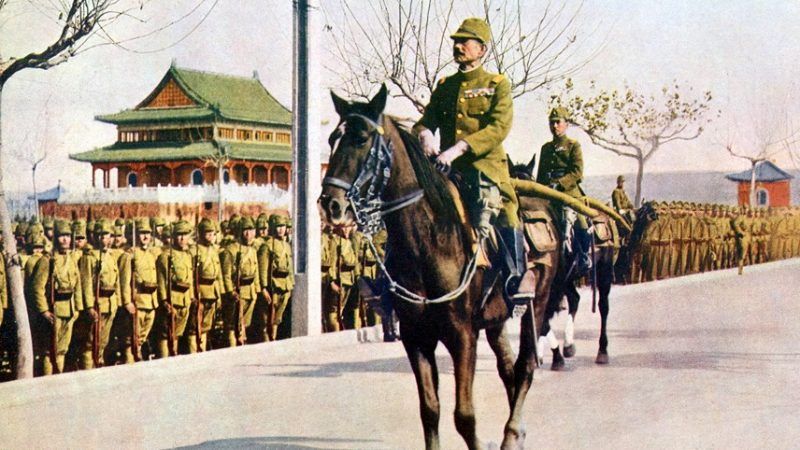 (Pictures From History/Newscom)
The Internationalist Students' Front, a new organization at George Washington University, seeks to "oppose nationalism across the world and contest popular narratives about U.S. foreign policy." To achieve these lofty goals, the group also wants to ban books.
The Students' Front is calling for the banning of two books from the school's Gelman Library. One of them is "The Alleged 'Nanking Massacre': Japan's Rebuttal to China's Forged Claims," an obviously propagandistic book written by members of Japan's far-right. The student group intends to circulate a petition on campus to have it removed or labeled propaganda.
Members of the organization did not respond to requests for comment on the group, its goals, or its choice of books. They have not yet disclosed the title or the author of the second book they want removed from Gelman.
Given that 86 percent of the Amazon reviews of the book are one-star ratings, it seems the vast majority of Americans already see the book for what it is: a wholly unsubstantiated, and overall quite ludicrous account of a historical event, akin to Holocaust denial in the West.
The Nanking Massacre has been widely documented. Japanese forces captured the Chinese city of Nanjing (or Nanking) and, in six weeks beginning in December of 1937, killed anywhere between 40,000 to 300,000 people in a rampage of rape and pillage. Estimates are still contested. Some have accused the Chinese government of inflating the numbers. Others deny the massacre happened.
It's unlikely George Washington students accept the book as factual or allow such obvious propaganda to distort their understanding of the Nanking Massacre. The fact that the massacre has been denied is an interesting and important aspect of study for those interested in the history of relations between China and Japan.
As George Washington Law faculty member and legal commentator Jonathan Turley writes, "…as an academic institution, our faculty and students research such views as part of their studies and discussion. Sometimes we buy books to gain perspective of fringe or discredited views. The denial itself is a legitimate matter of study for some academics."
Even requiring the book to be labeled as propaganda is a bad idea—the floodgates of what constitutes "propaganda" versus what constitutes a reliable interpretation of the truth could easily be opened.
The Students' Front seems like your traditional left-wing, anti-capitalist, anti-imperialist student organization. The club's Facebook page laments the anniversary of Fidel Castro's death, saying, "as internationalists, we must commemorate his fight against oppression in Cuba, and his contributions to anti-imperialism and international struggles against oppression." Fighting oppression around the globe is certainly a worthy cause.
In attempting to ban certain books from the library, is the group really overthrowing oppression, or attempting to advance only their preferred ideologies and causes?
GW's student newspaper, The Hatchet, reports that "the organization will host teach-ins about the consequences of fascism and advocate internationalism, a political ideology similar to socialism that believes all people should unite to advance common interests."
There's an obvious flaw in their logic. Calling for book-banning is ridiculous. When students concerned with ending global oppression fail to see how censorship can contribute to the very oppression they're fighting against, it's a sorry state of affairs.
There's a certain irony when students crack down on the free exchange of ideas in the process of attempting to promulgate particularly radical ones—ones that could also be in danger of being suppressed one day. Free speech is valuable for many reasons, but especially because there's no guarantee that the most odious ideas will be removed from the public discourse—we can never be certain who will be targeted, or which ideas will be banished.
American foreign policy goes wrong in myriad ways, as any libertarian can tell you. We need more diverse narratives presented about our involvement in foreign regimes and wars. But censorship in the form of book banning isn't the way to achieve more just foreign policy or an end to oppression.