Conservative Snowflakes Get Protesting Nebraska Instructor Booted From Her Teaching Job
Will colleges sanction every educator with a provocative opinion?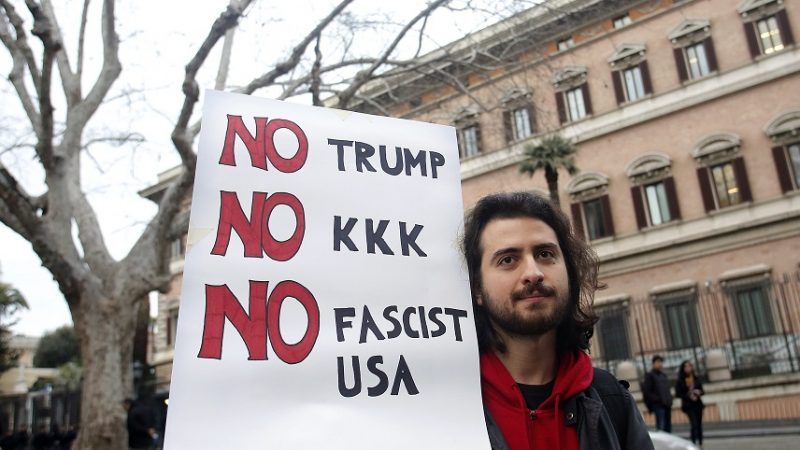 The University of Nebraska-Lincoln has told a graduate English instructor who picketed a conservative student group, calling them neo-fascists, she will not be employed at the end of this coming spring semester.
The Foundation for Individual Rights in Education (FIRE) sent a letter to the school Dec. 8, asking for the reinstatement of Lawton, who was removed from her teaching position in September after she confronted members of Turning Point USA, who were recruiting prospective members in a public space on campus.
"I have been removed from the classroom since September 1," Courtney Lawton tells Reason in an email. "I am reassigned as a research assistant to the department and have been removed from the classroom for the rest of my contract. When my contract expires, the chancellor has publically announced that it will not be renewed."
Video taken by TPUSA member Kaitlyn Mullen at the time shows Lawton holding up a sign that said, "Just say NO! to Neo-Fascism." Lawton flipped off Mullen and began calling the students "neo-fascists" who hate public schools and DACA kids. A little while later, Lawton burst into the popular chant of lefty college students: "No KKK, no neo-fascist USA."
UNL said Lawton was relieved of her duties because she did not meet the "expectations for civility" the school has for its lecturers. FIRE, however, is arguing that Nebraska's speech policies are not specific enough for its professors, making the firing of Lawton unjustified.
"The First Amendment does not tolerate broad, unfettered discretion to penalize students or faculty for political speech that officials view as offensive, unprofessional or uncivil," FIRE's letter reads. "The need to narrowly tailor a university's policies as they apply to faculty members' speech is particularly critical when it concerns the speech of lecturers, who lack the formal protection offered under a tenure system."
Lawton's case drew the attention of state politicians who were pressured by conservative activists and citizens after a separate video shot earlier that day got thousands of retweets on social media.
This video shows a different faculty member telling TPUSA students they must go to the "free speech zone," with their "propaganda." As the university later explained, the school has no designated free speech zones, and TPUSA was within their rights to carry on with its recruitment.
The outraged began bombarding the university with emails. Some made threats. Others said they would refuse to send their children to UNL because of the issue. One emailer argued that Lawton should be let go because, "Since when do you allow UNL personnel to heckle and flip off young students (kids basically) … hardly a safe campus atmosphere for all."
Like the liberal "snowflakes" conservatives like to criticize, the emailers failed to distinguish between words and violence. At no point in her protest did Lawton ever make a threat, act in a violent manner, or do anything that could be misconstrued as such.
In an email to Reason, Lawton said she was given conflicting explanations for her removal from the classroom. During her first meeting with Executive Vice Chancellor Donde Plowman, Plowman told Lawton she was being removed "because of safety concerns for my students."
In a follow-up meeting with Plowman and Chancellor Ronnie Green, Lawton said she was told she could no longer teach because she would be "too disruptive to the campus."
Neither Green nor Plowman replied to an email seeking comment.
After the protest Lawton got threatening and harassing emails. The Nebraska Republican Party made open records requests for her professional emails with other faculty, searching for mentions of President Donald Trump, Nebraska's U.S. Sen. Ben Sasse (R) and other Republican politicians in the messages.
Mullen told the Lincoln Journal Star she didn't believe the organization's circulation of the video on social media was responsible for the threatening emails to Lawton. She argued, however, the school didn't go far enough in its discipline of her. "I hope UNL will set an example by removing her from campus so she can't do this to any other students," she said.
Interpret Lawton's protest in any way you like, but you cannot defend her punishment for non-violent protest. It is wrong and destructive to open discourse for schools to cave in to the demands of hate mailers who disagree with the controversial messages of every professor or teaching assistant on campus.