The Original Rock 'n' Roll Guitar God Was Actually a Goddess
Friday A/V Club: All hail Sister Rosetta Tharpe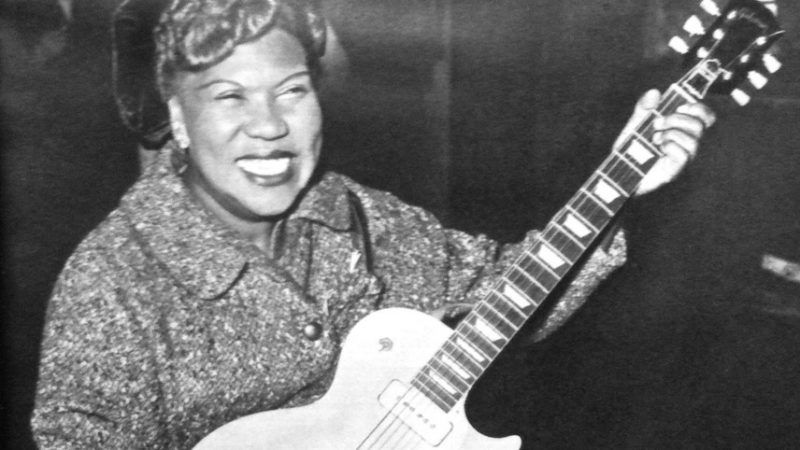 Rock 'n' roll was born and baptized in a smoky nightclub somewhere, but the baby was conceived in a church. Elvis Presley, Jerry Lee Lewis, and Little Richard were all raised Pentecostal, and their sounds were shaped by the raucous gospel music they grew up with. And Chuck Berry cribbed his duckwalk from a gospel singer called Sister Rosetta Tharpe, whose guitar style helped lay the groundwork for rock.
Tharpe was inducted into the Rock & Roll Hall of Fame this week, alongside such worthies as Nina Simone and the Cars. If you find yourself doubting that this honor should be bestowed on a woman who was already in her forties when "Jailhouse Rock" hit the charts, watch this old clip from the NBC show TV Gospel Time, originally broadcast in 1962. For about a minute and 20 seconds, it may seem like an ordinary gospel performance. And then Sister Tharpe starts soloing:
A century ago, the early Pentecostals' multiracial revivals and ecstatic forms of worship sparked a moral panic. In the 1950s, rock 'n' roll provoked a similar reaction. Watching Tharpe play, you may start to see the outlines of more than one hidden continuity.
Just about all the founding fathers of rock 'n' roll—Elvis, Little Richard, Chuck Berry, Carl Perkins, Johnny Cash—were Rosetta Tharpe fans. Gayle Wald's Tharpe bio Shout, Sister, Shout! quotes Jerry Lee Lewis falling over with praise for the woman: "I mean, she's singing religious music, but she is singing rock 'n' roll. She's…shakin', man….She jumps it. She's hitting that guitar, playing that guitar and she is singing. I said, 'Whoooo.' Sister Rosetta Tharpe." They say the Devil has all the best tunes, but he had to learn them somewhere.
(For past editions of the Friday A/V Club, go here.)