Los Angeles Wants to Make Housing Affordable by Making it More Expensive
The city's new Linkage Fee law piles millions in new costs onto developers.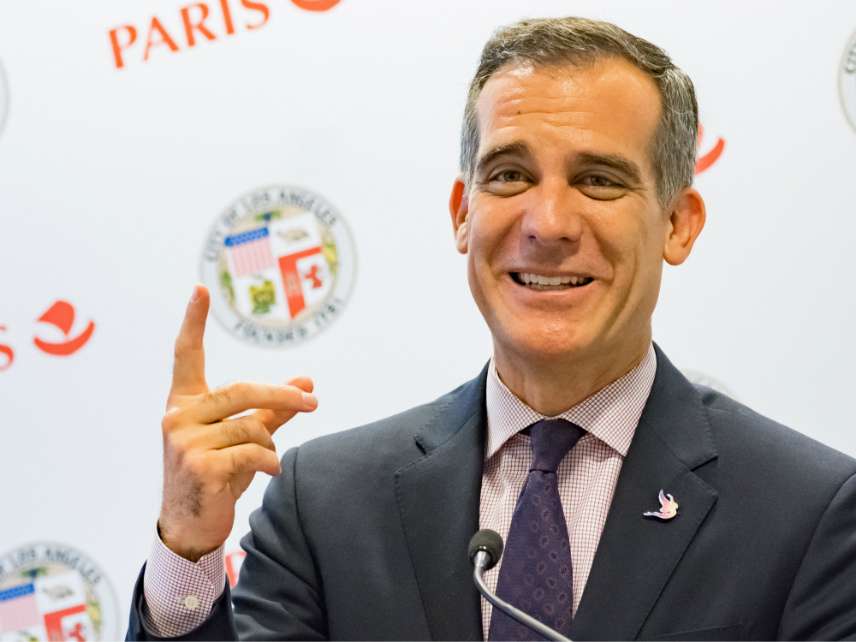 A general rule of thumb is that you shouldn't tax something if you desperately need more of it. This common sense wisdom has eluded the Los Angeles City Council.
The council Wednesday voted to impose a linkage fee—so named because of a supposed link between the construction of new housing and the increasing costs of housing—as a solution to its housing and homelessness problems.
"When we see luxury condominiums going up," said Mayor Eric Garcetti, a major proponent of the new fees, "we can make sure that there is money paid in to build housing for the rest of us."
Michael Manville, assistant professor of Urban Planning at UCLA, says this is precisely the wrong approach because it treats housing construction as the source, not solution, to the city's housing problems. The new linkage fee law does little to create additional new housing units, he says.
"We keep passing laws that suggest that housing is a huge source of our problems," Manville tells Reason, when the real source of Los Angeles' woes is that "we don't build enough housing."
There is a very real chance the new linkage fees will raise the costs of housing, or reduce the number of housing units built. The fee for new residential developments would range from $8 to $15 a square foot depending on which area of the city they are built. Given that the average size of a one-bedroom apartment in Los Angeles is 702 square feet, the city's new linkage fee would add between $5,616 and $10,530 to constructing a unit that size.
A report prepared by Los Angeles city staff was dismissive of the idea that adding thousands of dollars to the final costs of new housing units would raise rents or home prices. Developers, they reason, will instead pay less for the land they buy or accept less profit.
Manville says that logic makes sense for some developments where parcels of land are interchangeable, but doesn't stack up in most of Los Angeles where most of the land is already developed.
"If I want to buy an existing apartment building and just operate it, as opposed to buying an existing apartment building, tear it down and build 30 percent more units, one of those comes with a linkage fee and one doesn't," he tells Reason. The developer is always at a disadvantage, he says.
Developers themselves have been pretty explicit that at least some of the new linkage fee costs will be passed onto renters. The Los Angeles Times quotes developer L.A. Michael Heslov, who says that he would likely raise rents on future projects because of the fee. "It's like anything else. If the cost of avocados goes up, it gets passed on to consumers."
The fee is expected to generate $100 million a year, which is supposed to pay for new affordable housing developments.
It currently costs an average of $448,500 to build a single new affordable housing unit in the city of Los Angeles. At that rate, linkage fee revenue would pay for about 225 new units per year. The city estimates by leveraging additional affordable housing funds the city can bring that number closer to 1,500 units.
The city actually needs 32,862 affordable housing units by 2021, according to a 2014 Regional Housing Needs Assessment. Los Angeles County—which includes the city of Los Angeles and surrounding communities—had, as of January 2017, an unsheltered homeless population of 42,828.
Manville suggests that other funding mechanisms, like a fee on real estate transactions, would provide more money for affordable housing without punishing new developments.
Libertarians would reject the notion that government needs to spend any money on affordable housing. But people of all political stripes should appreciate that piling costs onto something you desperately need more of is just wrong.
"You don't have to like developers," Manville says, "to understand that the product they produce is actually really important."