Chicago Public Schools Execs Lied, Altered Records to Cover Up Wrongdoing
The school system's CEO and general counsel have both resigned over the scandal.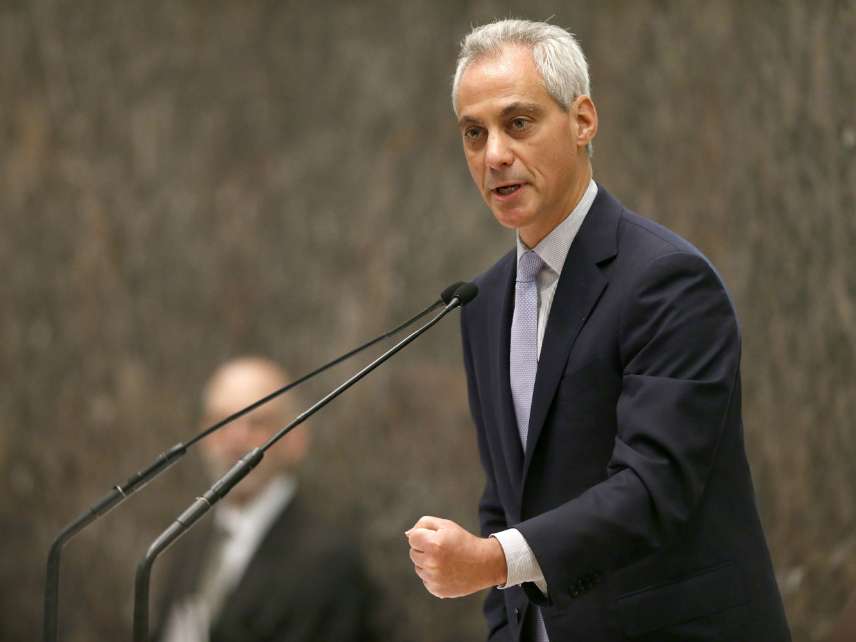 A pay-to-play scandal at Chicago Public Schools (CPS) has prompted two top officials to resign.
Yesterday General Counsel Ronald Marmer announced his departure after an ethics investigation revealed he was receiving a $1 million severance package from the law firm Jenner & Block while also supervising legal work the firm was doing for the school system. And last week CEO Forrest Claypool resigned after the same investigation found he had engaged in "elaborate cover-ups" of Marmer's behavior, including a "pattern of attorney shopping, record changing and lies to investigators."
The revelations shine an unflattering light on the nation's third largest school district, which spends $6.4 billion in public funds managing 514 public schools. Three CPS chiefs appointed by Mayor Rahm Emanuel have now resigned under varying levels of disgrace.
Emanuel at first resisted CPS Inspector General Nicholas Schuler's recommendation that he fire Claypool, saying that the CEO had made a public apology for his behavior and that it was "a sign of character to publicly acknowledge where you're wrong and take responsibility for it."
Schuler found these public displays of "character" wanting, asking in a December 5 executive summary of his report: "What kind of signal would it send to CPS employees, parents and children if the CEO was allowed to change records as part of a cover up and keep his job?"
Schuler's investigation found that Claypool and Marmer's series of cover-ups began when four CPS attorneys determined that Marmer's supervision of Jenner & Block's work violated the school district's ethics policies. Claypool and Marmer then sought a second opinion from two outside lawyers, both of whom came to the same conclusion.
Claypool then solicited the opinion of a seventh attorney, J. Timothy Eaton, a longtime friend of Claypool's who had donated some $5,000 to his various campaigns for public office. Eaton's legal opinion, unsurprisingly, found that Marmer's conduct was totally above board.
Claypool then buried the opinions of the first six attorneys and used the seventh to secure the Chicago Board of Education's approval for yet more contracts with Jenner & Block. Claypool also had the outside attorneys he consulted alter their bills to CPS to remove any reference to "Code of Ethics" and "ethics issues."
Claypool then lied about his behavior in two separate interviews conducted by the Inspector General's office.
The weight of all these revelations prompted Claypool's resignation this past Friday.
Claypool's predecessor, Barbara Byrd-Bennett, resigned in 2015 over a bribery scandal that saw her sentenced to four and a half years in a federal prison. The CEO before her, Jean-Claude Brizard, resigned in October 2012 over his handling of a teachers strike.
Claypool and Marmer's resignations come as Chicago's school system receives a $499 million budget increase. Chicago taxpayers have also seen their property taxes increase by 10 percent, three-fifths of which is earmarked for the Chicago Teachers' Pension Fund.