Doug Jones Wins Alabama Senate Seat; Roy Moore Does Not Concede
Final tally: 49.9 to 48.4 percent.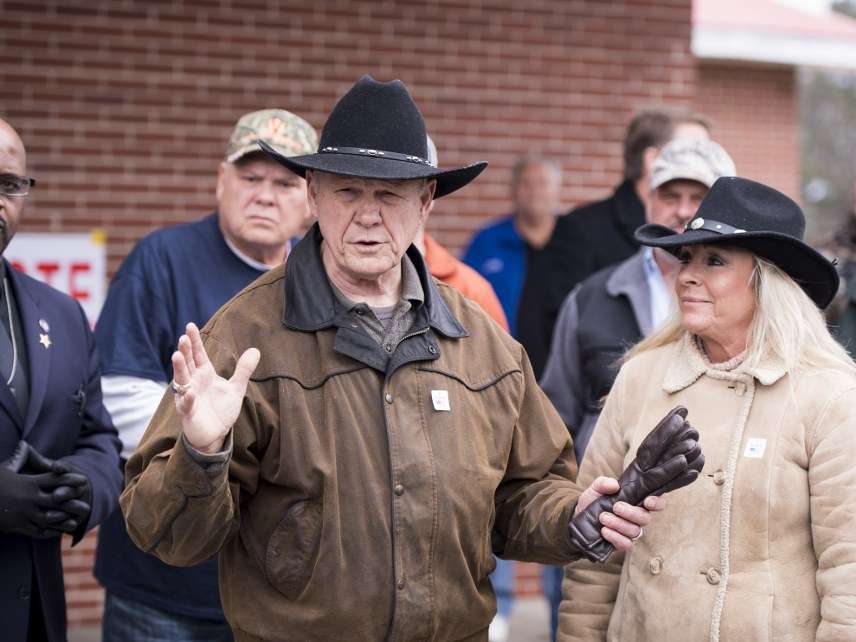 Democrat Doug Jones has been declared the winner over Republican Roy Moore to become the next senator of Alabama. Jones is currently ahead 49.9-48.4 percent. Moore had been ahead for most of the evening, but the votes tallied last were coming from heavily Democratic parts of Alabama.
At around 11 p.m., Democrat Doug Jones took to the stage to declare victory over Republican Roy Moore in the special election for Alabama's Senate seat. A quote from his speech:
"This entire race has been about dignity and respect. This campaign has been about the rule of law. This campaign has been about common courtesy and decency and making sure of everyone in this state, regardless of which zip code you live in, is gonna get a fair shake in life."
President Donald Trump tweeted soon after Jones finished his speech:
Congratulations to Doug Jones on a hard fought victory. The write-in votes played a very big factor, but a win is a win. The people of Alabama are great, and the Republicans will have another shot at this seat in a very short period of time. It never ends!

— Donald J. Trump (@realDonaldTrump) December 13, 2017
At 11:30 p.m., Moore took the stage himself at his own rally and refused to concede. Under Alabama law, there's a recount if there's a less than a half-percentage point difference between the two candidates. That doesn't appear to be the case here, but Moore said he was going to wait for the votes to play out and told his supporters, "God is always in control. Wait on God and let this process play out."
Hillary Clinton has already responded. This came out just minutes after the race was called:
Tonight, Alabama voters elected a senator who'll make them proud.

And if Democrats can win in Alabama, we can—and must—compete everywhere.

Onward!

— Hillary Clinton (@HillaryClinton) December 13, 2017
The Moore camp is not yet conceding:
At the Moore party, audience is being told: "we're not calling it yet."

— Rosie Gray (@RosieGray) December 13, 2017
A reminder that Moore's campaign was heavily pushed by Steve Bannon:
Suck it, Bannon

— Meghan McCain (@MeghanMcCain) December 13, 2017
From retiring Arizona GOP Rep. Jeff Flake, a consistent Trump foe:
Decency wins

— Jeff Flake (@JeffFlake) December 13, 2017
Earlier in the day Alabama voters went to the polls to decide between controversial former judge Roy Moore and … um … not Roy Moore.
Technically Moore was facing off against Jones, as well as potential write-ins like Libertarian Party candidate Ron Bishop. But pretty much the entirety of the race has revolved around Moore's behavior and character, his troubled past, his disinterest in rule of law while claiming to be a champion of the Constitution, and what it fundamentally means for the Republican Party moving forward if voters embrace Moore despite (or because!) of all the allegations of misconduct.
I'll openly acknowledge personal hostility against Moore based on his lengthy history of extremely homophobic behavior, so overwhelming that his defiance of the Supreme Court on gay marriage was what got him booted out of the judiciary in Alabama.
Here's a Moore campaign spokesperson just today explaining why Muslims can't serve public office (he is wrong, obviously):
Roy Moore campaign spokesman says Muslims shouldn't be in US Congress because they have to swear on the Bible. @jaketapper lets him know that's not the case https://t.co/2lQPwuRXrC

— CNN (@CNN) December 12, 2017
I'll also note, though, as a relevant observation, that the more power government has over the lives of individuals and their families, the more likely maintaining control over that power will outweigh any moral or ethical considerations. We're seeing that attitude play out among those who are considering holding their noses and voting for Moore anyway even if they disagree with his positions or his behavior.
Regardless of whether Moore wins or loses tonight, the Republican Party will maintain control over the Senate, by either one (if Moore loses) or two votes (if Moore wins). The race matters as a referendum on the direction of the Republican Party itself and how much voters will embrace Trump-style combative populism.
Polls are all over the place, and I'm certainly not going to make a prediction. CNN is reporting from its exit polls this afternoon that there's a much higher turnout of African-American voters than intially predicted, more than 25 percent of those turning up.
But I will predict that if Moore does lose, it's going to be the way that Hillary Clinton lost—too many people who typically voted Democrat didn't like Clinton and didn't vote for president at all. The same could happen in terms of how Alabama Republicans perceive Moore.