Young Man Arrested for Consensual Underage Sex, Then Rearrested for Sharing Pizza with 17-Year-Old, Now Headed to Court
The latest on the case of Zach Anderson.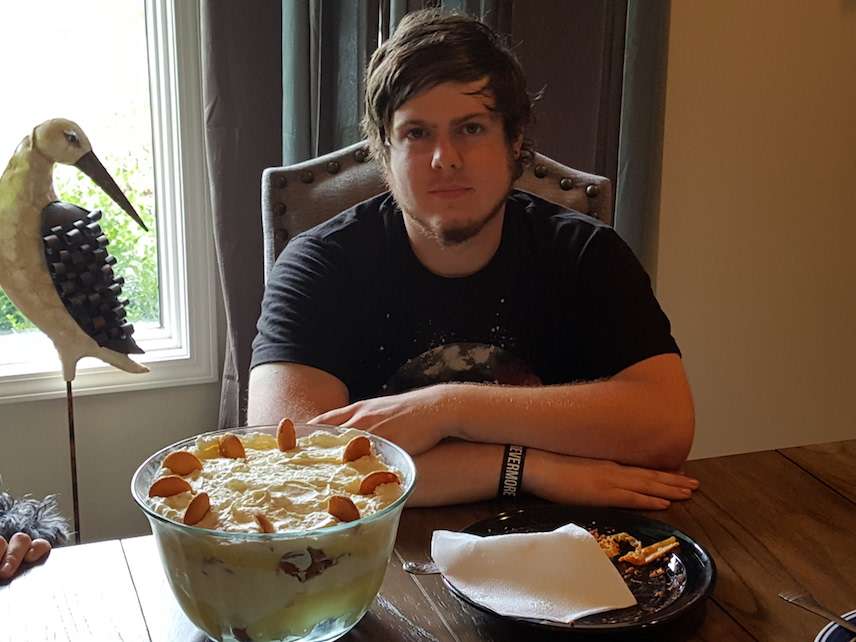 Zach Anderson, the young Indiana man originally sentenced to 25 years on the sex offender registry for having consensual sex at age 19 with a girl who told him she was 17 (but turned out to be 14) is not off the hook yet, thanks to a probation officer who seems bent on ruining his life.
Anderson will be back in court this Friday in Berrien County, Michigan, for a review hearing, facing a report by Indiana Probation Officer Melanie Godden, who claims that Zach violated his probation by 1) being in the same room as his brother's friend, age 17, while eating pizza at his parent's house, and 2) volunteering on a church committee that a girl, age 17, also joined.
If that sounds insane, read on.
Zach's story began two years ago, when he met a Michigan girl on the app Hot or Not, and they hooked up. When she wasn't home on time, her worried mother called the cops. After she got home they asked her where she'd been and she confessed. The cops then went to Zach's home across the state border in Elkhart, Indiana, and arrested him for statutory rape.
At trial, both the girl and her mom appeared on Zach's behalf. As the mom told the South Bend Tribune at the time, they did much more than just beg the judge for leniency. "We asked him to drop the case." But Judge Denis Wiley threw the book at Zach, in part because he "went online…trolling for sex," which the the judge found to be "totally inappropriate behavior."
Zach got 25 years on the Sex Offender Registry and was also forbidden from using the internet. This draconian decision was revisited only after the case landed on the front page of The New York Times. At a new hearing, Anderson was sentenced to two years' probation instead. (Judge Wiley was re-assigned to civil court.)
Zach's probation was just coming to an end when he took a lie detector test which asked if he'd had any contact with anyone under age 18.
He confessed to the two incidents above: Eating pizza in the same room as his brother's male friend, and volunteering at church where a girl was volunteering, too. Even though he never spoke to either of those 17 year olds, Probation Officer Godden deemed this behavior a violation based on "Condition 20," which is "failure to report incidental contact within 24 hours."
That was in October. Just a few weeks ago, Zach's lawyer, Scott Grabel, discovered something significant: Condition 20 is illegal. The Indiana Court of Appeals ruled that the condition was too broad in July 2015.
Under the terms of Condition 20, probationers were forbidden to "be alone with or have contact with any person under the age of 18," including "face-to-face, telephonic, written, electronic or any indirect contact via third parties." What's more, should contact somehow happen —if, for instance, a probationer went to McDonald's, ordered fries, and was served by someone age 17—that probationer was required to "report any incidental contact with persons under age 18 to your probation officer within 24 hours of the contact."
In other words, mundane daily life was transformed into a legal minefield—until the Appeals Court declared Condition 20 unconstitutional.
So why was Probation Officer Godden still using Condition 20 against Zach Anderson well after the court had declared it illegal?
"Because they don't want to let him go," Zach's father, Lester Anderson, says in a phone call. "To me, it looks like a witch hunt. They turn a blind eye to the fact that [incidentally encountering some people under age 18] is normal behavior."
Now that attorney Grabel has informed the probation officer that Condition 20 is off the books, Lester Anderson is cautiously optimistic about Friday's hearing. There are no other charges pending against Zach, who is now age 22. "There would be no greater Christmas present than to have Zach free," he says.
I can think of another welcome present. If a probation officer uses an unconstitutional law to threaten or prosecute a citizen, especially one whose original crime was consensual teen sex, it would be a lovely gift to see that probation officer fired.