Churchill's Antidote to Political Rage
Things are not more serious than they were in Britain in 1940.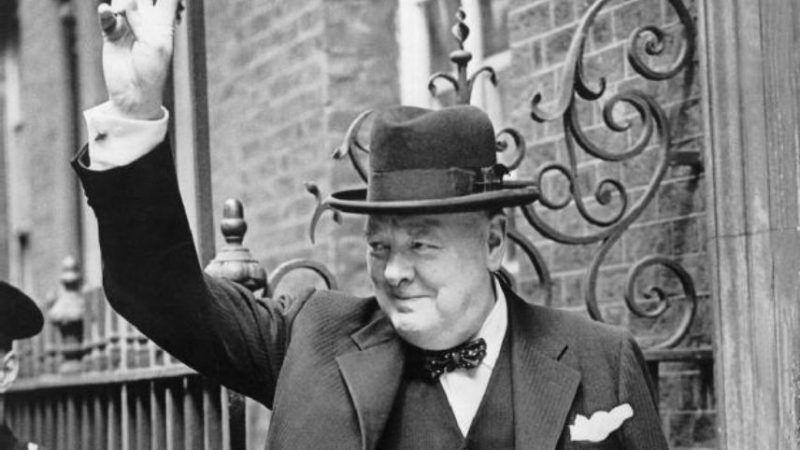 "I've never in my adult life," observes David French, a writer for National Review, "seen so many people so angry about things they cannot control." The current hour is one of "defining people by their mistakes," he says, and "hating our ideological enemies."
This is not new information. Many others across the ideological spectrum have uttered the same lament. But the laments have not diminished the volume of rage.
To some degree the rage is understandable. People have plenty to be angry about. But much of the animosity seems out of all proportion. It is one thing to despise and vilify a foreign tyrant who tortures innocent children. It is something else again to despise and vilify someone who didn't vote for the same political candidate you did. You have to take politics extremely seriously for that.
But as serious as politics might seem today, it cannot be more serious than it was in Britain in 1940—when the wrong political choices could threaten the nation's very existence.
Two years before, Prime Minister Neville Chamberlain had signed the Munich Agreement, which ceded the Sudetenland to Hitler's Germany. Chamberlain returned to England boasting that he had achieved "peace for our time."
A year later Hitler invaded Poland, and Chamberlain's name became synonymous with "appeasement"—which ever since has carried the stench of timorous naiveté. Munich itself has become both an argument by way of analogy and a cliché: Running a Google search about the Obama administration's "Iran deal" and "Munich," for instance, returns thousands upon thousands of results.
This version of history is hard on Chamberlain and omits certain complexities. As Alex Massie reminded readers in The Spectator a few years ago, after the Polish invasion "Chamberlain actually declared war on Germany, rather than vice versa." Massie also cites the views of Winston Churchill on Munich:
"Those who are prone by temperament and character to seek sharp and clear-cut solutions of difficult and obscure problems," Churchill wrote later, "who are ready to fight whenever some challenge comes from a foreign power, have not always been right.
"On the other hand, those whose inclination is to bow their heads, to seek patiently and faithfully for peaceful compromise, are not always wrong. On the contrary, in the majority of instances, they may be right."
Nobody had more reason to gloat "I told you so" over Chamberlain's miscalculation at Munich than Churchill, who had been warning about the German menace far longer than most people had cared to listen. And yet when Chamberlain died in 1940, Churchill delivered a eulogy at once clear-eyed and generous:
"In paying a tribute of respect and of regard to an eminent man who has been taken from us, no one is obliged to alter the opinions which he has formed or expressed upon issues which have become a part of history," Churchill began. "In one phase men seem to have been right, in another they seem to have been wrong. Then again, a few years later, when the perspective of time has lengthened, all stands in a different setting. There is a new proportion. There is another scale of values…
"It fell to Neville Chamberlain in one of the supreme crises of the world to be contradicted by events, to be disappointed in his hopes, and to be deceived and cheated by a wicked man. But what were these hopes in which he was disappointed? What were these wishes in which he was frustrated? What was that faith that was abused? They were surely among the most noble and benevolent instincts of the human heart—the love of peace, the toil for peace, the strife for peace, the pursuit of peace, even at great peril, and certainly to the utter disdain of popularity or clamour. Whatever else history may or may not say about these terrible, tremendous years, we can be sure that Neville Chamberlain acted with perfect sincerity according to his lights and strove to the utmost of his capacity and authority, which were powerful, to save the world from the awful, devastating struggle in which we are now engaged. This alone will stand him in good stead as far as what is called the verdict of history is concerned."
To be sure, Churchill had not gone easy on Chamberlain after Munich. "You were given the choice between war and dishonor," he said. "You chose dishonor, and you will have war." But the speech he delivered on Chamberlain's death—brought to renewed attention by a reader the other day—shows that even in the most difficult straits, it is possible to concede the other man's humanity and idealism without also conceding the political argument.
That distinction seems to have been lost, which is a pity. There would be much less rage today if it were revived.
This column originally appeared in the Richmond Times-Dispatch