How Congress Keeps Its Sexual Harassment Hush Money Secret
Documents from a $27,000 harassment settlement from Rep. John Conyers' office show how Congress keeps its tax-funded settlements secret.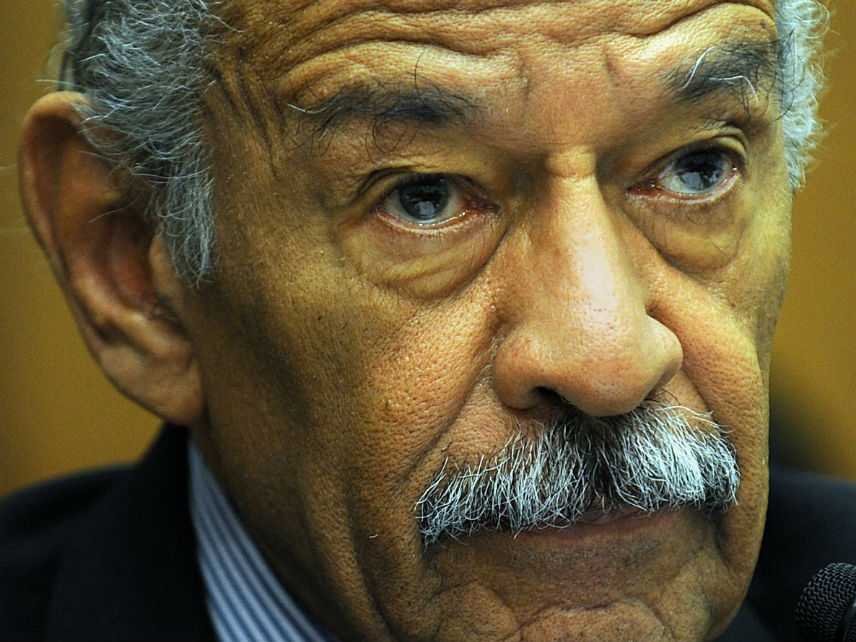 BuzzFeed reported Tuesday night that the office of Rep. John Conyers (D-Mich.) paid $27,000 to settle a previously undisclosed sexual harassment complaint against the lawmaker. The story is notable not just for the allegations against a powerful member of Congress, but for shedding light on the highly opaque process through which the House of Representatives handles such settlements—and keeps them concealed.
Amid the cascade of sexual harassment allegations ignited by The New York Times' exposé of Harvey Weinstein, Rep. Jackie Speier (D-Calif.) told MSNBC earlier this month that the House had paid out millions of dollars over the last decade to settle sexual harassment claims.
Under public pressure, the Office of Compliance, which acts as the House's rough simulacrum of a human resources department, released documents showing it had paid out $17 million since 1997 to settle a variety of workplace claims, including sexual harassment.
The details of those settlements, including their nature, are confidential. Claimants are required to sign a nondisclosure agreement to begin the lengthy mediation process.
Last week Speier introduced legislation that would prohibit Congress from requiring nondisclosure agreements in such situations and would require regular reporting of settlements.
"In 1995, Congress created the Office of Congressional Compliance to protect itself from being exposed, and it has been remarkably successful," Speier said in a statement. "Twenty years later, 260 settlements and more than $15 million have permanently silenced victims of all types of workplace discrimination. Zero tolerance is meaningless unless it is backed up with enforcement and accountability."
"It's clear that our country is at an inflection point with respect to the behavior of powerful men across our society," says Alex Howard, deputy director of the Sunlight Foundation, a group that works for government transparency. "Congress itself is neither excluded nor sacrosanct from that reckoning, but continued secrecy will hinder public understanding of how our representatives conduct themselves in office. Ethical standards that include training, oversight, and public disclosure of all past settlements online as open data are in the public interest, and we hope that Congress does so."
It's important to understand just how secretive the current House process for settling harassment claims is.
In most regular cases, lawsuit settlement by the federal government go through the Treasury Department's Judgement Fund, which has an online, searchable database of payouts, filterable by agency and date.
For example, the Department of Veterans Affairs has settled nearly 8,000 lawsuits between 2007 and 2016, according to records from the Judgement Fund database—most of them, unsurprisingly, for medical malpractice. It is the federal agency with the second highest number of settlement payouts, behind the Social Security Administration, which has about 13,000.
But the House harassment payments described by Speier don't appear in that database. Nor do they appear in the disbursement disclosures the House is regularly required to file.
Because of the provisions of the ironically named Congressional Accountability Act, settlement payment come from a special Treasury fund that the Office of Compliance draws from as necessary. The offices responsible for the payouts, and the reasons for the settlements, are kept strictly confidential.
In Conyers' case, his office didn't even go through that process, according to the documents obtained by BuzzFeed:
[O]ne of Conyers' former employees was offered a settlement, in exchange for her silence, that would be paid out of Conyers' taxpayer-funded office budget. His office would "rehire" the woman as a "temporary employee" despite her being directed not to come into the office or do any actual work, according to the document. The complainant would receive a total payment of $27,111.75 over the three months, after which point she would be removed from the payroll, according to the document.
Because of the nondisclosure agreement and the use of regular office payroll to obscure the payout, there was practically no way for the public to know it was bankrolling Conyers' settlement.
Former House Speaker John Boehner and current House Minority Leader Rep. Nancy Pelosi (D-Calif.) have both issued statements saying they were unaware of the Conyers payments. That's no surprise. Congress created a perfect black box of secrecy, designed to shield its members from scrutiny, give senior leadership plausible deniability, and avoid any of the regular reporting that other federal settlements are subject to.
And it's all paid for by you.