Trump Trip to Asia Mostly a Welcome Shift in U.S. Foreign Policy
Diplomacy and dialogue are more fruitful than containment and condemnation.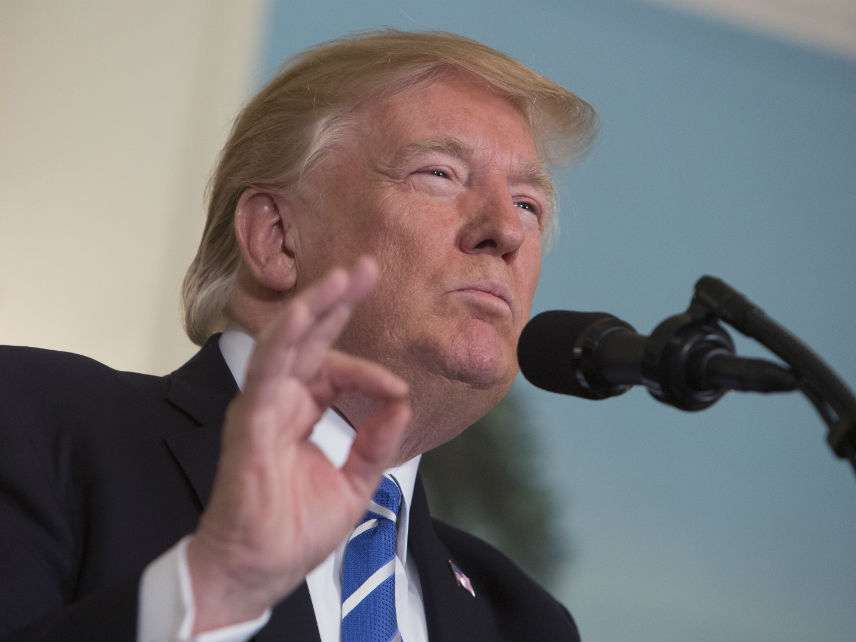 President Donald Trump doesn't think he's getting enough credit for his 12-day, five-country trip to Asia. He has a point.
Trump's diplomatic efforts in Asia are a repudiation of Barack Obama's "Asia pivot," which sought to contain China's rise by expanding American influence in the region. The Obama approach prompted China to take a more confrontational stance vis a vis the United States—an effect that apparently caught the Obama administration by surprise even though it shouldn't have.
Trump's reset can reduce tensions in the region while giving U.S. allies an incentive to take more responsibility for their own stability and security. Japan and South Korea, for example, have both recently committed to increasing their own military expenditures.
And while China insists its decision to send a high-level envoy to North Korea (the first such trip this year) was "common practice" and "unrelated" to the American president's visit, Trump has pushed regional stakeholders to take a more active role in defusing tensions with North Korea. China may not have the total control over North Korea's foreign policy that Trump imagined before he assumed the presidency, but it did have more room to cooperate with the West.
And while several Asian countries announced a trade deal without the U.S., which withdrew from the Trans-Pacific Partnership three days into Trump's presidency, that's not necessarily bad news either.
Trump's anti-trade rhetoric is indisputably harmful, and the lack of any news about any kind of bilateral deals at the end of his long trip is not a good sign for the future of such pacts. But a continental trade deal that doesn't include the U.S. could be a stronger arrangement than one that did. After all, the original Trans-Pacific Partnership also excluded China. Given that China is the second largest economy in the world, its exclusion never made sense from a trade perspective. But it made sense if the TPP was another tool to contain China.
In the trade deal's current form, it is far better positioned to eventually include the U.S. and China, as it will be better able to avoid geopolitically motivated pressure from the U.S. The foreign minister of Japan insists the new deal will "serve as a foundation for building a broader free-trade area" across Asia; a deal perceived (rightfully) as a tool of U.S. foreign policy would not have such a bright future.
Trump did not spend his Asia trip lecturing other countries about the importance of liberal democracy and human rights, to the chagrin of some observers. Yet such lectures are usually meant more for the domestic U.S. audience than audiences overseas. Just as Americans don't appreciate even the perception of being lectured by foreign countries like Russia, so it goes in other countries. (That said, it would be nice if Trump would refrain from actively praising a nation's human rights abuses.)
The U.S. can promote human rights and liberal democracy much more effectively through leading by example and through fostering self-reliance rather than dependence among its allies. Liberal values are their own best spokesperson—witness China's eagerness to advocate for free trade and globalization where Trump won't. If Trump's perceived disinterest in international governance leads other countries to decide they too should take ownership of the world order rather than relying on the U.S., we will all be better for it.