Trump's Pick For HHS Secretary Is a Former Drug Executive Who Thinks Obamacare is a "Fundamentally Broken System"
Alex Azar's combination of industry and government experience could make him a formidable bureaucratic operator.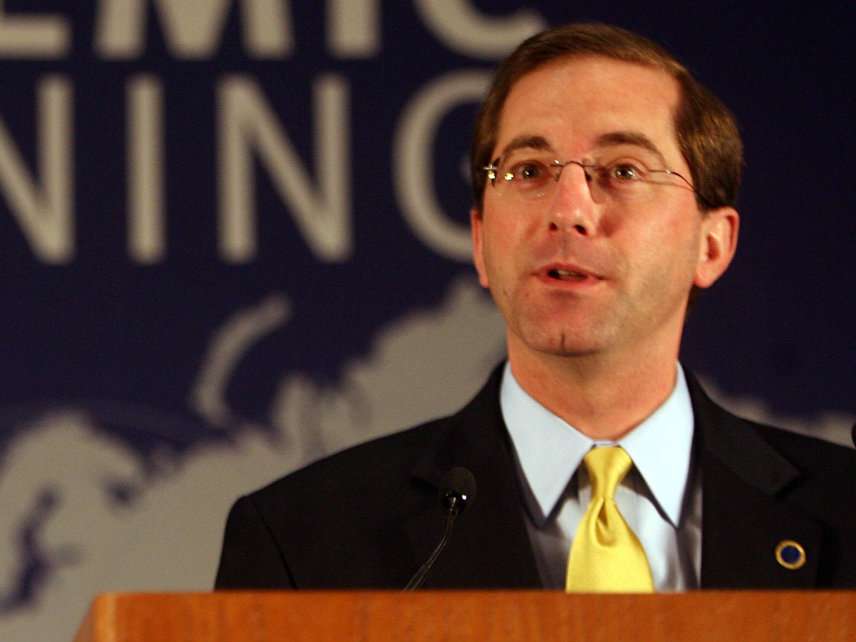 President Trump will appoint former drug company president and government health official Alex Azar to lead the Department of Health and Human Services (HHS).
Until January of this year, Azar, who was trained as a lawyer and clerked for several conservative judges, was president of Lilly USA, an affiliate of Eli Lilly and Co. focused on treating diabetes. Azar also served as general counsel and deputy secretary of HHS during the George W. Bush administration. Here's what you can expect as his nomination moves forward.
Happy to announce, I am nominating Alex Azar to be the next HHS Secretary. He will be a star for better healthcare and lower drug prices!

— Donald J. Trump (@realDonaldTrump) November 13, 2017
Because of his work for a pharmaceutical company, and because of some of President Trump's past remarks, Azar's nomination will inevitably raise policy questions about prescription drug prices.
Trump has repeatedly blasted drug makers for high drug prices, and in announcing his selection of Azar this morning said that at HHS he would be "a star for better healthcare and lower drug prices!" Meanwhile, some Democrats, like Sen. Ron Wyden, (D-Ore.), are already signaling that they will make his work at Lilly USA an issue. "I will closely scrutinize Mr. Azar's record and ask for his commitment to faithfully implement the Affordable Care Act and take decisive, meaningful action to curtail the runaway train of prescription drug costs," Wyden said today.
Azar is certain to raise questions about implementation of Obamacare as well, since HHS is responsible for administering the law. Trump has already reduced the advertising budget for the law and ended a series of payments to insurers that a court had ruled were illegal. Azar, for his part, has suggested that there is considerable leeway to alter the law without congressional action. "I'm not one to say many good things about Obamacare, but one of the nice things in it is it does give tremendous amount of authority to the secretary of HHS," he said over the summer.
In particular, Azar has suggested that the government could lower premiums through reinsurance programs–which provide a backstop to insurers by helping to cover the cost of high cost patients. Azar's confirmation process is likely, then, to spark some wonky discussions about the policy merits and political dynamics of reinsurance programs.
Finally, expect a contrast in both style and emphasis from his predecessor. Azar was nominated after Trump's first HHS Secretary, Tom Price, stepped down following the revelation that he had taken hundreds of thousands of dollars worth of private jet flights at taxpayer expense. Price, a doctor and former Republican congressman steeped in the politics of conservative health care policy, was an outspoken critic of Obamacare who had authored replacement legislation while in Congress.
Azar is also on the record knocking Obamacare: In May he told Fox Business that the health care law is a "fundamentally broken system" that is currently "circling the drain." But in addition to his work at Lilly, Azar also served as a senior official at HHS, an agency with a huge staff and a budget in excess of $1 trillion. This means he already knows the ins and outs of how the agency works and doesn't have to spend a lot of time learning about the organization. That sort of practical insider knowledge, combined with his connections to the health care industry, has the potential to make him a formidable operator, although it will depend somewhat on the mandate he's given from the White House.
Price, in other words, was a medical provider and a politician with an interest in policy legislation, while Azar is probably better understood as an experienced bureaucratic manager who can navigate both the internal workings of HHS and its relationships with outside interests.
Azar might not be someone who has a unified vision for what America's health care system should look like. But he might be someone who could make such a vision into a reality.