BBC Dark Comedy Ill Behaviour Finds Home on Showtime
Gross-out humor and cancer-do they blend?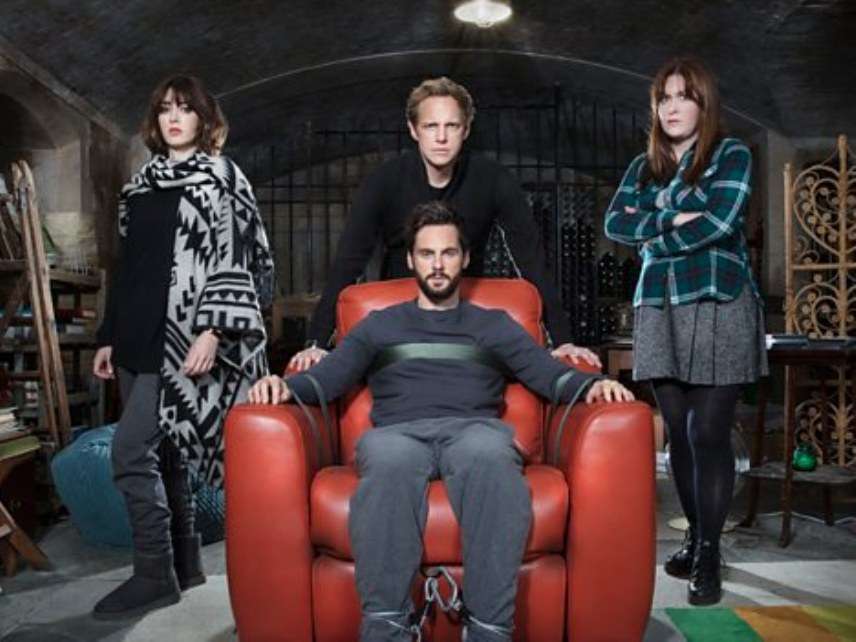 Ill Behaviour. Showtime. Monday, November 13, 10 p.m.
Showtime is intent that you need a laugh. Ill Behaviour is its third sitcom to debut in less than a month, after White Famous and SMILF. And the deranged/debauched underclass comedy Shameless returned for its eight season in that same time span. Maybe somebody at Showtime is trying to eliminate the market for Zoloft so they can short stock in Pfizer.
Whether Ill Behaviour, a co-production with the BBC (it aired in Great Britain this summer), will aid in this endeavor remains to be seen. Its combination of black humor and gross-out jokes is a little bit on the hit-or-miss side.
Ill Behaviour is about a four-way relationship between four bughouse millennials. The show opens with one of them, professional slacker Joel (Chris Geere, FX's You're The Worst) sitting on the ledge of a skyscraper, scattering cash into the wind, shouting "It's my money and I can do what a want with it." (Bonus points for the allusion to the wise Randian philosopher-queen Lesley Gore.)
The money is a settlement from the wealthy wife who has blindsided Joel with a divorce. His tragic dismay is only worsened by the delight of his friends, hippie airhead Charlie (Tom Riley, Da Vinci's Demons) and budding robot-porn writer Tess (Jessica Regan, among the epic numbers of the cast of the long-running Brit soap opera Doctors), whose novel in progress is For the Love of a Synthezoid. It seems they've secretly loathed the now-departed wife since the day Joel met her, and even, long ago, set up a profile for him at a dating site on the grounds that "sometimes wishful thinking pays off."
The fruit of the dating profile turns out to be Nadia (Lizzy Caplan, Masters of Sex), a cokehead American oncologist with a yen for sex in public bathrooms. Her presence turns out to be quite fortuitous, since Charlie has just been diagnosed with cancer. Which, he announces, he will not treat with chemotherapy but coffee enemas and herbal remedies of the gloriously cancer-free 19th century.
What follows is a blizzard of kidnappings, crossbow fights, macrobiotic-food jokes and gooey body-parts humor, all of it with highly variant degrees of success. Sometimes Ill Behaviour is amusing, sometimes—as the put-down line of my grade-school years had it—about as funny as a stop sign in a polio ward.
In Great Britain, that criticism of the show turned nearly literal; there was clamor about the decorum of making a comedy about cancer. The fuss was largely lost on Ill Behaviour's creator-writer Sam Bain, a British TV veteran whose shows (which mostly haven't made it across the Atlantic) have never exhibited an overreliance on good taste. "I've done cancer, terrorism, pedophiles," he parried the complaints. "I'm ticking off a good list."
In any event, Showtime broke that barrier long ago in the United States with The Big C, in which a cancer diagnosis liberated Laura Linney from a stifling marriage and job and allowed her to be herself—for a while, anyway. And the subject of Ill Behaviour is not really cancer, but the implications of intervention in somebody's life, even that of a friend. As Joel protests when his buds try to stop him from throwing his money off the roof, "If I wanna be a dick, let me be a dick."
Not that you policy wonks are excluded. Joel and Nadia prepare for a toilet-top tryst, her beeper goes off. "Is that an emergency?" wonders Joel. "I guess we'll never know," replies Nadia, clicking the device off. No wonder British healthcare prices are so affordable.