Virginia Voters Toss Homophobic Lawmaker in Favor of Transgender Heavy Metal Rocker
Danica Roem makes history by getting elected to the House of Delegates.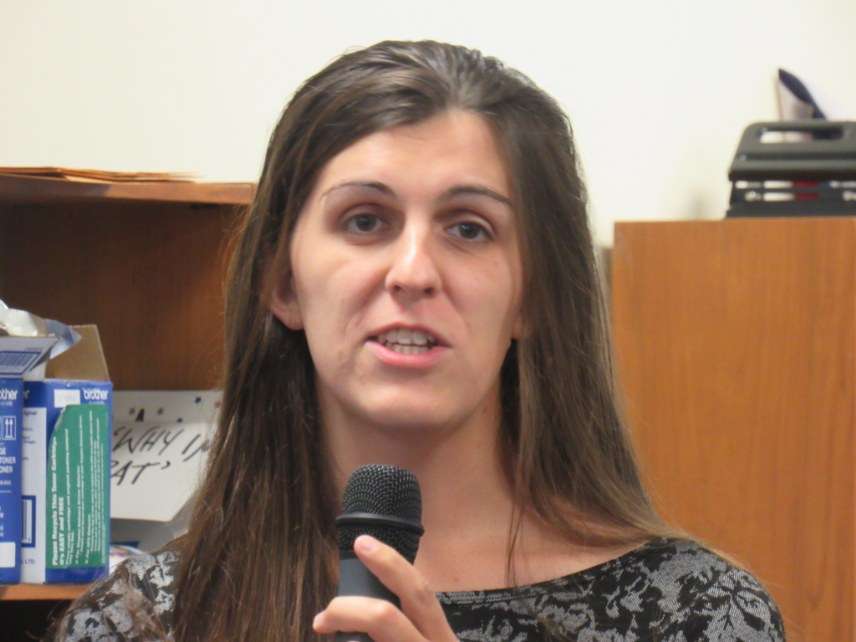 Virginia voters shocked entrenched establishment conservatives and pop music enthusiasts last night by electing the lead singer of a heavy metal band to its state legislature. Danica Roem, 33, a Democrat, has defeated 13-term incumbent Robert Marshall to represent Prince William County in Virginia's House of Delegates.
Roem is the lead singer for Cab Ride Home, a band that describes its music this way: "Northern Virginia metal band Cab Ride Home represents one thing: partying. We're a five-piece group and all members are committed to ultimately touring full-time. Our sound is drunken thrash metal, our songs are about drinking and our shows are about raging. We've played 120 shows and even toured the U.K. 'Nuff said."
Looks like those dreams of a tour might have to be put on hold. Though given the reputations of lawmakers, she may not have to give up the drinking or raging.
Oh, also: Roem is transgender, having transitioned to living life openly as a woman between 2012 and 2015. Roem's identity ended up taking center stage in the coverage of the race, getting much more attention than her actual platform of "fixing Route 28." She takes a dim view of toll roads, which should be of concern to transportation privatization advocates.
Roem's victory marks her as the first openly transgender person elected to a state legislature. (Althea Garrison was elected to the state legislature of Massachusetts in 1993, but during the campaign voters apparently didn't know about her history.)
The other factor drawing attention to Roem's win is who she defeated. Marshall has a reputation as one of Virginia's more homophobic legislators. He pushed one of those "bathroom bills" for the stat, driven by a fabricated culture-war panic that sexual predators would take advantage of transgender accommodations to target and assault women or children in public restrooms or facilities.
Marshall's bill would have required people to use the restrooms and other sex-segregated facilities in schools and other government-owned buildings that matched the gender listed on their birth certificates. Apparently his first version of the legislation even insisted that people's "original" sex listed on their birth certificates, meaning that even if a transgender person had surgery and legally got his or her birth certificate changed, he or she would be legally obligated to use the other restroom. He ultimately softened the legislation to (like North Carolina's bathroom law) allow transgender people who have had their birth certificate changed use the appropriate facilities. The bill nevertheless died in committee and did not become law.
That's just one example of Marshall's harsh approach to LGBT issues. Marshall pushed Virginia's constitutional amendment that forbids same-sex marriage recognition. The Marshall-Newman Amendment not only keeps the state from recognizing same-sex marriages, but forbids any sort of legal status between two unmarried people that approximates marriage or assigns similar rights or benefits. The constitutional amendment has since been declared unconstituational and after the Supreme Court decision mandating same-sex marriage recognition, is no longer in force.
Marshall has even supported legislation to keep private insurance companies from offering benefits to same-sex partners, and he seems to want courts to overrule private guardianship and will agreements between same-sex partners (analysis courtesy of Cato's Walter Olson).
Roem's win is widely seen from the perspective of the current culture wars over how transgender people are treated. But Marshall also represents an old-guard attitude toward LGBT people that a good chunk of the Republican Party is looking to leave behind. He has actually called himself Virginia's "chief homophobe," but these days your average Republican is about as likely to approve same-sex marriage recognition as oppose it.
So while Virginian Republicans took a pounding in yesterday's election, I suspect many of them will not be shedding tears at the loss of a dead-ender like Marshall.
Many media sites are focused on these culture war components, but I know Reason readers care about what really matters. So here's a YouTube video of Roem fronting Cab Ride Home. Enjoy!
This post has been updated to clarify that the constitutional amendment forbidding same-sex marriage recognition in Virginia has since been struck down.