What We Know So Far About the Texas Church Shooting
26 people have been killed at the First Baptist Church in Sutherland Springs, Texas.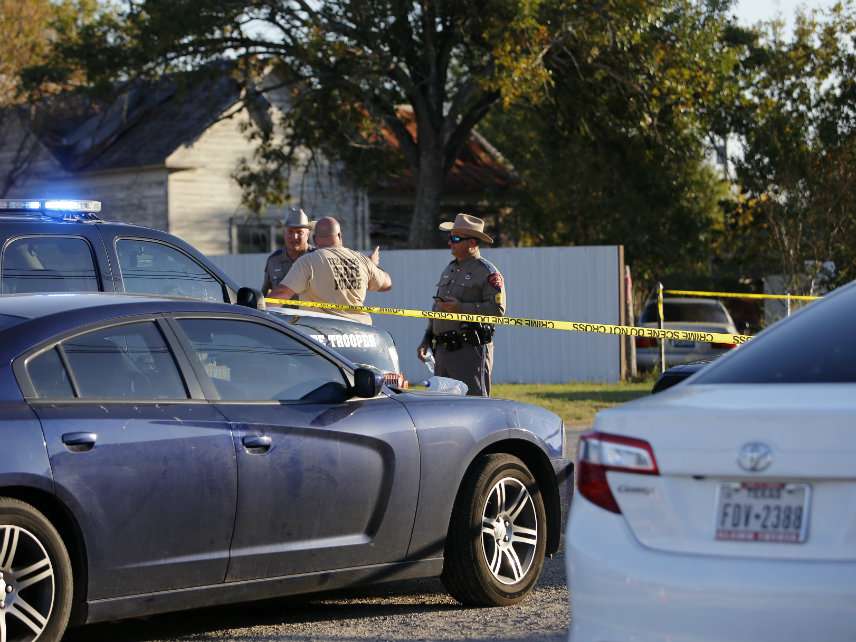 Investigators Monday were scrambling to find a motive for yesterday's deadly mass shooting at a church in a small town outside of San Antonio, Texas.
On Sunday, a gunman identified by the Texas Department of Public Safety as 26-year-old Devin Patrick Kelley opened fire during a service at the First Baptist Church in Sutherland Springs, killing 26 people, and injuring another 20.
Kelley, from nearby New Braunfels, was an Air Force veteran who was court-martialed in 2012 on charges of assaulting his wife and child. He was sentenced to 12 months confinement and received a "bad conduct" discharge in 2014.
Suspect in Sutherland Springs shooting confirmed to be Devin Patrick Kelley, 26, of New Braunfels, TX. More info to be released later today.

— Texas DPS (@TxDPS) November 6, 2017
Update: Law enforcement officials say that Kelley's motivations were "domestic" in nature. In a press briefing this morning, Texas Department of Public Safety spokesman Freeman Martin said that Kelly's mother-in-law regularly attended the First Baptist Church where the shooting occurred, and that she had recieved "threatening texts" from Kelley prior to the shooting. Martin declined to go into detail on the content of those texts.
Law enforcement officials confirmed that Kelley did not have a license to carry firearms, but that he was able to pass federal background checks for four seperate weapons purchases in 2014, 2015, 2016, and 2017.
"This is a person who had violent tendencies, and who was a powder keg waiting to go off," said Texas Gov. Greg Abbott on CBS News. Abbott said that Kelley tried to get Texas gun permit prior to the shooting and was denied.
Domestic violence convictions, along any felony conviction and dishonorable discharges from the military would disqualify one from gun ownership. Kelley's "bad conduct" discharge would not have disqualified him from firearm ownership, and it is not clear whether his assault conviction would have.
However, the fact that the crimes he was convicted of carried a combined sentence of over a year in jail may have made him ineligible to buy or possess a firearm.
According to law enforcement officials, Kelley purchased a Ruger AR-556 rifle from an Academy Sports & Outdoors store in San Antonio, Texas. Officials say that he passed a background check at the store.
The shooting occurred at around 11:20 a.m. when Kelley—dressed in black and armed with a Ruger AR-556 rifle—opened fire in front of the First Baptist Church entering the building and firing on the worshipers inside.
A local resident, who reportedly lived next to the church, engaged Kelley in a firefight as he left the building. According to law enforcement, Kelley then dropped his weapon and fled in his vehicle, being pursued by armed resident.
After an 11-mile chase, Kelley lost control of his vehicle and crashed on the side of the highway. Law enforcement arrived, and found him dead in his vehicle from gunshot wounds. It is not known whether the wounds were self-inflicted or not.
Despite so much unknown about the attack, political reactions are already starting to pour in.
President Donald Trump has said the shooting was a result of "a mental health problem at the highest level", adding that "this isn't a guns situation."
Longtime gun control advocate Sen. Diane Feinstein disagreed, saying in a Sunday statement that "this latest mass shooting comes just one month after the country's deadliest mass shooting, and we're still trying to garner support for even the most basic steps to reduce gun violence."
Reason will update this post as more information becomes available.