8 Dead in Apparent Terrorist Attack in NYC
Truck hit cyclists on path in Manhattan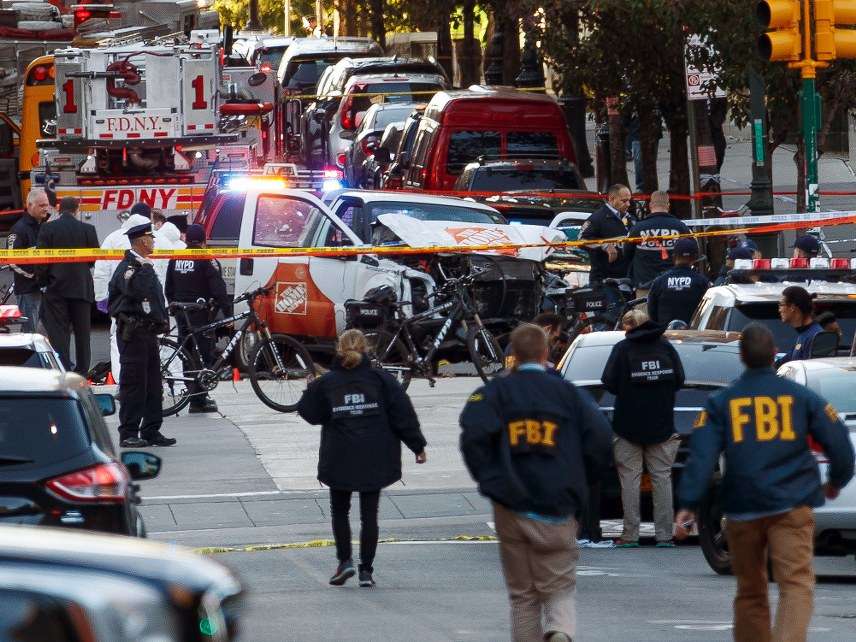 At least eight people are dead, many more are injured, and a suspect is in custody in what officials are calling a terrorist attack in lower Manhattan.
Details at this point are still coming together. Police and witness reports say the driver of a truck deliberately drove on a bike path, striking several people then hitting a school bus. Then he exited the truck holding guns, but the guns were apparently pellet or BB guns.
Some more info from NBC News:
Mayor Bill de Blasio said at a news conference the incident was "a particularly cowardly act of terror."

The suspect got out of the truck and shouted "Allahu Akbar" and fired a BB or pellet gun, four senior law enforcement sources briefed on the matter said.

"There are several fatalities and numerous people injured," New York police said on Twitter. NBC New York reported that eight people were dead, citing officials.
More from the Associated Press here. New York Gov. Andrew Cuomo has said he believes the incident was a "lone wolf" attack and not part of a larger, organized plot.
UPDATE: NBC News has named the suspect.
NBC News: Suspect in the New York City attack is Sayfullo Habibullaevic Saipov. He was born in February of 1988. Came to U.S. in 2010.

— Tom Winter (@Tom_Winter) October 31, 2017
UPDATE II: Sources say Saipov is an immigrant from Uzbekistan and may have come to New York City from Tampa, Florida. He is now out of surgery and has talked to police.
President Donald Trump has responded via tweet:
In NYC, looks like another attack by a very sick and deranged person. Law enforcement is following this closely. NOT IN THE U.S.A.!

— Donald J. Trump (@realDonaldTrump) October 31, 2017