Feds Crack Down on New National Security Threat: Unlicensed Massages
Massage-parlor panic is crushing small businesses, civil liberties, and people's lives. Here are eight examples from October.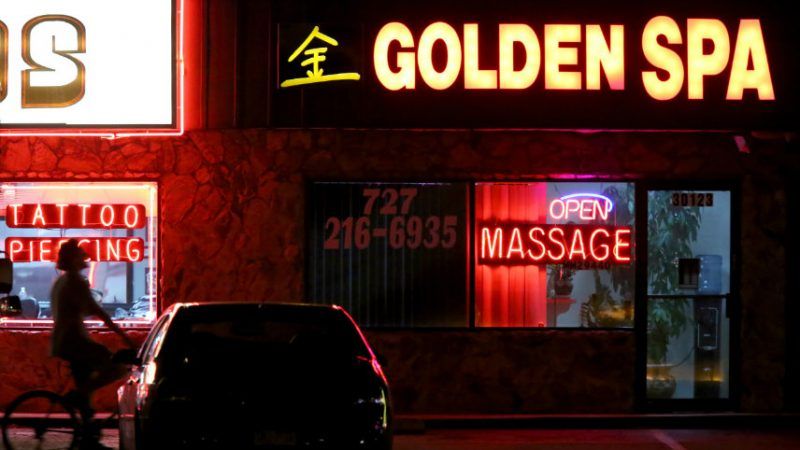 (Douglas R. Clifford/ZUMA Press/Newscom )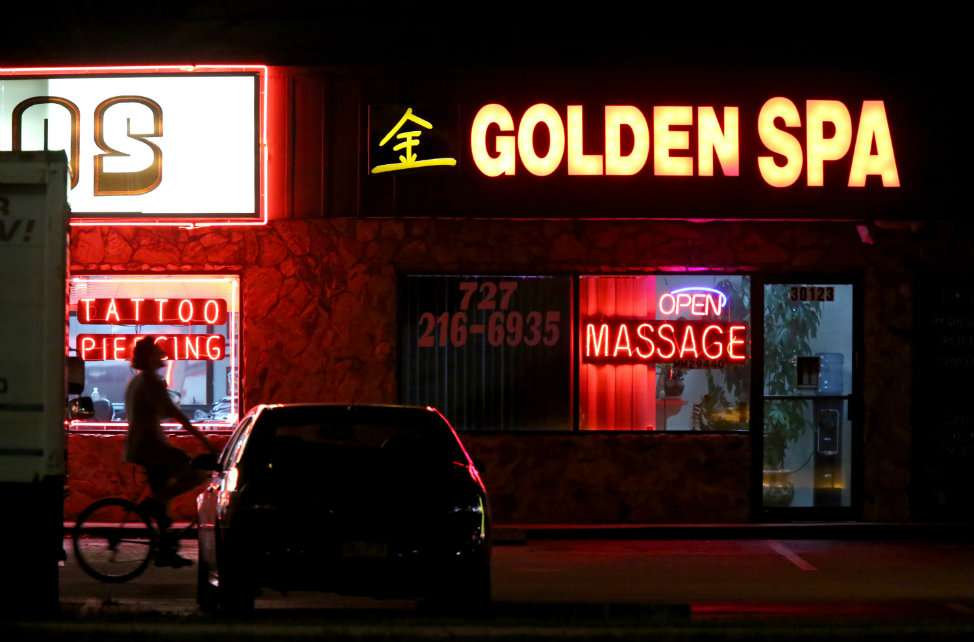 American police are currently obsessed with enforcing exactly which body parts can be massaged and by whom.
Every week, headlines from across the country announce undercover operations, often months long, dedicated to catching and punishing people for offering erotic massages. And the FBI and the Department of Homeland Security (DHS) are increasingly involved in the crackdown. "Happy endings" have apparently become a matter of national security.
Often these stings don't even turn up prostitution, let alone the "human trafficking" they're ostensibly concerned with stopping. But massage-parlor owners and employees wind up punished anyway, for things like minor building-code violations or employing people without state massage licenses. And the raids tend to hit immigrant entrepreneurs and workers the hardest, as they're most likely to be faced with barriers in obtaining local training and licenses, and to suffer from stereotypes about sex work and sex-trafficking.
This alliance of local cops, federal immigration agents, and federal detectives is nothing new, of course. As I explained in a Reason feature on "Operation Cross Country," they've been teaming up to monitor and round-up immigrant sex workers since the turn of the 20th century. It has waxed and waned in urgency over the decades since. But the Bush/Obama panic over prostitution has combined with Donald Trump's war on undocumented immigrants to intensify the efforts.
Once again, the FBI, local police departments, immigration agents, and politicians are making it a priority to round up sex-selling women, especially immigrant women—and massage parlors serve as a favorite target of that panic. Let's take a look at some examples of how this has been playing out across America this month…
Homeland Security Helps Nab Woman for Unauthorized Massage
In Suffolk County, New York, police just raided an Asian spa based on the neighbors' suspicions. The Wednesday raid—a joint operation of the U.S. Department of Homeland Security, the Suffolk County Police, and the Town of Islip Fire Marshal—led to one 54-year-old woman being arrested and charged with prostitution, a misdemeanor under New York law, and "Unauthorized Practice of a Profession," a felony. She is currently being held in county jail.
Year-Long Yoshiko Therapy Case Leads to One Misdemeanor Arrest
Colorado cops spent a year investigating Yoshiko Therapy after seeing an ad for the place on Backpage. Their rationale, according to The Denver Post, was that Backpage is "a website known to be used for prostitution" and the ad mentioned "young and new girls." The FBI-assisted operation led to the Wednesday arrest of one woman, age 43, on two misdemeanor charges: pandering and keeping a place of prostitution.
5-Month Investigation Into Nude Masseuse
Phoenix police spent five months investigating a middle-aged woman under suspicion of offering sensual massages from her home. The 46-year-old was arrested in early October, but police began the investigation in May. During this period, undercover cops visited her multiple times for nude massages, at $140–$160 per session, according to ABC15 Arizona. She allegedly offered to engage in unspecified sexual activity beyond that for an extra fee, which they declined.
With all this effort, they must have been on to something more, right? Enslaved masseuses in her basement? Mafia ties? Something? Nope, just a lady offering massages with a little extra to grown men who sought out her services. The only victim police allege in this case is a customer who left because she "scared" him when she entered the massage room naked.
The woman is charged with two counts of maintaining a house of prostitution, one count of prostitution, and one charge of manifesting an intent to commit prostitution.
Aiding and Abetting an Unlicensed Massage
In the Illinois city of Oswego, a "long term investigation" into one local spa led to this Wednesday's takedown of two middle-aged Chinese women. One was charged with prostitution and unlicensed massage, both misdemeanors. The other—a state-licensed massage therapist—was charged with aiding and abetting an unlicensed massage.
The two women were let out on bonds of $1,500 apiece and are due in court in November. The business was also cited for an occupancy-code violation, and its permit has been suspended.
Landlords Pay When S.F. Masseuses Violate Rules
In San Francisco, city prosecutors have been suing massage parlors out of business if workers there are arrested on prostitution charges. Landlords of the buildings where they operate are also be sued and fined.
In a recent settlement involving Queen's Health Center, massage-parlor owner Jie Qin Zhou was required to pay $195,000 to the city and is permanently forbidden from opening any other service-oriented business in San Francisco. The landlord of the building where Zhou's massage business was located must pay the city $100,000 and cannot rent to another massage parlor or similar business for 10 years.
Now the city is suing another massage parlor where undercover stings have uncovered prostitution. "The lawsuit asks the court to close the business, sell off its fixtures, grant an injunction against both the property and business owners and levy monetary penalties," explains KCBS.
Stamping Out Inadequate Signage
The California city of Hemet recently went fishing for evidence of prostitution or human trafficking at the city's massage parlors. Finding instead small businesses operating exactly as advertised, code-compliance cops issued 44 violations for things like inadequate signage and unpermitted construction.
Rockford Wants a Cut of Masseuse Profits
The city of Rockford, Illinois, found no evidence of human trafficking or prostitution at two local massage parlors but shuttered them anyway.
The city says it shut them down for operating without a state license to provide massage services and for a building-code violation.
Alderman Jonathan Logemann is now proposing that all Rockford massage businesses must get a city license, too, at an annual cost of $300. Logemann would also require anyone giving massages in Rockford to have been trained in Illinois and to pay for a state massage therapy license.
Proactive Policing in Fresno
A six-week operation in Fresno, California, led to a sheriff's office raid on Angels massage parlor this week. Neighbors said they never noticed anything unusual about the business and that it had not been a nuisance. But police targeted the strip-mall spa staffed by Asian women anyway, sending undercover cops there multiple times. The results of all of that work: two women were arrested on misdemeanor prostitution charges.