NYC Mayor Wants a Crackdown on Motorized Bicycles
The move comes after a cyclist complained on a radio show.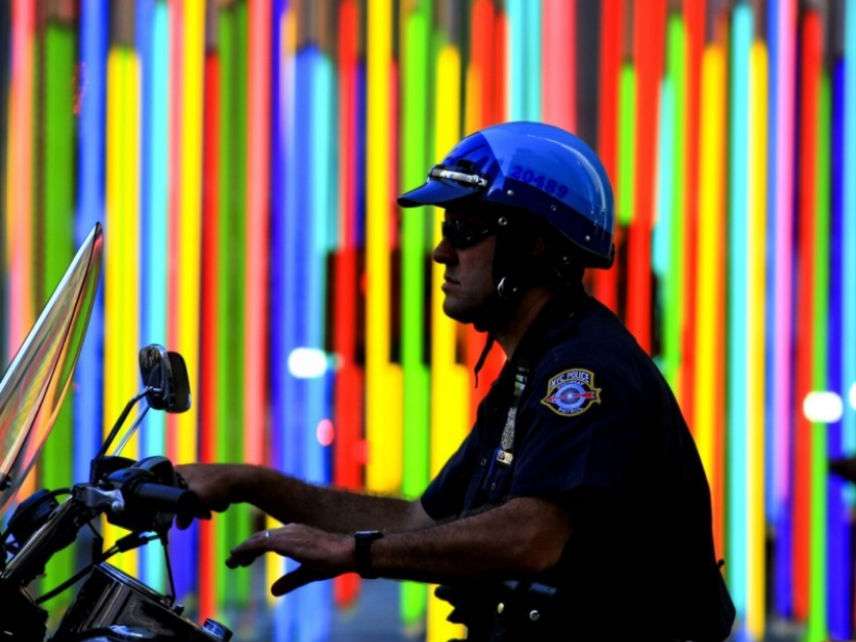 A cyclist called in during New York Mayor Bill de Blasio's weekly appearance on WNYC to complain about motorized bicycles, which are technically legal to own in the city but not to ride. The caller suggested the city start ticketing not just the riders but the owners of restaurants whose workers deliver food on the bikes.
On Thursday, the caller joined the mayor at a press conference to announce such a crackdown.
"They don't belong in our streets, much less in our bike lanes," the caller told reporters.
Starting next year, de Blasio declared, business owners will receive a $100 fine ($200 after the first offense) for allowing an employee to use a motorized bicycle on the job. Police already fine the drivers of such bicycles: They've confiscated more than 900 of them so far, and the bikes are returned only after the fine is paid.
So despite de Blasio's lofty rhetoric about criminal justice reform, he's extending rather than rolling back a policy that can only increase the number of hostile police-civilian encounters.
De Blasio suggested that businesses had alternatives: regular bicycles, or "obviously, if a company wants to—if a store wants to use a car, they could do that." Motorized bicycles require less effort, and therefore have longer ranges, than traditional bicycles, and they are far more affordable than automobiles.
De Blasio insists this is a safety issue, but as Henry Grabar notes at Slate, while 83 people (including 13 cyclists) have been killed by cars, trucks, and buses in New York City this year, no one has been killed by a bicycle. The New York Police Department does not even collect data on motorized bicycle fatalities or complaints.
The policy is just a creative new excuse to generate revenue by hassling residents. De Blasio can be scourge of the poor and the rich too.
De Blasio is rolling out this policy even while trying to attract a company, Amazon, that has helped fuel the rise in demand for delivery service. (He's also introducing it while trying to reduce traffic congestion with a plan that includes a crackdown on curbside delivery.) Meanwhile, climate change is such an important issue that it requires New York City to join the Paris Accords on its own but not such an important issue that the city should legalize a cleaner alternative to cars.
No worries, though: De Blasio said he hopes delivery people who can't deliver except with motorized bicycles "could find some other type of work with that restaurant or that business."
De Blasio is widely expected to be elected to a second term next month.