DOJ Demands Info on Popehat and Others Tagged in Smiley Emoji Tweet
The feds are now going after social-media users for being tagged by Twitter accounts they don't like.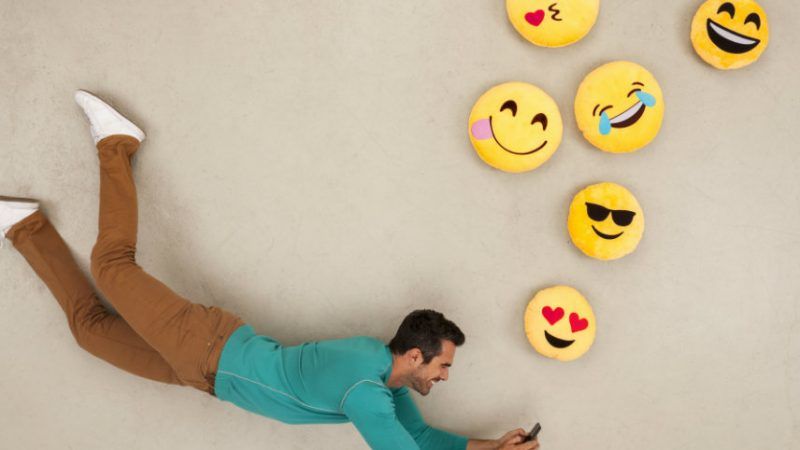 (Leander Baerenz Westend61/Newscom)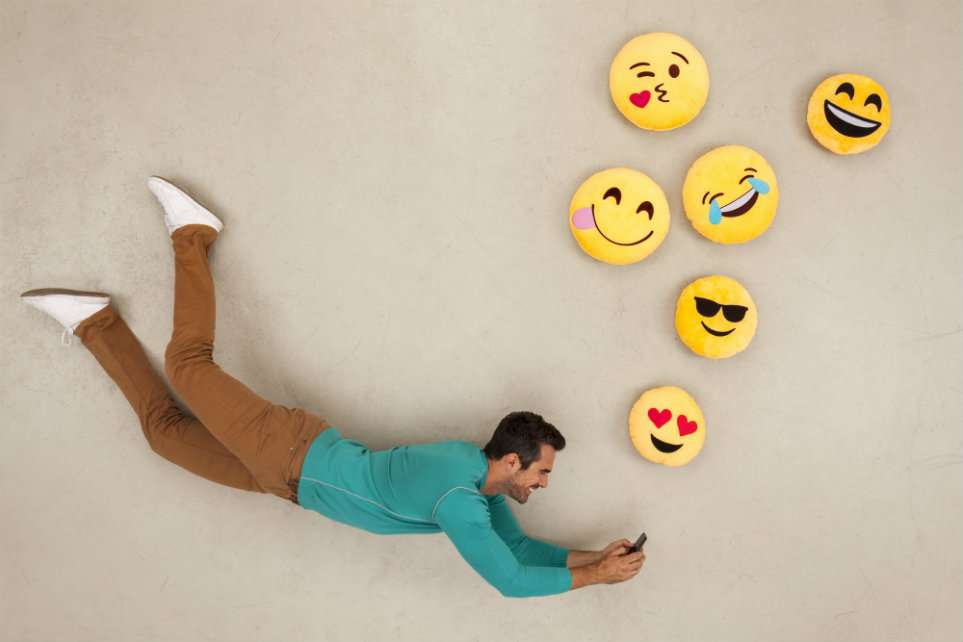 The Department of Justice (DOJ) is demanding extensive information on five Twitter users for the sin of being tagged in a post containing a single smiley-face emoji.
Techdirt reported today on the legal saga, which ensnared five Twitter accounts, including First Amendment lawyer and Reason contributing editor Ken White, also known as "Popehat."
The other users included laywer and author Keith Lee (@associatesmind), privacy activist "Dissent Doe" (@PogoWasRight), "Mike Honcho" (@dawg8u) and "Virgil" (@abtnatural). All are "folks who are quite active in legal/privacy issues on Twitter," according to Techdirt's Mike Masnick.
The subpoena, initially sent in May, asked Twitter for all names, physical addresses, and email addresses associated with each account. It also wanted:
Records of session times and durations, and the temporarily assigned network addresses (such as Internet Protocol ("IP") addresses) associated with those sessions;
Length of service (including start date) and types of service utilized;
Telephone or instrument numbers (including MAC addresses, Electronic Serial Numbers ("ESN"), Mobile Electronic Identity Numbers ("MEIN"), Mobile Equipment Identifier ("MEID"), Mobile Identification Numbers ("MIN"), Subscriber Identity Modules ("SIM"), Mobile Subscriber Integrated Services Digital Network Numbers ("MSISDND"), International Mobile Subscriber Identifier ("IMSI"), or International Mobile Equipment Identities ("IMEI"));
Other subscriber numbers or identities, or associated accounts (including the registration Internet Protocol ("IP") address);
Means and source of payment for such service (including any credit card or bank account number) and billing records.
The tweets that launched this extensive data demand? Here they are: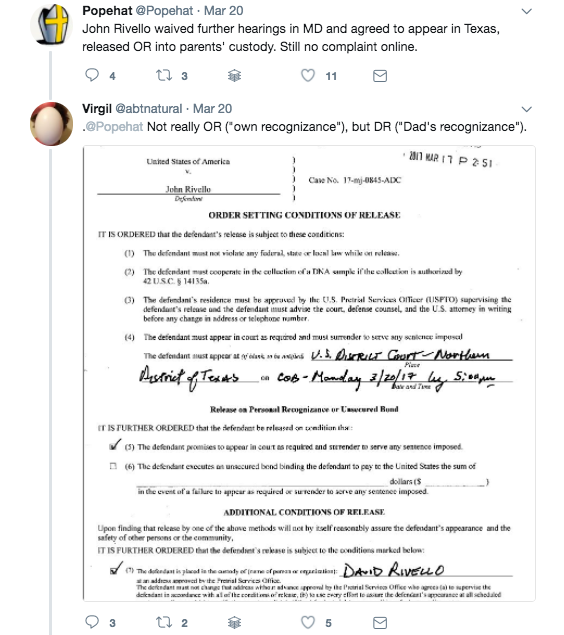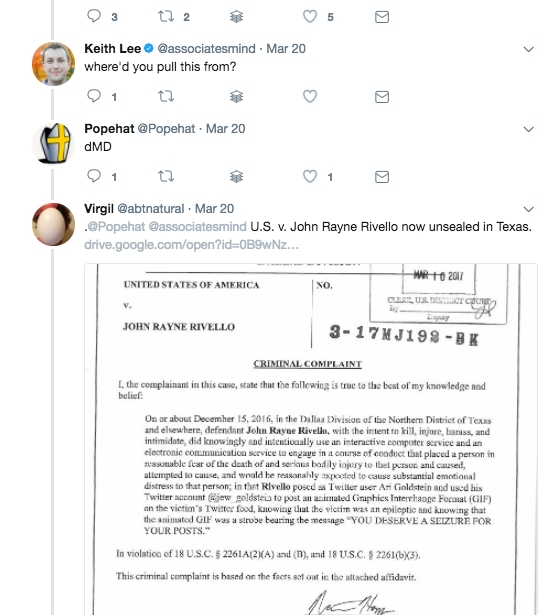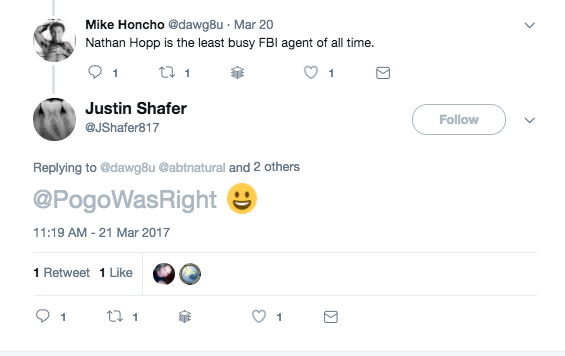 The last tweet, containing a single smiley, is where the trouble started. Justin Shafer is a security researcher who has helped take down flawed or fraudulent encryption services. But after his work helped the Federal Trade Commission settle a claim against one deceptive encryption provider, the FBI raided Shafer's house and seized all of his electronics.
In his research, Shafer had "come across an FTP server operated by another dental software company, Patterson Dental, which makes 'Eaglesoft,' a dental practice management software product," explains Techdirt.
Shafer had discovered an openly available anonymous FTP server with patient data. Shafer did the right thing as a security researcher, and alerted Patterson. However, rather than thanking Shafer for discovering the server they had left with patient data exposed, Patterson Dental argued that Shafer had violated the [Computer Fraud and Abuse Act] in accessing the open anonymous FTP server. Hence the FBI raid.

Not surprisingly, Shafer was none too pleased with the FBI's decision to raid his home and take all of his electronics. In particular, it appears he was especially annoyed with FBI Special Agent Nathan Hopp (who he initially believed was actually Nathan "Hawk.")

Fast forward to March of this year, to an entirely different story: the FBI arresting John Rivello for "assaulting" journalist Kurt Eichenwald with a tweet….Lots of people, including us, posted the criminal complaint, that was put together by one Nathan Hopp, a special agent at the FBI.
On March 20, White—a former U.S. assistant attorney—tweeted about the Rivello case, prompting "Virgil" to share the Rivello complaint, Lee to ask where he had obtained it, and "Mike Honcho" to comment that Hopp must be "the least busy FBI agent of all time." A day later, Shafer sent several tweets containing (publicly available) information about Hopp, prompting the FBI to start putting together a cyber-stalking complaint against Shafer.
When Shafer replied to the string of Rivello tweets with a smiley-face emoji, it caught all five tagged users in the FBI's crusade against Shafer. Somehow an unprompted, single-character tweet from Shafer was enough for the FBI to find everyone else in the thread suspicious and demand their data.
That feeling when you receive notice the DOJ issued a grand jury subpoena to Twitter for all details of your account…SINCE CREATION.

— Keith Lee (@associatesmind) October 24, 2017
This week, Twitter alerted the five users in question about the subpoeana. Dissent Doe says Twitter is fighting back against the government's request.
On Tuesday afternoon, White commented on the case. "I don't know whether the U.S. Attorney's Office's theory is that we're confederates…or that we're his sock puppets, or what," he wrote, noting that "it's an odd use of resources to send a grand jury subpoena to discover my identity, when it's so public," and that the government "has no rational need to piece the anonymity of the other Twitter users."
"This is part of a pattern of the Department of Justice seeking to uncover anonymous internet users for no good reason," White continued, "as we saw when the Department of Justice subpoenaed Reason Magazine to discover the identities of some commenters who made rude (but absolutely not true-threat) comments about a judge. It's disturbing that the government would seek to strip Twitter users of anonymity just because a defendant sent them a smiley face unsolicited." (Read more about Reason's subpoeana saga here.)
This summer, the Justice Department issued a "sweeping demand for information about an anti-Trump website, a dragnet that civil libertarians had criticized as an assault on freedom of speech and freedom of association that was apt to intimidate the president's opponents," as Reason's Jacob Sullum put it. DOJ has also been seeking ample info from social networks related to its probe into possible Russian election meddling. Twitter has been pushing back against that request too.